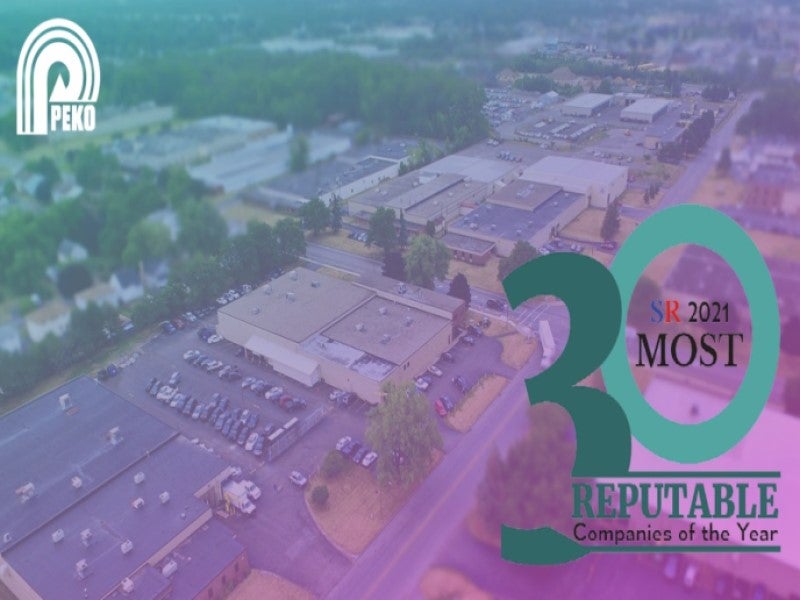 PEKO, a leading contract manufacturer of machinery, equipment and major assemblies, has been named one of The Silicon Review's 30 Most Reputable Companies of the Year for 2021. As the only contract manufacturing company on the list, The Silicon Review notes that PEKO earned its spot by standing out from other manufacturers in its ability to engage in accurate and safe manufacturing processes while also addressing a multitude of challenges present in today's global market. Specifically, the publication points to PEKO's New Production Introduction engineering group as a major differentiator and asset to customers.
This segment tackles common problems seen by new product teams like resource constraints at early-stage manufacturing and the ability to properly prepare the product for full-rate manufacturing to help customers scale up. An added advantage is that PEKO develops processes for complex products that are difficult to build by finding engineering-based solutions to manufacture them effectively and efficiently.
With the world facing increasing pressure to adopt greener technologies, reliable and scalable energy systems are more important than ever. PEKO is prepared to help with this transition, supplying startups and innovators with the perfect partner to fill the gap between concept and realisation of their ground-breaking clean energy technology. Our contract manufacturing expertise is extensive, and we have manufactured an array of new and emerging energy systems. Utilising our in-house manufacturing processes reduces the risk of intellectual property mishandling, late delivery and cost overrun.
PEKO assisted an emerging provider of highly complex silicon equipment for the solar market by finishing the design of their solar crystal growth furnace, optimising it for manufacturability, creating a documentation package, establishing validation testing procedures, and implementing intricate in-process control plans. Other capabilities utilised include machining, welding, sheet metal fabrication, quality and assembly.
PEKO also supported a global diversified equipment manufacturer with their on-site 400KW fuel cell power storage system by manufacturing a metal enclosure that met demanding size, quality, precision and environmental requirements. The enclosures were optimised for strength, cost, and weight and produced utilising PEKO's vertically integrated design engineering, fabrication, welding, powder coating and assembly capabilities.
To learn more about PEKO's contract manufacturing and new product introduction, click 'Make an Enquiry' towards the top of the page.