STAG specialises in the storage, conveyance and metering of bulk materials. Our engineers have developed tailor-made components and systems for a wide range of process engineering requirements. For over 50 years our bulk material handling equipment has proved itself in a variety of applications. The quality of our systems and our commitment to excellent service has led to successful relationships with many satisfied customers.
Bulk material handling systems for the power generation industry
STAG has equipped power plants all over Europe with complete adsorption systems for the handling of flue gas cleaning additives. These systems include all elements of bulk materials handling, from delivery, storage, distribution and metering to their injection into the flue gas treatment process.
More and more bulk material handling systems are being used in the generation of renewable energy in biomass power plants. Solutions for this field of power generation usually include hopper systems with innovative discharge technologies that allow for optimum storage and metered feeding of the fuels into the actual power plant systems.
Pneumatic conveying systems
STAG supplies conveying technology for all types of bulk materials applications involving fine and large-grained powders, free flowing or viscous products, transportation over short or long distances, large or small conveying capacities, and standardised or specialist applications. STAG pneumatic conveying systems are based on two different technologies: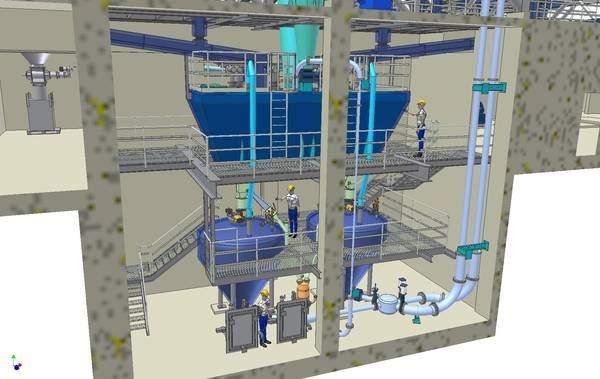 STAG supplies pneumatic conveying systems for bulk materials applications.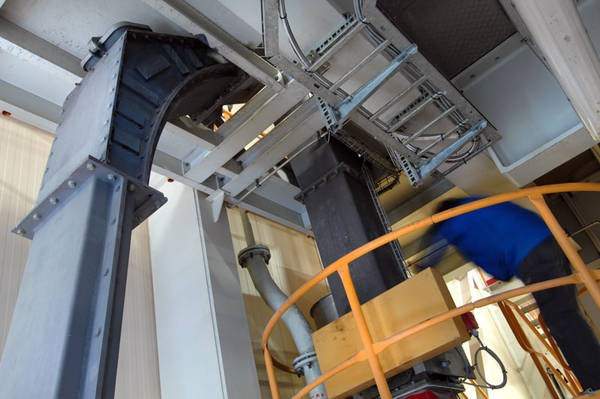 STAG deploys mechanical conveying systems for bulk material handling.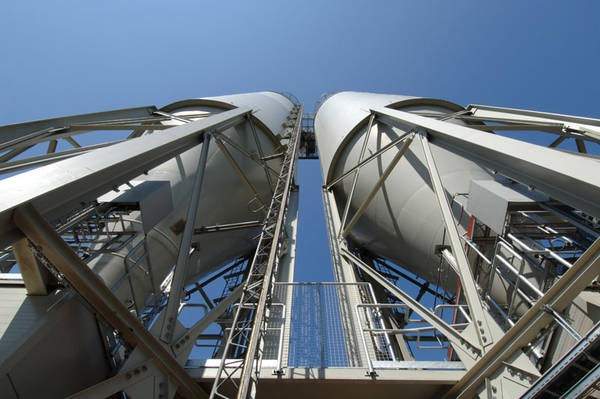 STAG's equipment range includes discharging systems for silos and bunkers.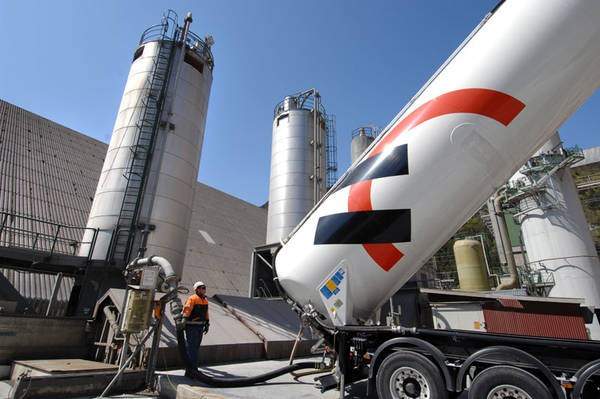 STAG is a leader in transhipment systems for bulk materials.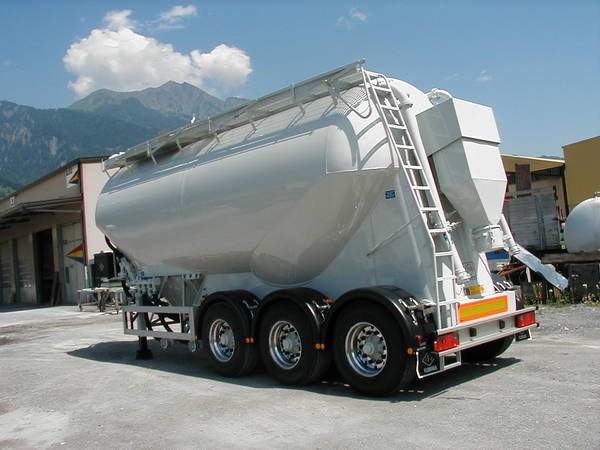 STAG can provide silo containers for rail and road transportation of power industry materials.
Dense phase conveying: for the transportation of fluids, bulk solids are fluidised and thus made free-flowing, and gravity does the rest
Dilute phase conveying: specialist solutions like pressure-monitored double-wall conveying pipes are part of STAG's standard range
Mechanical conveying systems for bulk material handling
Our main piece of equipment for the mechanical conveyance of bulk materials is the chain conveyor, which takes up little space, can be easily integrated into existing plants, is suitable for bulk solids at high temperatures and can be used for bulk materials that abrade. STAG chain conveyors are explosion-proof (conforming with ATEX).
In addition to chain conveyors, STAG also deploys other mechanical conveyor techniques. We have acquired specific knowledge of discharging from and deploying pipe and trough feed screws, bucket conveyors and conveyor belts.
Discharging systems for silos and bunkers
Bulk materials stored in silos and bunkers require the appropriate discharging system, which depends on the bulk material that needs to be discharged. STAG uses its experience and expertise to determine the best equipment for the project. STAG's equipment range for this application includes:
SiLex: a mechanical discharging system developed for slow-flowing products, or products that are not fluidisable or are only very poorly fluidisable
Sliding frame – thrust plate carrier system: a mechanical discharging system deployed when the bulk materials have very poor flow properties and large bridging diameters; it is also deployed when a large variety of products is expected to be in the same silo
Chain conveyors: a tried and tested technology for discharging from silos and bunkers; they are deployed particularly for slow-flowing products and for sludges
Pneumatic discharging systems: fluidised jets are deployed as valve jets or tripel jets, but fluidised lava or fluidised streams are also deployed in silos with cones or flat-surface floors and for bulk materials that can be more or less easily fluidised
Transhipment systems for bulk materials
STAG is a leader in transhipment and rail unloading facilities. Simple handling, efficiency and operational safety are the main features of STAG transhipment plants. The main products transported by these systems are cement, lime, gypsum, salt, lignite, micosilica, flue ash, and terephtalic acid, but they can be used for many other bulk products.
Silo containers for rail and road transportation of power industry materials
In its capacity as general representative of FFB Feldbinder-Spezialfahrzeugwerke within Switzerland, with its own service workshops, STAG is a reliable business partner for firms using silo containers for rail and road transportation. STAG engineers rail containers and carries out maintenance and servicing of bulk materials wagons in its own workshops.
Impact mill for treatment of boiler ash
STAG's impact mill has been specially developed for the treatment of boiler ash from combined heating and power stations, and for the ensuing pneumatic conveyance of loading into silos. The impact mill treats the ash in such a way that it cannot lead to any functional disturbances in its subsequent pneumatic movement, when being discharged from the silo, or in any truck unloading procedure that may be necessary.