Maximum Industries uses traditional and non-traditional machining processes to offer a full range of cutting and production services to the power industry. Maximum Industries is an AS 9100 Rev B quality-certified piece-part production facility. Our latest piece of equipment is an integrated five-axis waterjet / drill work cell ideally suited for all kinds of composites. The system is the first true 90,000psi / five-axis waterjet system in the world.
We evaluate your project for maximum efficiency and make recommendations as to which process would create the highest quality part at the lowest cost. Our advanced tooling capabilities provide faster machining rates and quick setup of large parts.
Laser cutting services
Maximum Industries has a family of lasers capable of processing extremely thin plastics as well as thicker stainless steel. Our equipment includes four cutting lasers (200W, 1,000W, 2,200W, 3,300W). Many laser cutting facilities don't have the capacity or flexibility to handle unique projects. Maximum Industries can provide laser cutting services for a huge variety of projects.
If you have been looking for a supplier with five-axis laser cutting capabilities or five-axis with an additional rotary axis, please give us a call to discuss your requirements.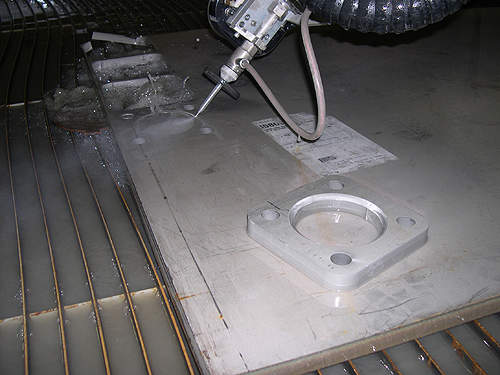 Our 90,000psi five-axis waterjet cutting system enables us to reduce cycle times and improve quality.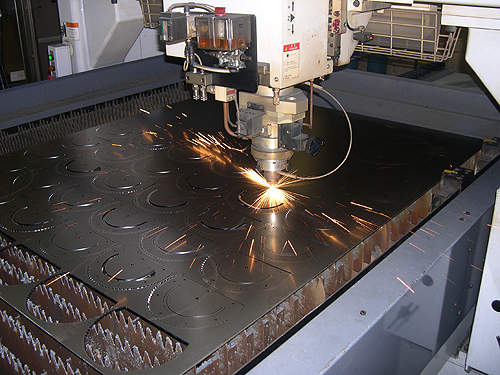 Laser cutting stainless steel with nitrogen assist gas provides a clean, oxidize-free surface ready for painting, plating, or other secondary operations.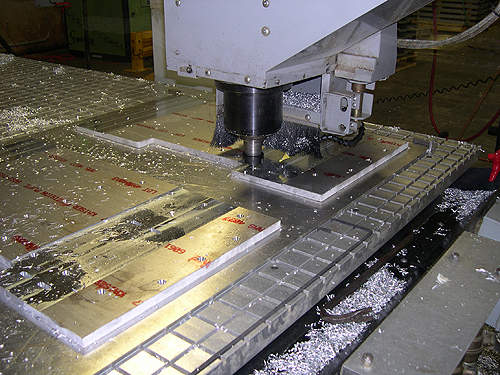 Large work envelope mills with vacuum tables allow for quicker set ups, fewer tool changes, shorter cycle times, and cost savings for our customers.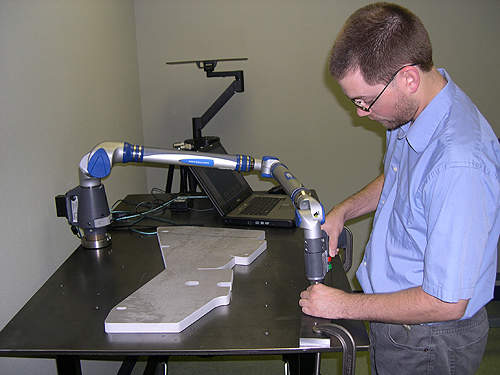 Laser QC equipment and Faro Arm CMM technology equips our quality department for daily use.
Laser engraving services
Our laser engraving services include detail engraving of artwork or precision engraving from CAD files. Our two engraving lasers enable us to mark and engrave parts up to 50in x 100in.
Laser marking services
Our two part-marking lasers enable us to provide laser marking and etching on almost any material. Both small and large parts can be marked. Please contact us to discuss your specific requirements.
Waterjet cutting services
We offer waterjet cutting for clients in a variety of industries. Our five CNC waterjet systems use single or dual cutting heads up to 8ft x 14ft cut zones. The installation includes three two-axis systems, one three-axis system, and a five-axis system equipped with an integrated drill system for pre-drilling composite materials.
The five-axis motion system is one of the most accurate waterjet cutting systems available for contract manufacturing. The 90,000psi intensifier source from KMT Waterjet Systems enables cutting speeds on most materials to be 30%-50% faster than traditional systems.
4ft x 8ft
6ft x 10ft
6ft x 12ft
8ft x 14ft (three-axis CNC)
8ft x 12ft (five-axis CNC)
Routing / milling services
Maximum Industries has all the necessary equipment to perform heavy milling with 50 taper tools, as well as high-speed routing. Our facility processes plastic, steel, aluminum and stainless on a daily basis. Our largest flat bed mill is 60in x 144in x 24in.
Quality cutting and production services for the power industry
Maximum Industries' management team is committed to quality in all aspects of the company as evidenced in our QC department with laser QC and Faro Arm technology, AS-9100 certification program, installed equipment, and personnel employed. We welcome visits to our facility any time.