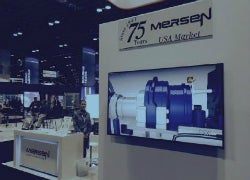 The 2015 AWEA Windpower show, held from 18 to 21 May in the Orange County Convention Centre in Orlando, US, has been a success for Mersen.
This year's show began with a speech from the US energy secretary calling for the expansion of wind power across the United States.
This is a positive sign for wind energy professionals, such as Mersen.
For 75 years in the US, we have been developing an unrivalled field experience, now serving the wind energy OEMs and operators.
The quality of contacts was high and it was a great opportunity to show our comprehensive solutions, including services and maintenance.
To learn more about the company's multiple solutions for wind power energy production, please contact Mersen.
Mersen's solutions for conventional thermal power are made of carefully chosen quality materials, manufactured on...