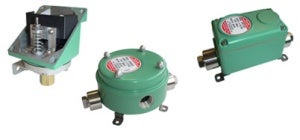 Solon Manufacturing Company, which originated in Solon, Ohio, US, in 1949, is celebrating its 65th anniversary.
With fifty employees and two product lines, Solon serves a broad customer base for industries worldwide. Both product lines have grown through engineered innovations to adapt to the multitude of industry applications, and Solon is the longest standing manufacturer of Belleville springs in the US.
The Belleville product line has expanded to include flange washers and disc springs, and now has over 2,000 sizes in stock. In the early 1960s, a new product line, Solon Pressure Switches, was introduced. Available in weathertight and explosion proof housings, they are made 100% in-house, giving customers the opportunity to choose a custom pressure switch, which meets their needs.
This anniversary coincides with the launch of a new pressure switch product, the Solon 2TC Smart Switch. This monitoring system measures and logs SF6 gas leakage, adding a predictive maintenance benefit that is the first line of defence in reducing the loss of this potent greenhouse gas into the atmosphere.
Since moving to Chardon in 1960, Solon has expanded its operations three times, most recently with the purchase of two additional buildings in 2013. The expansion provides Solon with much needed capacity and increased capabilities in our manufacturing processes, which will improve our consistency in quality, overall competitiveness and speed to market.
Today, Solon is a global leader with a growing customer base spanning forty countries in the energy and utility transmission and distribution, petro-chemical, transportation, and environmental compliance industries.
Solon thrives on the principles of reliability, quality and complete customer satisfaction. In order to support customers' overall success, Solon prides itself in offering a world-class customer experience with knowledgeable engineering, sales and support staff available to provide design and application solutions. The company also holds an ISO 9001:2008 certification for high standards in quality management.
Company president Tim Dunn said: "Solon's corporate philosophy is and has always been a commitment to complete customer satisfaction, by meeting customer requirements for engineered solutions, quality, performance and customer service through continual improvement in all areas of the organisation."
Solon Manufacturing Company has announced the release of the Solon Watchman SF6 and Solon Watchman...