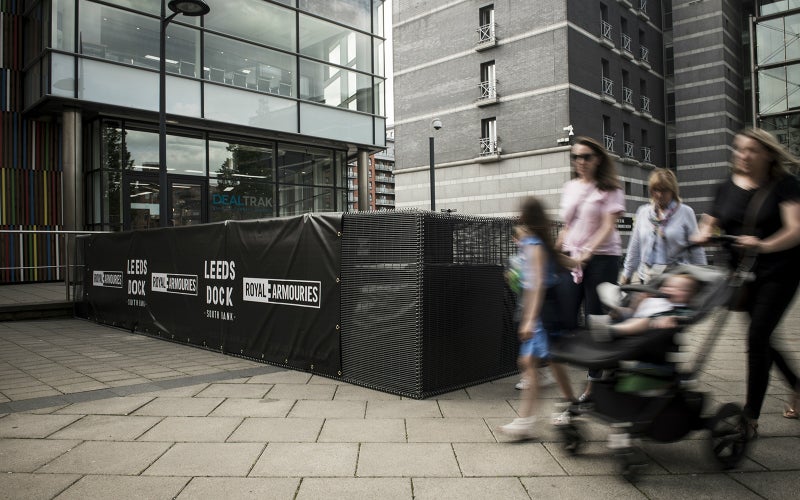 HESCO is introducing a collection of surface-mounted security barricades called HESCO® TERRABLOCK®.
The UK and USA manufacturer of defensive barriers and body armour has engineered and tested the barriers to deliver hostile vehicle mitigation and deter unauthorised access. The TERRABLOCK range has been designed to be rapidly installed across diverse environments, enhancing existing security measures as well as enabling institutions, events and businesses to maintain operations in response to an ever-changing threat.
Having successfully deployed HESCO security barriers at the London 2012 Olympics, the five-year development has seen TERRABLOCK evolve in response to security challenges now faced, creating a unique security barrier, integrating earth-filled vehicle barriers and climb resistant weldmesh panels.
HESCO High Security director Adam Wilding-Webb said: "This next generation of HESCO security barriers build on our extensive experience in protection and a deep understanding of how to respond to changing threats.
"The modular design of TERRABLOCK provides the ability to easily and effectively upgrade site and event security in response to changing threat levels, whilst minimising the installation impact on the workforce and environment. The importance of having the right solution is paramount."
HESCO TERRABLOCK has already been used to protect oil and gas infrastructure, and, most recently, event space and public arenas such as the Royal Armouries Museum, Leeds.
Royal Armouries' Andrew Brown commented on the recent installation of TERRABLOCK XL: "Since the installation of the HESCO barrier, staff and visitors have expressed that they feel more reassured and safer for its presence. The installation team were incredibly patient, making sure this truly was a solution for our needs, and the build was fast with no disruption to our business."
The TERRABLOCK product range includes five designs, ranging from a low barrier for crowded public events, which is engineered to stop attacks using vehicles as a weapon, to an anti-climb M50P1 crash-rated barrier that can stop a 7.5t truck travelling at 50mph.
The development team behind TERRABLOCK include security and military specialists working closely with end-users and testing centres to create a product that blends into the built environment, reassures the workforce and general public, and most importantly delivers safety and security to deter sabotage and threats.
US Customs and Border Protection (CBP) has selected HESCO's hard armour plates for equipping and...
HESCO designs and manufactures American-made, thinner, lighter and concealable ballistic-resistant body armor. At this year's...