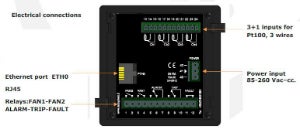 As part of a continuous improvement of its products, TECSYSTEM is glad to introduce the innovative possibility for monitoring the temperature in cast resin and dry type transformers thanks to the new control unit.
The new product, NT935 ETH, was created as advanced technical development of previous versions and introduces for the first time the serial built-in ETHernet communication port.
In addition to the well-known functions of temperature monitoring and protection, this model offers much more and, as an option, Ethernet connectivity, allowing you to directly implement the functionality of the control units TECSYSTEM in your monitoring system.
The integrated module includes all the features for essential network, including an Ethernet 10Base T / 100Base-TX, full TCP / IP stack, suited to work as a Modbus TCP slave.
Web functionality can be used for remote configuration, real-time monitoring or troubleshooting.