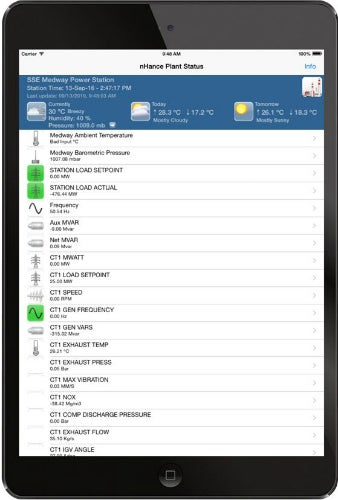 There is an increasing demand within the power industry to remotely monitor operating parameters in power stations. To meet this demand, nPlantStatus, part of the nHance Mobile Solutions product line, was developed in 2014. Today, nHance Technologies is announcing the release of nPlantStatus (version 1.2.6).
nPlantStatus is currently available on the Apple iTunes App store for iOS devices (iPhone, iPad, iPod Touch) running iOS version 8.3 or later
The magic of nPlantStatus is achieved with a companion back-end service running locally at each power plant to collect pertinent data and forward it to the nHance servers. The Data is then digested at the nHance servers where additional data or calculations can be applied and made available to the nPlantStatus App. The iOS app allows users to monitor data points and can be configured to change colors with simple rules to assess the status of critical plant processes at a glance. For non-iOS users, a webpage is setup to allow viewing of the pertinent data from any standard or mobile web-browser.
Other optional features include local weather conditions and forecasts, or calculations of statistics based upon current or historical data. In addition to current plant data and weather information, safety data, station contacts, environmental data, can all be displayed and configured per individual plant requirements.
For iPad users, nPlantStatus contains a landscape view to help sort plant data into separate pages for quick access to customized schematic screens such as: Environmental Data, Plant Overview, Safety Data, Station Contacts, and more.
nPlantStatus offers the added benefit of allowing power plants to determine what specific data is made available to registered users without exposing internal servers to internet traffic. Outgoing data is pushed to the nHance servers via secure protocol ensuring that any plant with outgoing internet access can choose what and how much plant data is made available.
nPlantStatus is modestly priced in the iTunes app store and requires a back end service currently priced at $150 / month per power plant (annual discounts are available). Contact nHance Technologies and mention Power-Technologies for a discount on our setup fee.
In 2001, the simulation services business unit of a company now known as Areva (a global company headquartered in France that is widely known as...
As the modern world becomes increasingly 'wired', more critical systems and infrastructure are linked via the internet.