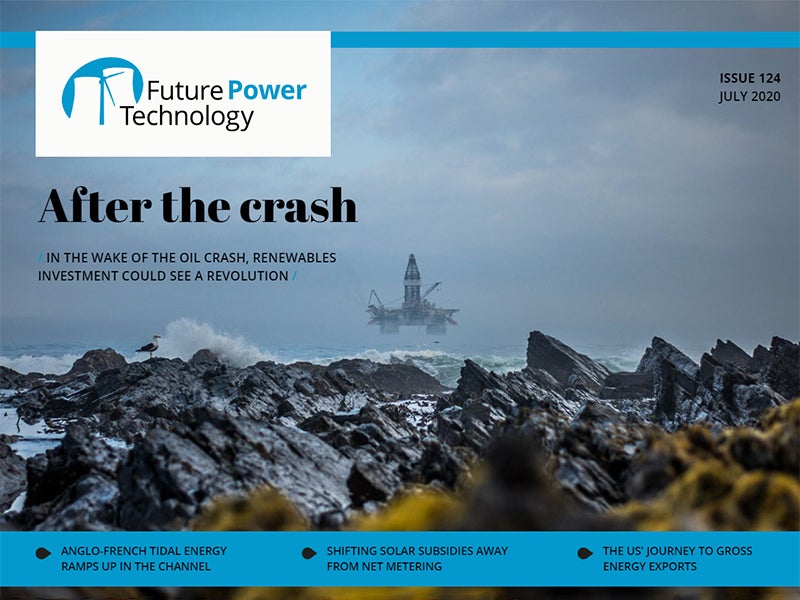 Years of unfettered production, price wars, and the devastating Covid-19 pandemic have all brought the oil industry to its knees and raised serious questions about its future. We speak to the experts to find out what it will take for governments, funds, and other financial structures to switch from O&G to renewables.
Also, we hear from the Anglo-French TIGER tidal project, learn whether natural gas is still a good investment, and ask what is behind the turn away from net metering in the US.
Finally, we take a look at Tanzania's first ever wind farm, speak to SABIC about turning its plastics expertise to renewables, examine the numbers behind the US' gross energy exports exceeding their imports for the first time in 2019, and chart the decades-long journey to making Chernobyl safe.
Whether you are on a desktop, tablet or smartphone, you can read the magazine for free online, and join the conversation on Twitter.
In this issue
Covid-19 and the oil crash: a new dawn for clean energy investment?
The global outbreak of Covid-19 and the accompanying oil price crash have raised questions about the future of clean energy investment. Chris Lo asks: are prospects better or worse than they were before, and what does the future look like?
TIGER power: Anglo-French tidal energy ramps up in the Channel
With an investment of €45.4m, the Tidal Stream Industry Energiser Project (TIGER) is one of the biggest studies of tidal energy in Europe. Ilaria Grasso Macola spoke with the project's main actors to find out how the project was developed and what challenges lie in the path to tidal energy becoming a greater part of the energy mix.
Bridge to nowhere: does natural gas energy have a future?
As the cost of renewable energy falls and global economies set their sights on achieving net-zero emissions targets, recent reports have found that up to $1tn of gas assets are at risk of being stranded. Heidi Vella finds out more.
Beyond net metering: alternative solar power subsidies around the world
Net metering is an effective and straightforward measure to minimise the upfront costs of new solar installations, but its critics point out that it places a burden on power utilities. With the US state of Utah looking to move on from net metering, JP Casey profiles some alternative solar subsidies around the world.
A look at Tanzania's first wind farm
Work at Tanzania's first wind farm has finally reached completion. Ilaria Grasso Macola speaks to the stakeholders involved in the project to find out how the project came about and what it can do for local communities as well as the wider country.
How plastics innovation can spur on renewables with SABIC
While plastics manufacturing may be notoriously reliant on fossil fuels, the skills and technologies involved are also well placed to lead in the development of renewables. Ilaria Grasso Macola speaks with Saudi Arabian plastic producer SABIC to learn about its commitment to renewable energy projects.
In numbers: following the US' journey from energy importer to power exporter
According to the US Energy Information Administration, 2019 saw the first time in 67 years that annual US gross energy exports exceeded US gross energy imports. However, with its top export markets following the US' isolationist bent, potential trading partners may not have to rely on US exports, creating uncertainty regarding the US' long term economic gains. JP Casey finds out more.
Making Chernobyl safe: a timeline
Huge efforts have been ongoing to maintain and keep safe the Chernobyl area in Ukraine since the infamous nuclear disaster that took place on 26 April 1986. In this special timeline feature, Yoana Cholteeva charts the decades-long journey to build and maintain confinement facilities in the radiation-contaminated zone.
Preview – Future Power Technology August 2020
As working from home becomes much more a part of everyday life, energy customers will be increasingly looking for solutions to monitor and control their home energy consumption. We investigate the current state of technology in the field.
Also, we learn about the IEA Bioenergy Technology Collaboration Programme, dive into a report suggesting flexible power could save the UK energy industry £40bn, and take a look at different approaches being taken around the world to compensate industry for early coal plant closures.
Finally, we speak to ZOLA Electric about energy infrastructure in Africa, profile the companies leading in EV infrastructure, hear from the Oak Ridge National Laboratory about their 3D-printed nuclear reactor core, and explore the history of crowdfunding in the energy industry.