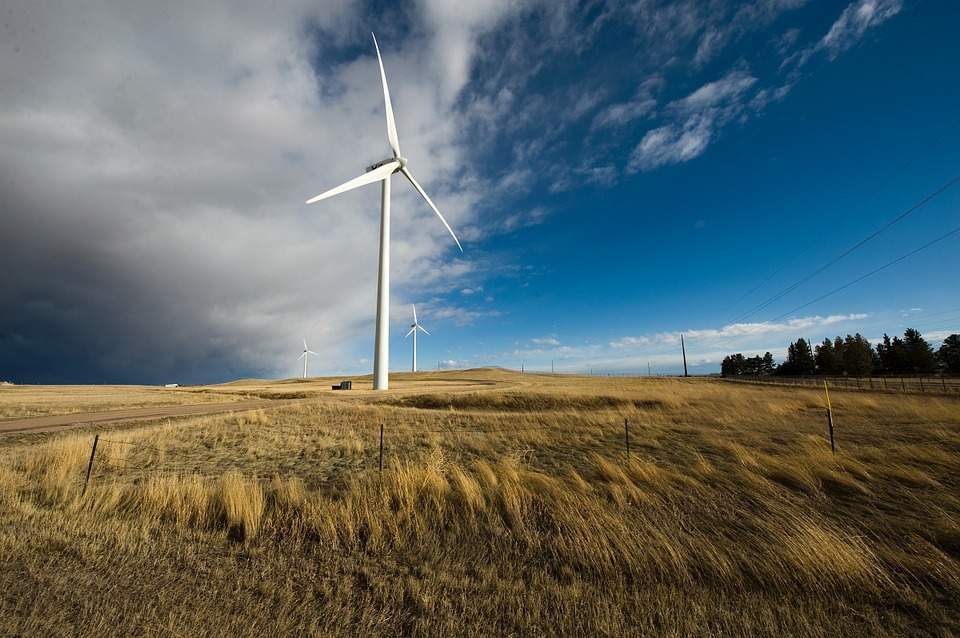 In 1868, in remote Carbon County, Wyoming's first coal mine came online, heralding the start of a fossil fuel boom in the western US state that ran virtually unchecked well into the 21st century.
Wyoming has been the largest producer of coal in the US since 1988 and as recently as 2013 was home to 17 active mines. The state's stature as a domestic energy powerhouse began to decline in the 2000s as the US 'fracking' revolution made natural gas a cheap, plentiful alternative to coal.
Now, salvation may be coming to Wyoming in the most unlikely of guises; a Chinese wind power company. Goldwind Americas, a subsidiary of the wind-turbine manufacturer based in Xinjiang, is offering to train unemployed coal miners as wind farm technicians. Goldwind has agreed to supply as many as 850 turbines for a wind farm in Carbon County and needs 200 workers to operate it.
"If we can tap into that market and also help out folks that might be experiencing some challenges in the work force today, I think that it can be a win-win situation," David Halligan, Goldwind Americas' CEO, told the New York Times. "If you're a wind technician, you obviously can't be afraid of heights. You have to be able to work at heights and you have to be able to work at heights in a safe manner."
Lifeline for miners: incentivising wind power in Wyoming
In practical terms the idea makes sense. Coal workers' mechanical and technical knowledge, coupled with their long experience of working in extreme conditions, marks them out as ideal wind farmers.
The idea of a renewable energy company offering a lifeline to skilled workers from a proud industry in terminal decline appeals to the heart as well as the head. The 'Goldwind Works' training scheme could also be a catalyst for a shift in thinking about the potential economic benefits of wind projects.
"This is actually a realization of these benefits in a way that hasn't been apparent before," said Robert Godby, director of the Center for Energy Economics and Public Policy at the University of Wyoming. "The more you hear these positive stories and you start to see more direct benefits, it changes local perspectives and kind of begins to open minds."
Wind power already constitutes 8% of Wyoming's energy. The state, with its spectacular rolling plains, 50-60mph winds and low population density, also has some of the best onshore wind resources available in the US, and will soon be home to the largest wind farm in North America.
Developed by Power Company of Wyoming, the $5bn, 1,000-turbine Chokecherry and Sierra Madre Wind Energy Project near Rawlins is set to begin construction later this year. An accompanying transmission project would then distribute its power to consumers as far as the West Coast.
The project will generate an estimated $1bn in county, state and federal tax revenue and royalties over its first 30 years. Such projects are seen as critical to Wyoming's economy and energy security.
Arrested development: Republican opposition to renewable energy
So far, so upbeat, but to pretend that a usurping Chinese wind power company will be welcomed with open arms in Wyoming, the only state in the US that openly taxes wind production, is naive.
In January, Republican state lawmakers introduced a controversial bill that environmentalists say would effectively block the use of renewable energy in Wyoming. If passed, utilities that use wind or solar to produce power for residents would be hit with a hefty fine of $10-per-megawatt-hour.
Under Senate File 71, only coal, hydroelectric, nuclear, oil, natural gas, and net metering systems such as rooftop solar or backyard wind projects are considered "eligible" generating resources.
In May, two Republican senators announced plans increase the state's wind tax from $1 to $5 − the equivalent of half a penny per kilowatt hour. Fossil fuel advocates argue that the wind industry in Wyoming is not shouldering its share of the tax burden and is the recipient of excessive subsidies.
"If the projects don't go forward, then an increase in the wind tax will have accomplished nothing. What Wyoming stands to lose is significant," Roxane Perruso, vice-president and general counsel for Power Company of Wyoming told the Casper Star Tribune.
Perruso said that, for example, termination of Chokecherry and Sierra Madre Wind Energy Project would cost Wyoming $800m in lost taxes over the next 20 years.
The proposed bills penalising renewable energy in Wyoming may not be passed, of course, but they are indicative of that fact that many people in the state will likely view Goldwind as a Trojan Horse.
It is also counterintuitive to think that under President Trump, who has pledged to resurrect the US coal sector, workers will beckon forth a company that threatens to hasten the industry's demise.
Robert Godby of the University of Wyoming also points out that Goldwind's free training programme will not by itself make up for coal job losses because of the sector's reach and mature supply chain.
Trust in Trump: can the White House resurrect the US coal industry?
Whether the administration has either the intention or the leverage to bring back coal jobs is questionable. Quartz cites US Department of Labour statistics which reveal there were 8% fewer (more than 6,000) positions in the first quarter of 2017 compared with the same period last year.
The New York Times reports that the Bureau of Labour Statistics projects that national employment for mining and geological engineers will grow by 6% between 2014 and 2024. Sounds hopeful, but not when you consider that employment for wind turbine technicians is expected to grow by 108%.
So, can the 'Goldwind Works' programme succeed and be rolled out to other states such as Texas?
"This seems to be an effort, and perhaps a smart effort, by a Chinese company to win its way into the hearts of this administration and get beyond what's happened in the past by targeting a core group of supporters of this president," Rory MacFarquhar, visiting fellow at the Peterson Institute for International Economics and a former advisor to the Obama White House, told the New York Times.
"But this administration has been talking much more about manufacturing than about services," he added. "They seem to want to actually have factory jobs back in the US."
Goldwind Americas' Wyoming wind project could generate thousands of construction, and hundreds of operations and support, positions. Whether the state is ready for such change remains to be seen.