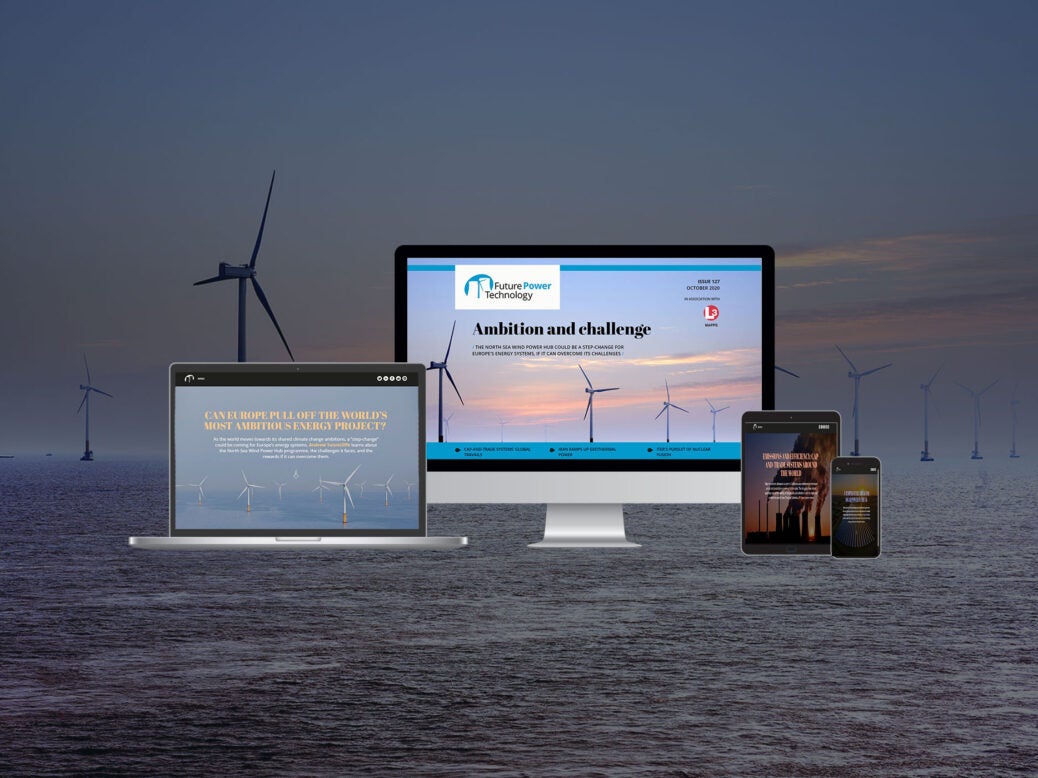 The North Sea Wind Power Hub is a joint idea by German, Dutch, and Danish firms to build a series of interconnected islands that would supply a significant part of Europe's future energy needs. We take a look at the scale of the proposed idea and ask, what it will take to make it happen?
Also, we examine the issues facing cap and trade models such as California's, speak to the North London Waste Authority about their proposed energy-from-waste plant, and investigate Iran's first geothermal project. 
Finally, we take a temperature check of the UK solar industry, talk to MHI about their fusion project, see what lessons energy production is learning from natural design, and hear from IRENA about West Africa's clean energy future.
Whether you are on a desktop, tablet or smartphone, you can read the magazine for free online, and join the conversation on Twitter.
In this issue 
Can Europe pull off the world's most ambitious energy project?
As the world moves towards its shared climate change ambitions, a "step-change" could be coming for Europe's energy systems. Andrew Tunnicliffe learns about the North Sea Wind Power Hub programme, the challenges it faces, and the rewards if it can overcome them.
Emissions and efficiency: cap-and-trade systems around the world
May's emissions allowance auction in California saw settlement at minimum prices and practically no revenue for the state. The struggles have raised questions about the viability of the process, and whether it can be replicated around the world, from China to Colombia. JP Casey learns more.
A future-proofed energy recovery plant for North London
As part of its 'Green Recovery' plan, a UK waste authority is building a state-of-the-art £683m heat and power project that will serve 127,000 homes, divert 700,000 tonnes of waste from landfill, and provide local jobs. Heidi Vella caught up with programme director David Cullen.  
Small steps: ten years of geothermal power in Iran
Iran's energy ministry has announced that its first geothermal power plant will come online by March next year, with an operational capacity of 5MW, and plans to ramp up production to 50MW. The figures are small but, considering Iran's historic reliance on oil, the move could help diversify the country's unbalanced energy mix. JP Casey investigates.
A temperature check for solar power in the UK
While optimism is in the air following recent news that the UK government will relax legislation around the construction of large batteries for renewable energy storage, older industry issues are still ringing out. Yoana Cholteeva rounds up voices from across the UK solar scene to find out how the industry is faring, and what more still needs to be done. 
Hotter than the sun: ITER and the pursuit of nuclear fusion
There's a running joke that nuclear fusion is always 30 years away. However, it may be achieved sooner as projects begin to make progress. Leading the way is ITER, the world's largest science experiment, which has recently started its machine assembly phase. Alex Love takes a look at the latest developments at ITER and its influence on the energy industry.
Biomimicry: powering the world with lessons from nature
Every year, power companies spend billions on research and development. Yet evolution's billions of years of trial and error has often meant that many breakthroughs have been found through biomimicry, the idea that says "If you can't beat them, why not copy them?". Matt Farmer profiles some recent advances.
Talking West Africa's clean energy future with IRENA
With more and more renewable projects being planned and built across the African continent, careful understanding of countries' local resources and stability of infrastructure is more important than ever. Yoana Cholteeva spoke to International Renewable Energy Agency energy planning and modelling analyst Sebastian Sterl about West Africa's energy potential and projects.
Preview – Future Power Technology November 2020
Equinor has announced it will lead a project to develop one of the world's first at-scale facilities to produce hydrogen from natural gas in combination with carbon capture and storage (CCS). We look at the scope of the project and find out what it will mean for the UK.
Also, we debate the best approach for Europe to hit climate targets, examine the land requirements of renewable projects, and speak to ICS about their coating technology for increased solar efficiency. 
Finally, we find out about Aggreko's hybrid power solutions, learn about a project to increaase renewable skills in Sri Lanka, investigate whether the clean energy transition can be provided for all, and consider attitudes to hydropower across Europe.