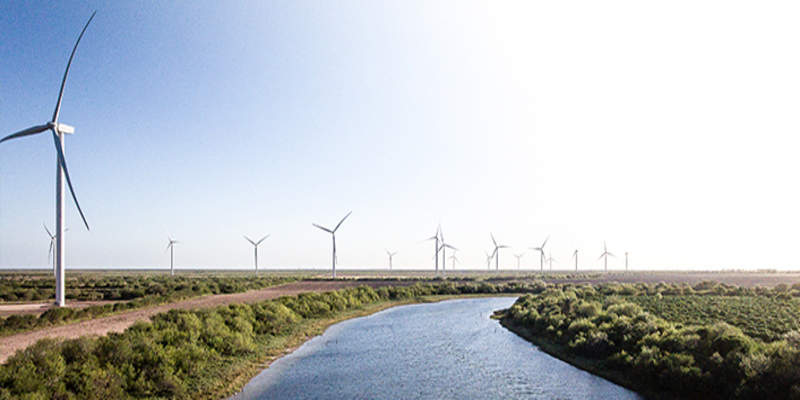 Spanish renewable energy company Acciona Energía planned to build the 145MW Palmas Altas windfarm in Texas, US.
Acciona Energía will be investing $200m for constructing the new windfarm, which will be equipped with 46 of Nordex's AW3150 wind turbines, with a rotor diameter of 125m.
The turbines will be mounted on an 87.5m steel tower (hub height).
---
China-based JinkoSolar Holding signed an agreement to supply solar modules to US company NextEra Energy.
Under the deal, JinkoSolar will provide up to 2.75GW of high-efficiency solar modules to NextEra Energy over a four-year period.
The Chinese manufacturer plans to open its first manufacturing facility in Jacksonville, Florida, US, and expects to create more than 200 direct jobs in the state.
---
Indian renewables producer Azure Power signed a contract for a 200MW solar project in the state of Gujarat, Western India.
With the agreement, Azure Power now holds a portfolio of 470MW in the state with Gujarat Urja Vikas Nigam (GUVNL) and has become the largest solarpower supplier in the area.
The 200MW project will be developed by the company outside a solar park and is expected to be commissioned by next year.
---
US-based electric power holding company Duke Energy Florida revealed that it is on schedule to deliver clean and reliable energy through its natural gas plant, being built in Citrus County.
The new 1.6GW combined-cycle, two-unit plant has been designed to generate energy using new technology and clean-burning natural gas.
Each unit of the natural gas plant will have the capacity to generate 820MW of power, with the first expected to begin operations in September, while the second unit will start operating from November.
---
Enel's Indian renewable subsidiary BLP Energy secured the right to sign a 25-year energy supply contract for a 285MW windfarm in the state of Gujarat, Western India.
The project was awarded to BPL Energy under the fourth tranche of the 2GW national wind tender, which was issued by government-owned company Solar Energy Corporation of India (SECI).
Enel Green Power CEO Antonio Cammisecra said: "We are very pleased about this first tender award in India."
---
Spain-based Elawan Energy signed a power purchase agreement (PPA) to build a 102MW windfarm in South Africa with an investment of €145m.
The PPA is part of the fourth round of the South African Power Plan tender, and will be performed by Elawan and its local associates.
The Copperton windfarm will be located in the province of Northern Cape and its estimated annual production will be 360GWh per annum.
---
The European Bank for Reconstruction and Development and the Green Climate Fund (GCF) have agreed to provide an $88m financing package to upgrade the Qairokkum hydropower plant (QHPP) and improve electricity supply in Tajikistan.
The $88m financing package comprises of a $38m European Bank for Reconstruction and Development (EBRD) loan, a $27m GCF loan and a $23m GCF grant to state-owned power utility Barki Tojik.
Created in 2010 by 194 countries that are parties to the United Nations Framework Convention on Climate Change (UNFCCC), GCF supports the efforts of developing countries to respond to the challenge of climate change.
---
Indian solar engineering, procurement and construction (EPC) company Sterling and Wilson plans to build a 300MW solar photovoltaics (PV) plants in Vietnam by June next year.
The project will be built for an undisclosed client in Vietnam, which is currently involved in advance discussions.
The 300MW project is expected to attract a $250m investment.
---
German energy utility Energie Baden-Württemberg (EnBW) began construction of the Hohe See and Albatros windfarms in the North Sea.
Featuring 87 wind turbines, the windfarms will have a combined output capacity of 609MW. The project is said to be the largest offshore wind project in Germany.
Spanish wind turbine manufacturer Siemens Gamesa has been awarded the contract to supply and install 87 wind turbines of type SWT-7.0-154.
---
ABB secured a $90m order from the UAE-based utility Dubai Electricity and Water Authority (DEWA) to build the Shams 400kV substation at Mohammed Bin Rashid (MBR) solar park.
The substation will be integrating power generated by the MBR solar park into Dubai's electricity grid.
It will be the second substation built by ABB for the solar park and is expected to strengthen the city's power grid, as well as help in reducing the area's carbon footprint.