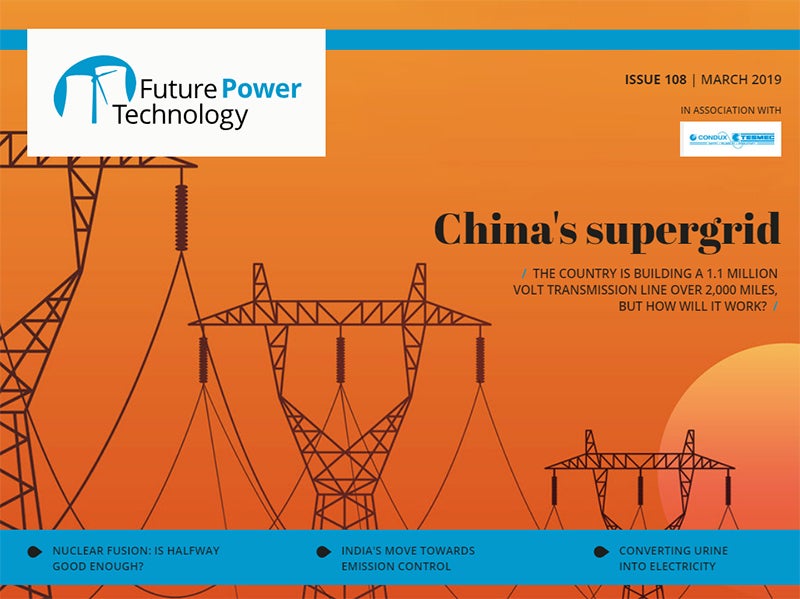 Future Power Technology is now available on all devices. Read the new issue here.
In October, India's largest power utility NTPC announced that it will use biomass to co-fire all its coal-based power plants. The decision is a bold move that will help curtail air pollution, backed by a 2017 policy that promotes biomass utilisation for power generation. We speak to the analysts to understand the impact of this move on India's energy mix.
We also consider whether fusion energy could be enough, after MIT announced that its Sparc reactor could begin producing energy from nuclear fusion by 2025, but at a much lower wattage than traditional fission reactors, and find out more about a new energy tower from Energy Vault that uses basic physics to store energy.
Plus, we take a closer look at China's mega transmission line project, learn more about a new device developed by Stanford University scientists that can harvest solar and space energy at the same time, and speak to start-up Robial about its plans to convert urine and other types of wastewater in to electricity.
In this issue
Nuclear fusion: is halfway good enough?
MIT's SPARC reactor could begin producing energy from nuclear fusion by 2025, but it is small and likely to produce just 50MW-100MW of power. While this is much smaller than the long-predicted 'perfect' fusion reactors, could it be an appealing source of energy? Molly Lempriere reports
Read more.
India's bold move towards emission control
India's largest power utility NTPC has plans to use biomass to co-fire all its coal-based power plants. The decision is a bold move that will reduce the company's overall carbon emissions, but what challenges might it face? Heidi Vella investigates.
Read more.
Tower of power: gravity-based storage evolves beyond pumped hydro
Energy Vault has created a storage system in which a crane sits atop a 33-storey tower, raising and lowering concrete blocks and storing energy in a similar method to hydropower stations. Talal Husseini takes a look at how the process compares to other forms of energy storage.
Read more.
China's mega transmission lines
The State Grid Corporation of China has announced it is building a 1.1 million volt transmission line that will be able to deliver the output of 12 large power plants over 2,000 miles. How will the supergrid work and what does it mean for China's influence in the region? Molly Lempriere finds out.
Read more.
The power of radiative cooling: will it be the next big energy saver?
For a few years a team of academics in the US has been on a quest to revolutionise the way buildings are cooled. Now, ongoing research could be about to deliver one of the biggest gamechangers to building management, as Andrew Tunnicliffe finds out.
Read more.
A new source of clean energy? Urine luck!
Robial, a new spinout company from the University of West England, is planning to commercialise a technology that converts urine and wastewater into electricity. Talal Husseini finds out just how far you can get on pee power.
Read more.
Saudi Arabia sets out its stall as a global renewables hub
The launch of Saudi Arabia's new renewable energy targets has received a mixed reaction from international experts. Future Power sister publication MEED reports.
Read more.
Software aids development of kite and drone renewable energy
Researchers have developed flight simulator software for airborne wind energy systems, a technology that generates electrical energy through tension created by kite tethers or turbines located on drones. Robert Scammell finds out more.
Read more.
Preview – Future Power April
Ireland is set to miss its 2020 goal of a 20% reduction in CO2 emissions, potentially leading to penalties as high as €600m. While progress has been slow, there are an increasing number of incentives on the table, such as a grant of €4m for innovative energy research projects available to businesses, universities and public sector bodies. But is it too little too late?
We also profile solar power in Africa, consider how wildfires affect energy infrastructure, take a closer look at miniaturised solar cells that can be embedded into clothes, and show the rise and fall of UK nuclear power plants over the decades.
Plus, we explore Hungary's ambitious coal phase-out plans and the opportunity this brings for renewable energy developers in the country, speak to ENCS managing director Anjos Nijk about the fundamentals of smart grid cyber security, and round up some of the most promising projects attempting to harness the cellular engines within algae.