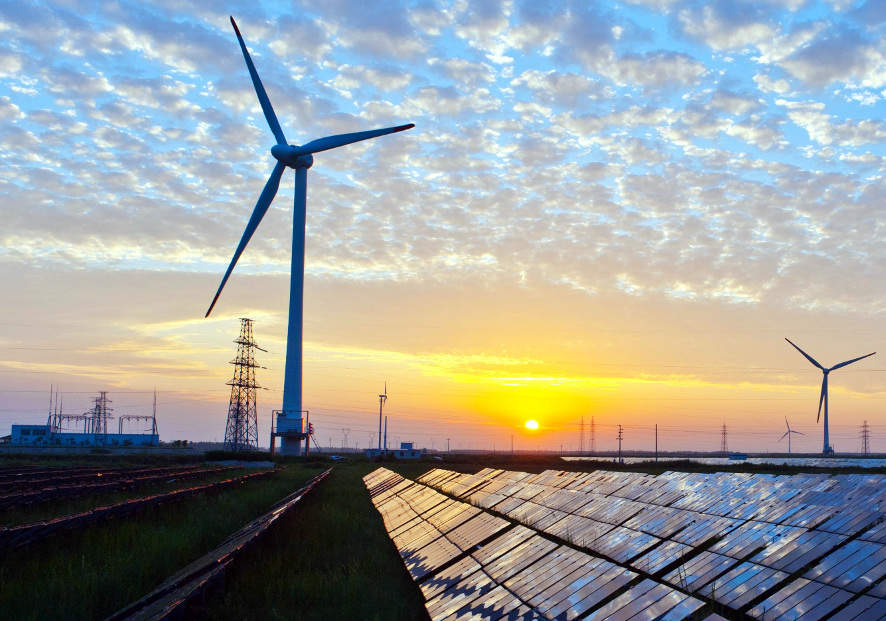 2018 is set to be a year characterised by innovation and disruptive technology across the major energy sectors, from fossil fuels to renewables. Here, Julian Turner looks at potential trends and projects.
Oil and gas
Issues and trends
The US Energy Information Administration forecasts that Brent spot prices will average $56 a barrel in 2018 and that supply growth from the US, Brazil and OPEC will increase oil inventories by 100,000b/d. They also expect OPEC to extend its current production cut strategy beyond March 2018.
In the North Sea, the upsurge in M&A activity and asset transfers between established global players, such as Shell, and a new breed of North Sea start-ups backed by private equity looks set to continue.
Featured projects
Major upstream projects include phase 11 of South Pars, the world's largest natural gas field, a joint venture between Total and Iran's NOIC with a production capacity of two billion cubic feet per day.
On the UK Continental Shelf, Clair Ridge, BP's second-phase development of the Clair oil and gas field, is scheduled to produce the first of an estimated 640 million barrels of recoverable oil.
Nuclear
Issues and trends
The UN has revealed that national pledges will only achieve a third of the reduction in greenhouse gas emissions required by 2030 to meet targets set by the 2015 Paris Climate Change Agreement.
Nuclear power may, therefore, become an increasingly attractive source of low-carbon electricity for mature industrial economies in tandem with ever-cheaper renewables such as wind and solar PV.
Featured projects
Worldwide, nuclear power capacity is set to increase, with around 50 reactors under construction, the majority in Asia. Russia has plans for 25 new reactors and 5GW of new nuclear thermal capacity.
Barakah, the world's largest single nuclear project and the first in the United Arab Emirates, is due to come online in 2018. Major projects breaking ground include the $22bn power station at Akkuyu in Turkey and two in Argentina − a 720MW Candu reactor and a 1,150MW Hualong One reactor for a combined $13bn. Saudi Arabia is set to award a contract to build its first nuclear reactors next year.
Wind
Issues and trends
Asia will lead the way in wind power capacity additions in 2018, accounting for 29GW of the 60GW worldwide predicted by the Global Wind Energy Council (GWEC). India and China remain the main growth drivers, with the latter expected to reach its target of 200GW of wind capacity before 2020.
Europe is set to remain the second-largest wind power market between now and 2019, followed by North America. The US Energy Information Administration expects wind generation capacity to increase by almost 16% in 2018 to 102GW, accounting for 9% of electric installed capacity in the US.
Featured projects
Development work will begin on the world's largest offshore windfarm off the coast of Yorkshire. The 1,386MW Hornsea Project Two facility will produce enough power  for 1.3 million UK homes.
The UK Supreme Court has finally given the go-ahead to nearly 2.3GW of windfarm projects off the east coast of Scotland. Construction of the 450MW Neart na Gaoithe facility begins in 2018.
Solar
Issues and trends
China's solar PV boom looks set to continue in 2018. The country's National Energy Administration has more than doubled its 2020 solar power target to around 230GW after total capacity passed the original mark of 105GW over two years early − with 35GW added in just seven months.
"Overall demand is expected to remain bullish throughout the remaining months and years of the ongoing 13th five-year-plan period," said Asia Europe Clean Energy (Solar) Advisory.
Behind China is the US, with 49GW of projects either under construction or development. India looks set to become the world's third-largest solar PV market with total solar capacity additions of 56GW over the next five years. India currently ranks fourth, with a projected annual demand of 5.8GW.
Featured projects
Around 956.8MW of solar capacity is being added at 28 locations in Pakistan, with 556.5MW set for completion by the end of 2018. A large-scale 50MW facility in Chakwal in the Punjab is due to come online by March and two 50MW projects in Nooriabad in Sindh province will be completed by July.
2018 could also be a stand-out year for Mexico's nascent solar industry. GTM Research predicts that 2GW of additional capacity will be added in 2018, up from just 400MW at present. The International Energy Agency forecasts Mexico will hit be home to 30GW-40GW of solar PV installations by 2040.
Hydropower
Issues and trends
The US hydropower industry could be set for a mini-boom in 2018 thanks to a billed approved this month by the House of Representatives that both defines hydro as a renewable energy source and streamlines the way projects are licensed. The bill will now go to the US Senate. Watch this space.
Featured projects
The 36.4MW Red Rock hydroelectric plant on the Des Moines River in Iowa, US, is scheduled to become operational in 2018 and is expected to supply 18,000 homes with electricity each year.
An 80MW hydropower plant is due to come online late next year at Rusumo Falls on the border of Rwanda and Tanzania, with transmission lines interconnecting those countries and Burundi.
On-site work on the world's first tidal lagoon power plant, comprising 16 hydro turbines that will supply electricity to 155,000 homes for the next 120 years, is due to begin in Swansea Bay in 2018.
Coal and shale
Issues and trends
Coal production may have fallen by a record amount in 2016 but demand remains high. The fossil fuel will continue to supply around a third of all energy used globally and account for roughly 40% of electricity generation. In China, coal will continue to produce up to 70% of the nation's electricity.
The industry push toward zero-carbon coal-fired power plants will continue through 2018 with R&D into ultra-supercritical steam technology and high-efficiency low-emissions solutions.
Despite President Trump's pledge to restore US coal industry and the US withdrawal from the 2015 Paris agreement, production looks certain to continue to fall thanks to cheap and plentiful shale gas.
Featured projects
Thailand-based TTCL is set to build a $2.8bn coal-fired power plant in Myanmar in south-east Asia. Construction work on the controversial 1,280MW project in Hpa-An township in Kayin state could cost up to $2bn. The plant may use Japanese ultra-supercritical technology and come online in 2023.
Bharat Heavy Electricals will continue work through 2018 on the highest-value order in India's power sector, a 4GW supercritical plant in Telangana, southern India. The Rs204bn ($3.1bn) project in Yadadri comprising five 800MW units will be owned by Telangana State Power Generation. 
Electricity grids
Issues and trends
Protecting power infrastructure from hackers will remain a priority in 2018 following high-profile cyber attacks in the Ukraine, the US and Ireland, with new-generation smart grids still vulnerable.
SE4ALL, a joint UN and the World Bank project, will continue to look at the efficacy of microgrids – small-scale decentralised solutions that provide electricity for as little as 20 households via a low-voltage distribution network – as a way of connecting an estimated 1.2bn people globally to the grid.
Featured projects
In Puerto Rico, Texas and Florida, reconstruction of power infrastructure devastated by hurricanes Maria, Harvey and Irma will continue. Technologies such as solar and battery storage systems and microgrids are being used to make the grids more resilient, but federal funding plans remain unclear.
Snowdonia Pumped Hydro is set to begin construction of a £160m grid-scale electricity storage facility next year. The reservoirs at Glyn Rhonwy in north Wales will to help store approximately 700MWh of energy, enough to provide electricity to 200,000 UK households for at least 125 years.