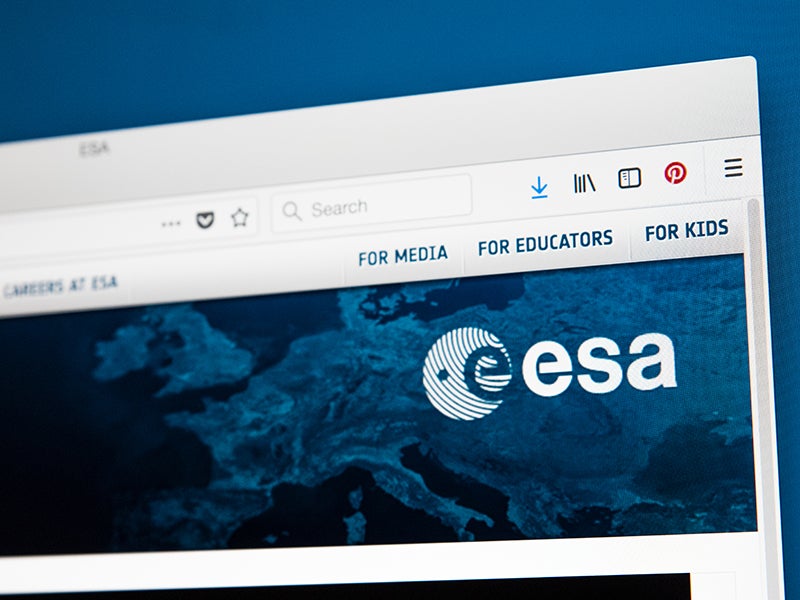 For decades, William Shatner has been synonymous in telling us space was "the final frontier". The first line to the opening Star Trek sequence is perhaps even more famous than the man that said it. But he was arguably wrong; it is simply the next frontier.
At least it is if you're working in energy supply and energy efficiency, as a project headed by the European Space Agency (ESA) and backed by the UK Government is hoping to prove. The agency, in partnership with E .ON and Astrosat, is looking to space to tackle one of the biggest challenges of our time: energy efficiency and fuel poverty.
"Energy efficiency is the only sustainable way to deliver affordable energy bills in the long run," says Joel Stafford , commercial project manager and energy efficiency lead at E.ON. "We must act on the millions of properties across the UK that are not fit for the 21st century."
In September 2018, the trio announced a trial project that uses satellite imaging data from across the UK to identify communities in most need of support. The imagery will be cross-matched with government and local authority data on housing stock to identify vulnerable communities and even individual households.
"The unique platform will provide local authorities and even entire cities with a street-level view of where improvements are most needed. This means they can better target their approaches to upgrading housing stock and optimising energy efficiency installations," says Strafford.
Using satellite imagery to cut energy waste
By using orbiting satellites, near real-time data will be collected, including optical sources and thermal-infrared for heat mapping, and collated with ground observation and pre-existing statistical datasets. Astrosat's Thermo and Carbon Efficiency Reporting Tool (ThermCERT ) software will then be used to present complex data much more easily.
"In working with E.ON, we are developing a dashboard that can present a large number of complex datasets in an easy to understand form that will allow users to make informed decisions," Astrosat says. The company's data scientists will develop techniques to help "fill in the blanks" where Earth-based datasets are either out of date, or incomplete. "They (the scientists) are using cutting edge machine learning techniques to derive meaningful knowledge on fuel poverty and other issues associated with energy efficiency," the company adds.
Data can be viewed either layer-by-layer or as a complete picture. The process will utilise currently held data by government departments, such as the Department for Work and Pensions, and can be broken down to look at individual communities. By working with government and local authorities, better targeted approaches can be found to specific challenges faced by individual regions.
E.ON says this approach is much more efficient than existing methods, and can proactively locate whole areas or communities that would most benefit from improvements, rather than relying on input from residents who might be wary of reporting themselves as vulnerable or in need of extra help. "Multiple datasets can be helpful as they build up a big picture of truth about an area and validate against each other," says Stafford. "This is a new way of looking at communities and understanding the problems they face."
Tackling fuel poverty in the UK
According to National Energy Action, a UK-based charity with a mission to end fuel poverty, around 4 million homes in the UK are currently in fuel poverty, a figure that has risen consistently in recent years. Fuel poverty is defined as being a household having to spend more than 10% of its annual income on fuel.
Stafford says E.ON has called on the government to introduce a number of measures, including making energy efficiency a national infrastructure priority, in the past. According to the company, the measures the government needs to take if it is to really tackle this growing concern include: to introduce stamp duty relief for households where they invest in improving the energy performance of their home; promote green mortgages to help customers fund investments in energy efficiency effectively; and progressively tighten minimum standards for landlords, so they have to meet an Energy Performance Certificate (EPC) D by 2025 and EPC C by 2030.
Stafford says the tool under development has the potential to pinpoint clusters of households either in fuel poverty or at risk. "Matched with government data, this heat mapping technology could mean less time spent on the road or knocking on doors, and more time dedicated to actually upgrading homes so people can lead more comfortable, healthier lives."
Until now, identifying vulnerable customers has relied on door knocking and customers themselves reporting the challenges they face in heating and powering their homes. "Current energy efficiency programmes often rely on door-to-door visits or doorstep mailings in order to talk directly to customers and analyse their specific needs," Stafford says. "The large amount of data which can be captured using satellite technology means a bigger and more accurate picture can be created quickly, which improves the success rate of installation works."
The future of space data
Stafford believes that by partnering with the ESA's Business Applications programme, the group has been able to unlock funding for the project, as well as opening a door to the future expansion of the project across other European markets, should it prove successful. "ESA's Business Applications programme is dedicated to supporting space-enhanced services with two objectives: to generate growth for industrial partners, and to benefit society at large," he explains.
The UK was selected for the trial because of its advanced energy efficiency market and the "wealth of historical data on energy efficiency measures and installations" E.ON has there. To date, Stafford says, the company has delivered more than 1.3 million energy saving measures to homes and businesses.
The 18-month long initiative will help locate and provide targeted support for the most vulnerable groups or areas in society. It is later expected to leverage the growing wealth of high resolution commercial data that is now coming online to go even further.
"Currently in trial format, we envisage working alongside local authorities, city mayors, and so on, to explore how we might tackle specific challenges and take advantage of opportunities in their regions," says Strafford. Alongside the energy efficiency improvements for individual homes, using this data might make it possible to identify and use waste heat from existing industrial sites to power a district heating scheme, bringing affordable and lower carbon energy to nearby communities.
"There are many opportunities beyond fuel poverty and energy efficiency to use space data and satellite technology to enhance the way we work. Other applications currently being explored include disaster relief and city-scale traffic management," he continues.
Other areas that show promise include improving air quality and assisting infrastructure planning.
Will space mapping bring energy change?
Stafford is excited about what the future might bring. "Delivered on the doorstep but driven by big data gathered from Earth's orbit, our work with Astrosat and the ESA is about using the almost endless possibilities of space to deliver real benefits on the ground," he says.
He hopes the outcome of the trial will be a base solution tool that will locate communities where there is a need for energy efficiency measures to be installed at scale; something that will deliver "real change in terms of fuel poverty and carbon emissions, to help reduce heat loss and unnecessary energy expenditure in regional areas across the UK."
The UK Government has invested £6bn into the Energy Company Obligation scheme, which aims to reduce fuel poverty and carbon emissions. Speaking about the ESA/E.ON/Astrosat project, Business and Energy Secretary Greg Clark said: "This government-backed technology could boldly go where no technician in a van has gone before."