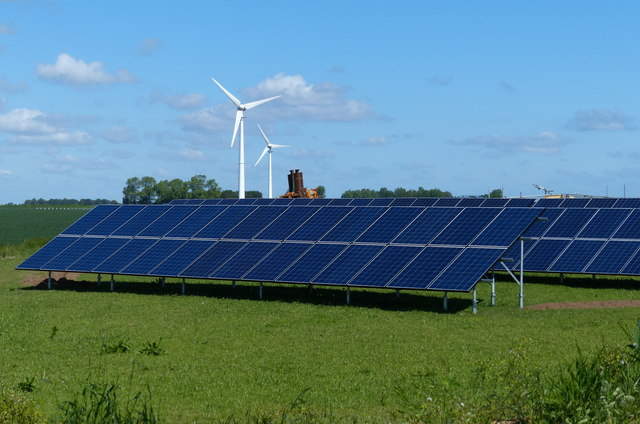 Of all the energy challenges facing Western industrialised nations, what to do with surplus power generated by renewable sources such as wind and solar PV would appear to be the least of them.
However, the familiar problem of balancing supply and demand is becoming more pressing. In April, National Grid published a report warning that electricity demand in the UK could fall to near record lows this summer – peak transmission system demand for June-August was forecast at 33.7GW – because of the growing supply of power from small-scale solar and wind farms that bypass the grid.
"Increased supply and demand variability caused by these periods of low demand and high levels of renewable generation can create operability challenges," the report said.
"As a result, we may need to take more actions to curtail generation and possibly instruct inflexible generators to reduce their output in order to balance the system."
Clean energy provides a third of the UK's power at certain times of the day. That, coupled with the UK Government's ambitious programme of offshore wind farm construction and the inflexibility of some solar power plants, means the problem of what to do with excess electricity is now a priority.
Hydrogen storage explained
A recent report from the Institution of Mechanical Engineers (ImechE) entitled 'Energy from Gas: Taking a Whole System Approach' offers compelling evidence that hydrogen storage could help to optimise surplus low-carbon power.
The concept is built around 'power to gas', a process by which electricity – most commonly excess power on the grid or in industry – is used to create gas, usually in the form of hydrogen.
This is then electrolysed from water and the energy used across all sectors of the UK energy system, such as electricity, heat, industry, storage and transport, helping to decarbonise the power network.
"Power to gas provides a conduit for connecting the energy system together, providing fuel from excess power and reducing both air pollution and CO2 emissions," explains Dr Jenifer Baxter, head of engineering at ImechE and lead author of the report.
"The use of hydrogen technologies is not a new concept, but as climate change, health concerns and security of energy supplies across sectors begin to impact our everyday lives, the appeal of the use of hydrogen technologies as part of the whole energy system grows."
In addition to decarbonising the power grid, there is another ethical dimension to hydrogen storage; namely, that it offers an environmentally friendly alternative to mining for metals such as lithium, the central component of lithium-ion batteries and an increasingly popular form of energy storage.
Everything from mobile phones to electric cars relies on metals like lithium, nickel, graphite and cobalt, so demand and prices are soaring. The Financial Times reports that the price of cobalt, mostly mined in the Democratic Republic of Congo, has increased by more than 190% over the past 18 months.
A 2017 report by Amnesty International alleges that industry giants such as Microsoft, Lenovo and Renault are not doing enough to tackle child labour allegations in cobalt battery supply chains.
"The UK Government should commission a comprehensive comparative study of the long-term sustainability of materials used to create Lithium-ion EV batteries versus power-to-gas/gas systems and fuel cells, particularly for energy storage, to identify appropriate technology and lifecycle analysis," says Baxter, quoting one of the IMechE report's key findings.
Solving the problem of excess energy
According to IMechE, the appeal of sustainable or 'green' hydrogen is that it offers clean, limitless energy that can fulfill the requirements of all energy sectors, as well as many heavy industries. For example, hydrogen can be used as an effective alternative fuel to oil for large vehicles such as HGVs.
The institution's report includes case studies detailing the use of renewables at refineries to generate hydrogen through electrolysers for use in petroleum refining. Gas distribution company Cadent is also looking at generating hydrogen for industry through steam methane reforming, using carbon, capture and storage (CCS) to remove CO2 from the process.
"ITM have a hydrogen reforming station in London that will be supplying the Metropolitan Police vehicles." Baxter adds. "We will likely see improvements in electrolysers using renewables, the use of CCS in steam methane reforming and the general greening of existing and new hydrogen.
"Clean limitless energy that can fulfil the requirements of all energy sectors provides a great option for the UK."
Not everyone agrees. A recent report by the Oxford Institute for Energy Studies warned that there were 'major technical challenges' to decarbonising heating by switching to greener gases like hydrogen.
"There is good evidence to show that there is little or no change needed to introduce up to 20% hydrogen into the heating network, and also using biogases reduces the overall greenhouse gas (GHG) emissions," Baxter counters.
"Until recently, there has not been regulation or the level of public awareness around GHG emissions and air pollution to force manufacturers to change behaviours. The 2008 Climate Change Act pushed change in the power sector first and now other more difficult sectors are beginning to change."
Power to gas vs battery storage
The Guardian reports that in 2017, the UK Government made pledges amounting to £246m for battery research and development, compared with just £25m to explore using hydrogen for heating.
IMechE calls for investment and research into both batteries and hydrogen production, storage and use. The institution would like to see more investment in hydrogen, but not at the expense of other technologies. "The UK Government must work with the gas industry to promote the use of up to 20% hydrogen in the gas distribution network including change in pipes and materials by 2023," states Baxter, again referencing one of the IMechE report's key findings.
"Funding programmes and demonstration sites are crucial to decarbonising gas," she continues. "Government has the power to finance research, development and demonstration and support deployment through programmes such as Innovate UK, as well as bespoke programmes designed to deliver future UK infrastructure."
"The government must also commit to creating an industrial forum that brings together the nuclear, renewable power and gas sectors to promote the generation and storage of hydrogen for use across the UK energy system in heat, transport, power generation and heavy industry.
"Investment now in the future hydrogen economy will begin to encourage further innovation, open up markets and help clarify legislation and regulation."