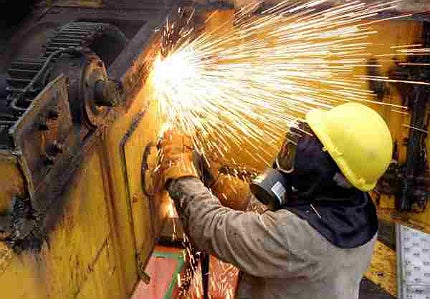 According to the most recent figures from the Nuclear Decommissioning Authority (NDA), the current estimated decommissioning and clean-up costs for the UK's civil nuclear legacy stand at £49.2bn. In the 2013/2014 financial year, the NDA plan to spend £3.2bn – £1.76bn of that at Sellafield alone – with the UK Government picking up £2.3bn of the bill, and the remaining £0.9bn funded by the income from commercial operations.
Speaking on the publication of the NDA 2013/14 Business Plan, NDA chief executive John Clarke described it as setting out "a challenging year of activity as we seek to accelerate our programme to reduce hazard and deliver value for money for the taxpayer."
While this effort will see the bulk of the budget – some £3bn – spent on site projects, 'non-site' expenditure too has a significant role to play, and arguably nowhere more importantly than in supporting skills development, where there is a significant gap looming in the industry.
Skills gap
"Up to half of the workforce are expected to reach retirement age in the next ten to 15 years, creating a potential knowledge shortfall."
Up to half of the workforce are expected to reach retirement age in the next ten to 15 years – creating a potential knowledge shortfall just as the next wave of plants will be most in need of their knowledge. As Kirsty Alexander, head of Communication at the Nuclear Industry Association, explains, it means "there are huge opportunities for the UK in developing skills and technology to advance decommissioning expertise."
NDA is itself required under the Energy Act to develop and maintain skills to help ensure the necessary capabilities remain both within the operating site licence companies (SLCs) and the wider supply-chain to complete the clean-up mission effectively now and in the future.
Initiatives to achieve this include the award-winning 'nuclear graduates' programme – launched in 2008 and now rated one of the best training initiatives in the UK – the development of regional training centres, and an apprenticeship scheme to encourage young people into the industry.
Collaboration
The authority is not the only one trying to bridge the gap; many other stakeholders are also involved in an industry where collaboration appears refreshingly commonplace.
"Unsurprisingly, robotics and remote technologies feature heavily in many of the solutions."
The roll includes the Department of Energy and Climate Change, National Skills Academy for Nuclear, Office for Nuclear Regulation, the SLCs, Cogent, EDF and Horizon, along with a number of other companies and trade unions.
Most recently, in May 2013, the National Skills Academy for Nuclear and the National Nuclear Laboratory (NNL) signed a formal memorandum of understanding. which will see them work collaboratively to develop 'Subject Matter Experts'.
At the signing, Dr Fiona Rayment, NNL Fuel Cycle Solutions director, highlighted the importance of transferring the skill and insight of those who she described as possessing "virtually irreplaceable levels of knowledge in their specialist fields, often accumulated over decades" to the next generation.
It is, according to Jean Llewellyn OBE, CEO at the National Skills Academy for Nuclear: "An urgent skills area for action and is intrinsic to the success of the future nuclear programme in the UK."
Robot snakes and remote technology
Technology is another obvious key area for success, not least because much of the decommissioning process inevitably takes place within hazardous environments, often where humans simply cannot go. Unsurprisingly, robotics and remote technologies feature heavily in many of the solutions.
The LaserSnake2, for instance, is a £7.7m collaborative R&D project led by OC Robotics, which is scheduled to run from 2013 to 2016. As the recipient of the largest grant ever awarded by the Technology Strategy Board (TSB) to an SME – nearly £6m – the project aims to improve long-reach snake-arm robots, find ways to combine them with mobile robots and develop laser cutting optics, with a focus on their use for decommissioning.
Although industry sources say it is five to ten years from use in a real life nuclear environment, in 2011, the technology was successfully demonstrated performing remote single-sided cutting using a fibre laser in a plant mock-up.
Inspections and surveys
Inspection is another task where robots could be particularly beneficial, especially when access is difficult.
Capable of climbing walls while carrying up to 5kg of equipment, WallRover is part of a new generation of robots, which, in the light of recent successful demonstrations at Dounray and Sellafield, could soon be making a growing contribution to the industry. Currently equipped with a video camera and a mini gamma spectrometer, the WallRover could in theory be fitted with almost any equipment or sensor package, subject to weight limitation, making it a flexible and highly adaptable tool for examining hard-to-reach or contaminated areas.
"Inspection is another task where robots could be particularly beneficial, especially when access is difficult."
Flying robots offer an alternative approach. Unmanned aerial vehicles (UAVs) have left their military origins behind over the last decade, as industry in general has increasingly embraced their cost-effective flexibility. The nuclear sector is no exception – and if work underway at the University of Warwick's Mobile Robotics Department, sponsored by Sellafield, goes as planned, UAVs could be playing a significant role in future decommissioning.
Based on a commercial-off-the-shelf hexacopter – a one-metre sized, highly manoeuvrable, six-armed / six-rotor design – and adapted to be flown out of line-of-sight via a stereo camera visor, the device uses a 3D compass and on-board laser scanners to create a digital map of its surroundings.
Small enough to be flown inside many parts of a nuclear facility, the robot hexacopter can build up very accurate internal images of the building, as well as detect radiation levels within – information which can then be used to optimise how best to go about decommissioning and dismantling it.
RadBall
Identifying radiation sources is, clearly, an important concern for the industry – leading the UK's National Nuclear Laboratory to develop the novel RadBall.
This grapefruit-sized sphere contains layers of innovative radiation-sensitive material, which change colour to opaque green on exposure to radiation – the tracks being left on the material film allowing the direction and intensity of the source to be worked out.
One of its major advantages is that this is a passive device, so once deployed either robotically into high-risk areas, or manually where safety allows, it needs no power source to begin operating.
Already successfully trialled at Sellafield, RadBall is another of the technologies currently being developed which is showing much promise for the future – a future which itself represents significant opportunities for the industry.
With global investment in new reactors by 2030 estimated at around £930bn, and a forecasted £250bn to be spent to take redundant ones off-line over the same period, nuclear expertise and reliable decommissioning technologies both seem set to remain in high demand.

Related content
---
A new generation of small modular nuclear reactors could offer flexible, cost-effective alternatives to energy production.
Public support for onshore wind in the UK is supposedly at a record high, so why is the government offering financial inducements to persuade communities to host wind farms?
---