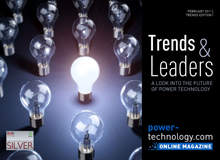 Energy technology has to constantly remain on the cutting edge of research and innovation – whether it is to increase the efficiency of conventional, fossil fuel-based electricity generation, to find alternatives in renewable energy sources, or to develop processes that save time, money and labour in the construction and maintenance of power plants and components.
In this month's issue we look at some of the trends and leaders in the power industry. We find out how 3D modelling allows project managers to visualise the power plants of the future and explore the technology's potential for the cost-effective designing power plants. We also round up the world leaders in power generation research and check in on promising technologies for improving the efficiency of fossil fuels while keeping emissions low.
In a special Technology Focus dedicated to the future of wind energy, we look at a new generation of super-sized, highly efficient wind power generators and investigate the advantages of floating structures for offshore wind farms.
To view the latest issue online, click here. The online magazine is also viewable on mobile devices, iPhones and iPads.
Intelligent Design
Computer-aided design (CAD) and 3D modelling are not new concepts in the design-build industry, but using advanced software in the design stages to save time, money and labour has become increasingly essential for the planning of new power plants. Chris Lo explores how 3D modelling allows project managers to visualise the power plants of the future.
More for Less
When it comes to reducing carbon emissions, the spotlight is mostly on renewable energy technologies – but it is important to remember that traditional fossil fuels are still the world's dominant source of energy. Increasing efficiency in this area could be the key to making a meaningful impact on emissions in the short term – so what are the most promising technologies for improving fossil fuel efficiency?
Taking Energy into the Future
Research into electrical generation and transmission is moving ahead at a fast pace around the world, with the aim of raising efficiencies by improving the maintenance of existing generators and transmission networks, and designing new ones, including renewable options. Mitch Beedie looks at some of the research institutions leading the way in the US, Europe and the Far East.
Technology Focus: The Next Aerogeneration
In a special Technology Focus we investigate how a raft of new super-sized, super-efficient structures such as the Aerogenerator are showing wind power a glimpse of a very sustainable future.
Technology Focus: Future Floaters
In part two of our special Technology Focus on wind power we explore how the use of floating foundations could reduce the cost of siting offshore wind turbines in deeper water and allow generators to take advantage of stronger, more consistent wind speeds.
Industry Projects
In our industry projects section we take a close look at some of the leading power projects under construction worldwide.
Alstom Turbine Facility – Alstom's new turbine manufacturing facility in Tennessee, US, is the world's largest rotor balancing facility and will manufacture the world's largest steam and gas turbines.
Enecogen CCGT Power Station – Enecogen's 870MW CCGT plant under construction in Rotterdam's Europoort industrial area will be one of the most environmentally friendly fossil fuel power projects in Europe.
Read the full article
ReFood Biogas Plant – Food waste recycling company PDM Group is building a new biogas plant in Doncaster, UK, which will convert 45,000t food waste into renewable energy each year.
Next Issue
Safety and security in power stations are very serious issues given the potential scope of disaster that could occur in the event of a failure or attack. Next month we investigate how power plants can be kept safe and secure.
We round up the latest fire safety technology and look at security protection for systems that can be vulnerable to cyber attacks, for example smart grids and nuclear power plants. In a special case study we also look at the first fully digital reactor protection system to be implemented at an operating nuclear plant in the US.
To make sure you get next month's edition first, sign up for a free subscription.
Online Magazine FAQ
The online magazine is viewable on any computer with Flash Player installed. It is also viewable on mobile devices, iPhones and iPads though some features and videos will be disabled.
To view the online magazine, click here.