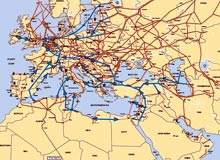 Europe is the world's second-largest energy market, with nearly 500 million consumers all requiring power. So heavy is the demand by its inhabitants, that Europe actually has to import more than half its energy, and this figure is rising. It is actually predicted that without action to reduce energy use, this figure could become nearly three-quarters in 20 to 30 years, and even higher for gas imports. Changing this means changing the whole European energy infrastructure.
But while Europe is not made up of one voice there is one common factor overall – each country in the EU could do better. Aging infrastructure should be replaced, and new technologies brought online, but even if the estimated €1,000bn was supplied to do this, an outcome would still take years.
"Europe is the world's second largest energy market, with nearly 500 million consumers."
Last year a document was drawn up that looks to enact this change – the EU's March 2006 green paper, which suggests Europe's energy markets need to change, dramatically, to keep up with demands from all sectors. It suggests completing the opening of European gas and electricity markets and stepping up relations with major suppliers such as Russia and the Organisation of Petroleum Exporting Countries (OPEC). It aims to boost renewable energies, energy efficiency and research on low-carbon technologies.
THE GREENHOUSE EFFECT
Our climate is getting warmer. The Intergovernmental Panel on Climate Change (IPCC) says that greenhouse gas emissions have already raised world temperatures by 0.6ºC. Without action, there could be an increase of up to 6ºC by 2100. If this was to happen the EU – like the rest of the world – would face serious consequences for its economies and ecosystems.
The culprits – fossil fuels and their resultant CO2 emissions – are expected to rise by some 60% by 2030. Global oil consumption – already up 20% over only the last 12 years – is projected to grow by 1.6% a year. Oil and gas prices have, as a result, nearly doubled in the EU over the past two years alone, followed by electricity prices.
Increasing global demand for fossil fuels, stretched supply chains and increasing dependence on imports can only make our environmental outlook worse. And then there is the overall supply.
Oil and gas reserves are concentrated in a few countries. About half of EU gas consumption today comes from only three countries (Russia, Norway and Algeria) and much of our oil supply comes from OPEC nations, many of which are threatened by varying heights of insecurity.
"Europe's energy markets need to change, dramatically, to keep up with demands from all sectors."
If competitive internal energy markets were to be developed, interconnections, legislation and regulations would be required. The new green paper outlines how a European energy policy will provide sustainable development, competitiveness in the internal market and secure supply.
It considers six major areas of action.
1. THE EUROPEAN GRID
Action area one is a European energy grid which will complete the internal gas and electricity markets. In July 2007 nearly all EU consumers will have the right to buy electricity and gas from any supplier in the EU.
The European Commission wants to see additional electricity interconnection capacity, particularly between countries such as France and Spain. That would reduce the need for spare capacity and, in time, would (allegedly) lower costs. This is important when Europe's previous overcapacity is ending. Replacing aging electricity generation capacity must include capacity to deal with peaks to prevent disruptions at times of high demand and back up intermittent renewable energy sources.
The paper suggests a grid code to encourage harmonised grid access conditions. That would bring common rules affecting cross-border trade. It has also called for a priority European interconnection plan, European energy regulator and new initiatives to ensure a 'level playing field', particularly for unbundling networks from competitive activities. On top of that, it would like to see a European Centre for Energy Networks to bring the network operators together to help developing a European Grid Code.
2. SECURING SUPPLY
It is no surprise that the second area for action will be in the area of supply security, not just for Europe, but for the international energy market. The EU would like to see efforts made to protect energy in the event of natural catastrophe, terrorist threat and political risks such as the interruption of supply.
"Replacing Europes aging electricity generation capacity must include capacity to deal with peaks in demand."
The commission has proposed a European Energy Supply Observatory for monitoring market developments. It also wants to revise existing community legislation on oil and gas stocks to ensure they can deal with potential supply disruptions.
That means stepping up 'solidarity' among EU member states, with the creation of gas stocks along existing compulsory oil stocks that EU legislation demands. Smart electricity networks, demand management and distributed energy generation could all help at times of sudden shortage.
3. DIVERSIFYING THE ENERGY MIX
The principle of subsidiarity means that member states decide their own energy mixes but that said, decisions in one country generally affect the rest of the community. So the EU would like to see a more sustainable, efficient and diverse energy mix.
Coal and lignite account for about one-third of the EU's electricity production, for example and climate change means that this is only sustainable if accompanied by (as yet unproven) EU-level carbon sequestration and clean coal technologies. Nuclear power contributes roughly another third but also has implications for neighbouring countries.
A strategic EU energy review will analyse the different sources of energy, from renewable to coal and nuclear, and may lead to objectives at the EU community level. The aim is to diversify the EU's energy mix while respecting diverging national choices on energy policy.
4. ADDRESSING GLOBAL WARMING
Probably one of the most pressing issues for the EU, and the world in relation to energy, would be the need to address global warming, as seen in action plan four. The commission suggests that an energy efficiency action plan should be adopted in 2007 to save 20% of the energy it would otherwise consume by 2020.
It also proposes a road map for EU renewable energy sources in the member countries with possible targets to 2020 and beyond to provide a stable investment climate for more competitive renewable energy in Europe.
"OPEC aims to boost renewable energies, energy efficiency and research on low-carbon technologies."
5. ENERGY-EFFICIENT TECHNOLOGIES
Besides tackling climate change, renewables and energy efficiency contribute to the security of supply and help limit dependence on imported energy.
They could also create many high-quality jobs and maintain Europe's technological leadership in a rapidly growing global sector that will be worth billions of euros.
This is why the commission aims to prevent overlaps in national technology and research programmes for new technologies.
An effective energy efficiency policy does not mean sacrificing comfort or convenience, according to the commission. Nor does it mean reducing competitiveness. In fact an effective policy in this area means the opposite; making cost-effective investments in order to reduce the waste of energy, so increasing standards of living and saving money.
In its 2005 green paper on energy efficiency, the commission showed that up to 20% of EU energy use could be saved: equivalent to spending as much as €60bn less on energy, as well as making a major contribution to energy security and creating up to a million new jobs.
Renewable energy is already the third-largest electricity generation source worldwide (after coal and gas) and it has the potential to grow much more. While some sources of low-carbon indigenous energy are already viable, others, such as offshore wind, wave and tidal energy still require investment.
"Coal and lignite account for about one-third of the EU's electricity production."
The EU has now installed wind energy capacity equivalent to 50 coal-fired power stations, and costs have halved in the past 15 years. The EU's renewable energy market has an annual turnover of €15bn (half the world market), employs some 300,000 people and is a major exporter. Renewable energy is now starting to compete on price with fossil fuels. Its full potential will only be realised through a long-term commitment, though.
A full review of the EU emissions trading scheme will give an opportunity for expanding and improving the scheme. The commission views this as providing the nucleus for a gradually expanding global carbon market.
The commission is looking at several possible actions to improve energy efficiency, particularly in buildings and transport (especially urban public transport in Europe's major cities). The commission believes there is a need for a Europe-wide tradable 'white certificates' system. There also needs to be more focus on showing and possibly setting minimum standards for the energy performance of the most important energy-using products including appliances, vehicles and industrial equipment.
6. COMMON EXTERNAL ENERGY POLICY
Sixth is the need for a common external energy policy and voice in the face of growing demand, high and volatile energy prices, increasing import dependency and climate change. The commission proposes that its strategic energy policy review should identify infrastructure priorities for the EU's security of supply (including pipelines and LNG terminals) and agree concrete action.
The commission asks for a road-map for a common regulatory space, and to identify a renewed approach with Europe's partners including Russia (the EU's most important energy supplier). It also proposes a new community mechanism for fast and coordinated reactions to emergency external energy supply situations.
"Renewable energy is now starting to compete on price with fossil fuels."
The EU's green paper sets out three main objectives for Europe's energy policy:
Sustainability: developing competitive renewable sources of energy and other low-carbon energy sources and carriers, particularly alternative transport fuels; curbing energy demand within Europe; and leading global efforts to halt climate change and improve local air quality.
Competitiveness: ensuring that energy market opening brings benefits to consumers and to the economy, while stimulating investment in clean energy production and energy efficiency; mitigating the impact of higher international energy prices on the EU economy and its citizens and keeping Europe at the cutting edge of energy technologies.
Security of supply: tackling the EU's rising dependence on imported energy through an integrated approach – reducing demand, diversifying the EU's energy mix with greater use of competitive indigenous and renewable energy, and diversifying sources and routes of supply of imported energy; creating the framework that will stimulate adequate investments to meet growing energy demand; better equipping the EU to cope with emergencies; improving the conditions for European companies seeking access to global resources; and making sure that all citizens and business have access to energy.
WHAT THE INDUSTRY THINKS
To date, the EU has received almost 1,700 responses to its paper, including more than 1,300 from individual members of the public and responses from 18 member states. Most have been favourable. But there are some criticisms the union must address before tabling its paper at the end of this year, such as the massive subsidies given to fossil fuels and the policy's mould which is in favour with companies more than businesses.
And with the whole world watching, the EU will invariably want to get this right, if not even for now then for future generations of power users.