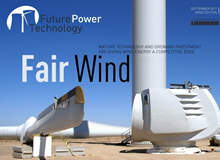 Investment and technological progress have elevated confidence in wind power as a realistic alternative to fossil fuels. In this month's issue we investigate what challenges remain before the full potential of wind energy can be unlocked.
While the newest generation of offshore turbines leap to a capacity of up to 7MW, advances in wind technology are also opening up new areas for generation and driving interest towards onshore locations. We explore promising developments such as forest wind farms and also take a look at gearless technology, which is gaining ground among wind turbine manufacturers.
We also profile market trends in emerging nations such as Brazil, Egypt, and South Africa, where wind power is seeing high investment as a potential solution to surging power needs.
To view the online magazine, click here.
Wind Power Comes of Age
Worldwide investment has begun to elevate confidence in wind power as a realistic alternative to fossil fuels. Mitch Beedie discovers what strategic and technical challenges remain before the true potential of wind energy can be unlocked.
Read the full article.
Emerging Wind Power Markets
Investment in wind energy is gaining ground in emerging nations. GlobalData examines the market forces that are driving change in the world's most rapidly expanding new power markets.
Read the full article.
Wind from the Woods
Are forest wind farms a sustainable and cost-efficient onshore alternative to offshore wind generation? Elisabeth Fischer reports on the successes of a few European forest wind farms and finds out whether energy harvested in woodlands could have a significant impact on the renewable energy sector.
Read the full article.
A Vision of an Offshore Supergrid
Could the US be the first country to have an offshore supergrid? Atlantic Wind Connection plans to build a 350-mile, 6GW power transmission trunk 10 miles out along the US mid-Atlantic coast to help realise full exploitation of the region's offshore wind potential and unlock an important untapped resource.
Read the full article.
Technology Focus: Leap of Power
Vestas has launched its next-generation offshore wind turbine, leaping directly to 7MW with a design derived from its 3MW V112. We take a look at the technology, which puts the accent on low-cost power production and reliability.
Read the full article.
Technology Focus: Going Gearless
Gearless technology is gaining ground among the world's leading wind turbine manufacturers, thanks to its impressive performance and low maintenance requirements. Uwe Hinz, vice-chief engineer at Goldwind, explains the organisation's permanent magnet direct-drive (PMDD) system to Mark Brierley
Read the full article.
Industry Projects
Ross Island Wind Farm – A 0.99MW three-turbine plant was built on Ross Island, Antarctica, to supply power to two research stations.
Read the full article.
Goshen North Wind Farm – The 124.5MW plant stretching across an 11,000-acre site is the largest wind farm in the US state of Idaho.
Read the full article.
Dantysk Offshore Wind Farm – The 288MW wind farm is to be located in the North Sea, 70km west of the island of Sylt in northern Germany.
Read the full article.
Next Issue: Optimisation and Efficiency
The efficiency of any form of power generation depends not only on the technology chosen for a plant, but also on the processes and tools used to control operations and maintain installations and infrastructures.
Maintenance is vital in minimising downtime and fixing problems before they cause damage. We investigate the benefits of preventative maintenance in the case of wind power installations.
We also explore the tools used in plant operations, looking at control systems and software available on the market, as well as simulation tools used for the training of operators.
Cranes are essential whenever the power industry needs a bit of muscle for maintenance. We speak to lifting specialists about power generation applications of cranes.
Digital Magazine FAQ
The digital magazine is viewable on any computer with Flash Player installed. It is also viewable on mobile devices, iPhones and iPads although some features and videos will be disabled.
To view the online magazine, click here.