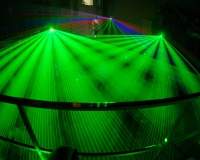 Renewable energy sources have come a long way over the last decade. So much so that designers are now are using the planet's elements to invent unusual, yet brilliant, devices in order to supply power via the smallest of appliances to the most power-hungry buildings and infrastructure.
Wind turbines, solar panels and water generators are being deconstructed and placed in unlikely environments to generate electricity for devices that usually guzzle energy produced by fossil fuels.
From the dance floor powered by footsteps to the dung-fuelled mobile phone charger, here are some of the most unusual renewable energy solutions currently setting the world alight.
Step in time
"Designers are now are using the planet's elements to invent unusual, yet brilliant, devices in order to supply power."
In some parts of the world, party-goers rely on their toe-tapping abilities to keep the tunes playing. London's Bar Surya, opened in 2008 by property developer Andrew Charalambous, aka Dr Earth, is fitted with a 'bouncing' dance floor made of springs and power-generating blocks. These blocks, when squashed, produce a small electric current which is fed into nearby batteries used to power parts of the club such as the sound system.
Similarly, Club Watt in Rotterdam, the Netherlands, features an LED-laden dance floor that is lit up solely by the kinetic energy generated by dancers.
The developer of the venue, Sustainable Dance Floor, has also tested its generators on a pavement in Toulouse, France, which produced between 50-60W of electricity as people walked over them, powering a nearby street lamp.
Harnessing human energy doesn't always work, however, as East Japan Railway found out. The company hoped its piezoelectric floor covering, fitted at the ticket gates of a station in Tokyo, would use the movement of passengers to generate enough electric power to supplement the stations' main supply.
But, when tested, a 6m2 section of floor covering produced a mere 10kW seconds a day – equivalent to lighting a 100W bulb for 100 seconds.
Chemically connected
Businesses often face blackouts when electricity is consumed by power-guzzling desktop computers, so Schneider Electric has come up with a solution to meet the need for clean and reliable extended run options in network critical applications.
The product uses fuel cells to convert the chemical energy of oxygen and hydrogen into electricity needed to power the servers with three 10kW cells. Water can also be extracted from this device.
Congolmerates such as Coca-Cola, Google and FedEx have installed fuel cells to help meet their power needs, with fuel cells also having been known to power helicopters, remote weather stations and data centres.
Decorate and generate
For obvious reasons, a rooftop is recognised as the ideal place to install a solar panel, but it seems the heat-absorbing potential of external walls has been ignored, until fairly recently.
"Solar paint could also be what's needed for walls to generate electricity from the sun, which could be available in the near future.
In 2005, designers Samuel and Teresita Cochran invented a power concept that imitates natural ivy growing on a building. 'Solar Ivy' consists of individual 'leaves' mounted on a vertical wall. Each 'leaf' features a thin photovoltaic panel, and 500 of them can generate close to 250W of power on a sunny day.
The Cochran siblings are currently taking orders for the first commercially available version of the energy system, which, like its natural counterpart, also provides shade.
A lick of solar paint could also be what's needed for walls to generate electricity from the sun, which could be commercially available in the near future.
Researchers at Swansea University in the UK are working in collaboration with Tata Steel to produce sheet steel treated with a sensitive coating of solar cells. According to project leader David Worsley, if all the steel cladding produced by one manufacturer was energy-generating, it would be the equivalent of 50 wind farms, or 4500GW a year.
Liquid power
French inventor Grégoire Vandenbussche designed the POWA Water Generator, a small turbine, which is placed into a hosepipe so that, while washing a car, water flow generates a small amount of electricity, enough to charge the batteries of an electric car or motor home.
Jin Woohan, a designer from New York, has also invented a mini-turbine which can convert water pressure into electricity. His device is attached to end of faucets or between two pipes, so when water flows the hydroelectronic turbine is activated.
Energy is then stored up in the electricity generator, which is connected to the plug socket, where mobile phones or other gadgets can be charged.
Working out for energy
The bicycle generator has been around for more than a decade, but the industry is constantly coming up with new designs to help people pedal their way to power. Convergence Tech's Pedal-A-Watt bicycle was initially developed to supply electricity for small appliances, but a rider who generates 200W could power 20 laptop computers and about 40 mobile phones.
Power bikes can also be connected up to generate enough energy to power sounds systems at a music festival.
Arizona-based MNS power has gone the extra mile in the race for renewable energy by showing its customers how they can make their own 300W pedal-power generator using an ordinary road bicycle, a battery power pack and a stand to keep the bike stationary. The company also supplies ready-made kits.
Smelly source
"The product, made by the BioVolt team, converts dung into electricity and water."
We've seen materials such as woodchips and corn being reused to power gadgets and gizmos but, when it comes to biomass, the ultimate renewable energy source is animal waste.
San Francisco, California, became the first city in the US to consider converting pet faeces into methane that can be used for fuel, in a bid to stop sending waste to landfills by 2020.
The city has asked Sunset Scavenger, a subsidiary of Norcal Waste, to place biodegradable bags and dog-waste bins into a busy dog park, collect the waste, then throw it into a methane digester. The methane can then be used to power anything that would normally run on conventional gas.
Meanwhile, a team of students from the Massachusetts Institute of Technology has taken the concept of poo power and shrunk it to fit inside a handheld device which could be used to charge mobile phones. The product, made by the BioVolt team, converts dung into electricity and water.