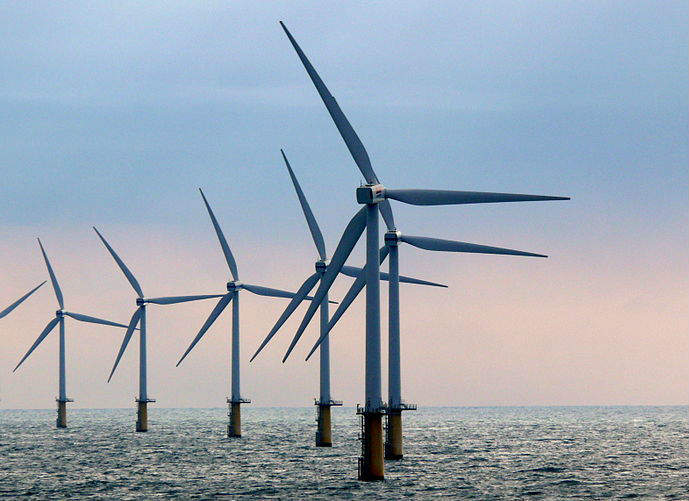 Low oil prices and global commitments to intensify the battle against climate change mean oil and gas companies have little choice but to develop serious low carbon strategies. And with its rapidly reducing costs and similarities to petroleum companies' traditional activities, offshore wind is proving an increasingly popular green energy technology in which to invest.
2015 was the biggest year for clean energy yet according to the latest figures from Bloomberg New Energy Finance, with global investment in the sector hitting a new record of one third of a trillion dollars – nearly six times greater than it was in 2004. Within that, the statistics surrounding offshore wind were particularly striking; last year saw a record €13bn invested in the European industry and over 3GW in new capacity come online, more than double what was connected to the grid the previous year.
Why are oil and gas companies interested?
Oil and gas giants have started to sit up and take notice, with several big players, including Shell, Statoil and most recently SSE, either announcing their intention to manoeuvre into offshore wind or actually taking steps to do so. As Statoil's president and CEO Eldar Sætre said following the company's decision to enter the German offshore wind market through a 50% acquisition of the 385MW Arkona offshore wind farm together with E.On: "This investment is in line with our strategy to gradually complement our oil and gas portfolio with profitable renewable energy and other low-carbon solutions."
"Oil and gas giants have started to sit up and take notice."
Statoil has also been granted a lease to use the seabed off the east coast of Scotland to build the world's first floating offshore wind farm, while Shell announced in May that it had submitted a bid, along with major Dutch offshore wind players Eneco and Van Oord, to build two offshore wind farms in the Dutch Borssele Zone. Elsewhere SSE – which in 2014 had cast doubt on the sector's viability – said this year that following a fall in profits due to low gas prices offshore wind farms are 'back on the agenda' for the company.
Falling offshore wind costs vs volatile oil prices
According to industry commentators, offshore wind's increasing popularity among oil and gas giants is down to a combination of factors including their familiarity with operating offshore, the continuing volatility of fuel prices and a greater global focus on clean energy, highlighted by the recent Paris Agreement.
"There's been a change in the background to the energy industry and I think it's made these very large oil and gas companies perhaps start to think about themselves more as energy companies and consider the implications of that," says Peter Osbaldstone, research director for European power at Wood Mackenzie, adding that the falling costs within the offshore wind sector make it a particularly attractive option.
Indeed, between 2010 and 2014 the levelised cost of offshore wind fell by 11% in the UK, largely because of the commercial deployment of larger 6MW wind turbines. The European industry is on track to comfortably reach its cost reduction target of €100 /MWh by 2020.
"IHS expects the LCOE [levelised cost of electricity] of offshore wind to decline by 35% through the 2015-2025 period mainly driven by new and larger wind turbines and a more robust supply chain," notes Magnus Dale, senior analyst of European power, gas, coal and renewables at IHS. "We are particularly excited about the traction new turbines in the 7MW and 8MW segment are experiencing in Europe offshore wind. Including preferred supplier deals, these machines represented about half of all orders for new offshore wind equipment last year."
Government commitment needed to reduce costs
There is an important caveat, however. These cost reduction targets will only be reached if European governments commit fully to the offshore wind market. "What we really need is visibility and a pipeline of projects so investors and developers have peace of mind that there will be a market for them to operate in the years ahead," stresses WindEurope spokesperson Oliver Joy, noting that the UK market, which has announced it will hold three more contracts for difference (CfD) auctions to support offshore wind projects by 2020, is a case in point. "It's that kind of regulatory certainty that needs to be in place."
"If the offshore industry is to realise its cost reduction goals, a strong pipeline of projects is needed."
A recent statement by 11 leading energy companies, including E.On, Siemens and Vatenfall, confirms the importance of having suitable policy structures in place. "With the right build out and regulatory framework the industry is confident that it can achieve cost levels below €80/MWh for projects reaching final investment decision in 2025, including the costs of connecting to the grid," they said. "This commitment is only possible with a stable, long-term market for renewables in Europe. If the offshore industry is to realise its cost reduction goals, a strong pipeline of projects is needed to scale up offshore deployment and identify efficiencies in the supply chain."
The signatories also identified regional cooperation between European countries as something that would be of vital importance to the industry's future success and unsurprisingly welcomed the announcement on the same day as their statement that an offshore wind agreement designed to enhance cooperation in the region, thereby reducing costs and accelerating the deployment of offshore wind projects, was signed by nine European Union countries, including Germany, the Netherlands and France.
'Looking positive'
So, are we likely to see more oil and gas companies follow Shell and Statoil's example and take noteworthy steps into the offshore wind market? For Osbaldstone, most probably, particularly because of their familiarity with complex operations at sea. "Oil and gas companies in general are looking increasingly at renewable energy and I think they're going to look at offshore wind as an attractive technology because they feel quite comfortable operating offshore," he believes, adding that another compelling driver for oil and gas majors is that their shareholders are beginning to expect them to transition to a lower carbon energy mix.
"For other companies traditionally in oil and gas, such as vessels and service providers, we are also noting increased interest in offshore wind," adds IHS's Dale. "Many of these companies look to offset idled capacity by new opportunities in offshore wind."
"The question mark now remains over 2020 and beyond and what the strategy will be to deploy offshore wind," WindEurope's Joy concludes. "But we're seeing governments make joint commitments and we're seeing the industry sign pledges – it's looking positive."