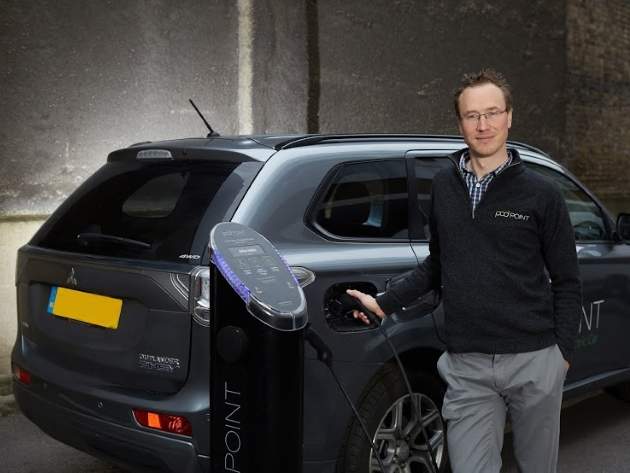 Thanks to advances in battery technology the prices of electric automobiles are continually falling, their range increasing and charging points are popping up in more locations.
In February, the Grantham Institute at Imperial College London and the Carbon Tracker Initiative reported that fossil fuels could lose 10% of market share to solar power and clean cars within a decade.
And according to data from the Society of Motor Manufacturers and Traders, during 2016, 35,402 plug-in cars had been registered in the UK – the highest annual number ever.
These are the kind of forecasts and predictions Erik Fairbairn was counting on when he started POD Point eight years ago.
Without the same billions as Tesla's Elon Musk behind him, former engineer Fairbairn decided against pouring his efforts into improving electric motors themselves, but spotted a gap in the market for electric charging points.
In the UK alone, to date, more than 27,000 'POD Points' have been manufactured and sold and Fairbairn expects the company to double its turnover in 2017 to £9m, reaching £50m by 2020.
Starting a revolution
It's Fairbairn's belief that in the future EV drivers will no longer need to stop somewhere to charge their car, but instead this mundane task will happen when the car isn't being used, which is 90% of the time.
"My first thought was: how do you put energy into your car? With a petrol pump, so you probably need something similar for an EV," he explains.
His POD Points look like conventional petrol pumps, but instead of a long, oily nozzle at the end of the handle there is a large plug.
Fairbairn quickly grasped that he couldn't completely replicate the petrol station experience, as to take a battery from empty to full in two minutes simply doesn't work.
"Fairbairn quickly grasped that he couldn't completely replicate the petrol station experience, as to take a battery from empty to full in two minutes simply doesn't work."
"I realised I need to put a charge point everywhere your car is parked," he explains.
There are 2,000 public POD Point charge stations around the UK. A driver plugs in their car and then has 15 minutes to claim the portal on the downloadable POD Point app. Once claimed, the company knows who is using the charge point and for how long. If there is a cost associated with the pump the company will debit the user's account when finished.
POD Points are currently installed in various places, such as the carparks of Sainsbury's, David Lloyd gyms, and at Heathrow airport. The standard cost for an hour's charge from a 7kw station is £1-£2 and will give the car a 30-mile range.
However, it's up to the vendor to choose whether to profit, subsidise or provide free use of the station.
A POD Point for the home, which is presumably only viable if you have off-street parking, can be bought in conjunction with the car purchase and costs a princely £800, or thereabouts, depending on the vendor. But with a government subsidy of around £400 the cost is much more reasonable.
Grid watch
One of the main concerns linked to widespread EV roll-out is the energy demand and strain they will inevitably put on the national grid, which Fairbairn believes can be managed with demand-side response.
"In the future, when we get to a mass roll-out of EVs we can carefully manage how many cars are charging at any one minute," he says.
This is done in a subtle way so that it isn't noticeable to the individual but the small gesture multiplied by any number of EVs can have a big impact on grid management.
"Data can be collected and amalgamated when cars are plugged in, and we can know how much energy each battery needs and when it will need to charge again," he explains.
"This can be managed without the user having to mentally contribute to it – for me that is the way forward. If we don't do it this way there would be a major increase in electricity demand at the wrong times of the day," says Fairbairn.
Ideally, all energy flowing through the POD Points would be generated from renewables, but that model is currently non-viable, although the company is looking at it as a future prospect.
Who's investing?
POD Point is one of the top ten most crowdfunded business in the UK. It previously raised £5m across three different rounds of crowdfunding and in December raised an additional £9m.
"Crowdfunding is great as there are many EV drivers that want to invest in the company – there is this affinity between the company and the drivers who like being part of the POD Point ecosystem," says Fairbairn.
The company also has private investors and Fairbairn explains that the investment landscape has changed considerably.
"When the company was brand new it was hard to convince anyone that EVs were going to be a thing," he adds.
"As time has gone by and we've put a bit of infrastructure out there, the cars are arriving and a lot of people are seeing that we will have a mass market of EVS," says Fairbairn, adding that the UK Government has been "pretty supportive" in assisting the EV market.
"Long-term, as the technology gets cheaper you don't need any government support but in the early days it needs that boost."
Currently, the government offers a maximum of £4,500 off the purchase on an electric car, as well as many other types of subsidies, and if a firm or project is granted planning permission in London, 20% of the parking area needs to have EV charging stations installed.
"Long-term, as the technology gets cheaper you don't need any government support but in the early days it needs that boost," Fairbairn says.
In POD Point's London Shoreditch office there is a dedicated team for the Norwegian arm of the business. In the Nordic country, a staggering 25% of cars are electric, but will the impact of Brexit make the company's Norwegian operations more challenging?
"[Coming out the single market] could affect our supply chain and Norwegian operations – there is a whole bunch of stuff depending on how Brexit goes that could have a significant effect or no effect," he explains, "It's difficult to quantify at this moment."
"I think, as an entrepreneur, staying in the EU would probably have been better but the public have spoken and you have to deal with that."
Mass adoption
The immediate plan for POD Point is to scale-up the UK operation, but regardless of the outcomes of Brexit, there is huge potential for the company in neighbouring Europe.
"I think the UK is one of the more advanced places in Europe for EV charging, but the opportunity to export from UK to the rest of Europe and build networks across the whole of the continent is very exciting," says Fairbairn.
In the rankings of EV adoption, Norway is first, the Netherlands second at 5%-8%, and the UK third at 2%.
Fairbairn is keen to promote the economical benefits of EVs, saying that for both general use and over its lifetime, driving an electric vehicle is one-tenth the cost per mile of a regular petrol car.
Considering this, it is apparent that most Uber cars in the UK are Toyota Prius hybrids and more and more local delivery firms are going electric to reap the long-term cost savings. But, for now, the upfront cost of an EV is still more expensive than a conventional car.
"The biggest barrier for EVs today is that they are more expensive," Fairbairn says. "My rule of thumb is that mass adoption is going to happen when we get a 200-mile range car for £20,000 and I think that will happen in 2020."