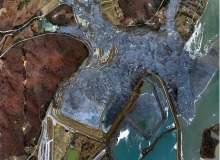 On the 22nd of December 2008, just days before Christmas, residents of Kingston Tennessee awoke to an apocalyptic sight through their bedroom windows. A coal ash disposal pond owned by the Tennessee Valley Authority power plant broke through its earthen walls, spilling a billion gallons of slurry into the local area. The sludge flooded dozens of houses and ruined railway lines and roads, blocking access to vital local infrastructure. The muck also forced its way into the Emory and Clinch Rivers, leaving huge deposits of coal ash in the water system.
As well as leaving some of Kingston's residents homeless and damaging the local environment, the spillage has had more insidious and long-lasting effects on the water quality in the area. When the US Environmental Protection Agency (EPA) tested samples after the spill, it found arsenic at levels 149 times the allowable standard for drinking water and other toxic metals at elevated levels.
As 40% of the US's electricity is produced using coal, dealing with the waste is a significant issue. Coal ash, also known as coal combustion residuals (CCR) is a product of coal-fired power stations and takes a number of forms: fly ash is made up of fine particles that float to the top of the plant chimneys and are captured by filtration equipment; bottom ash is that which falls to the floor of the boiler and is usually course in texture; and boiler slag is molten bottom ash which is cooled with water and turns into pellets. All of these forms contain varying levels of heavy metals and toxins, including mercury, arsenic, chromium, lead, selenium and boron. They are dangerous to humans and wildlife at certain levels.
A continual problem
"The EPA certified 157 cases of 'proven or potential damage' from coal ash up to 2014."
Kingston was the beginning of a number of incidents related to the storage and disposal of coal ash in the US. The EPA certified 157 cases of 'proven or potential damage' from coal ash up to 2014, from ash stored in abandoned sand and gravel pits by the Yorktown power station in the 1970s, causing 55 homes to lose their water supply, to the Duke Energy spill in 2014, caused by a split pipe under its 27-acre pond. Duke Energy was fined $6.6m for the spill, which it is now in the process of appealing. The company also came to a $102m settlement with federal authorities late last year over multiple coal ash violations.
Not all of these incidents are related to large spillages; according to EarthJustice, the US's largest non-profit environmental law group, toxins related to coal ash can enter the surface and groundwater in various ways.
Spillage is the most visible form of damage from coal ash storage. The ash left over from coal-fired power plants is often mixed with water to cool it down and prevent it from floating away into the atmosphere, and the sludge is then stored in ponds nearby the plant. If the ponds and the pipes leading to them aren't properly constructed or maintained, weaknesses can occur over time causing spillage.
A more hidden consequence of these ponds is leaching. If a pond or dry storage of ash is not lined or covered, the minerals and heavy metals can seep out into the water course. As many Americans access water through wells rather than the public water system, they are at higher risk from the leached toxins.
Senior administrative council at EarthJustice Lisa Evans says there are parallels to be drawn between coal ash contamination incidents and the Flint water crisis, where residents were exposed to high levels of lead in the public water system. "The failure of government, both state and federal, to carefully watch the drinking water quality and protect communities from being poisoned as happened in Flint, remains a problem," she says. "There is great lobbying on the part of utilities to either avoid a federal standard in drinking water or to resist the tightening of the national standards for drinking water."
Is current regulation enough?
The Kingston clean-up operation took seven years to complete and cost $3bn. The operator of the plant was fined $11.5m, a fraction of the clean-up cost, and continues to operate today. It was the nation's largest coal ash spill, but didn't spark the flurry of investigations and reforming legislation expected by an incident of this size.
The number of accidents that have occurred since the Kingston spill has led to speculation over whether the fine was enough to make TVA and other coal plant operators take action to secure existing ash stockpiles and change the policy for future disposal.
However, campaigning by local groups and a co-ordinated effort by EarthJustice and other environmental groups has brought about some change in regulation. In December 2014, the EPA issued a final rule to treat coal ash as non-hazardous waste and therefore subject to minimum requirements for storage. The ruling includes existing and new sites and requires plant owners to take measure to reduce effects on groundwater as well as posting monitoring reports online for public oversight.
The new regulation has been met with cautious optimism by environmental groups. "While it represents a step forward, the regulations in many ways were weaker than we would have liked" says Evans.
Spokesman for the American Coal Ash Association (ACAA) John Ward, contends the rule is sufficient. "EPA's new coal ash disposal regulation is only in the beginning stages of implementation, but ACAA is confident that the engineering standards established by the regulation are more than adequate to ensure safe disposal," he says. "That said the best solution to coal ash disposal problems is to quit throwing it away."
This first ever ruling on coal ash in the US is being challenged by a bill currently moving through congress. The Improving Coal Combustion Residuals Regulation Act 2016 would institute a state-led permit programme and lessen the amount of monitoring information required to be published online. "ACAA believes this would be preferable to a patchwork of activist group litigation" says Ward.
National groups such as the Centre for Biological Diversity, Greenpeace and Clean Air Task Force have signed a letter imploring the Senate Committee on Environment and Public Works to reconsider the bill, claiming "the bill greatly increases the potential for harm to communities in the US and its territories".
Those against regulation of coal ash disposal say that it will incur costs to plant owners, pushing the price of electricity up; however, EarthJustice claims that in the event that all costs are laid on the consumer, it would only be an increase of between 0.5% and 1% nationally. Surely this is a low price to pay to secure safe drinking water? There is also money to be made from responsible reuse of coal ash.
How can the industry safely reuse coal ash?
The US power industry burns a billion tonnes of coal a year, creating 140 short tonnes of coal ash in the process. Appropriate recycling of this waste could help to alleviate the toxin-leaching problem, and create revenue for the utility companies running coal plants. There are two methods of recycling coal ash, encapsulated and unencapsulated.
Encapsulated recycling binds coal ash inside a product like concrete, bricks and wallboard. It reduces the amount of cement needed in a product, and is cheaper than its equivalents. It is increases in strength as time passes by continually combining with lime. Cement and concrete made with coal ash is less permeable and more durable. These properties make it an attractive proposition for construction companies, which have a number of uses for the product.
Technical director of the UK Quality Ash Association Bob Carroll says there are a range of uses for encapsulated coal ash. "It is proven material and is in demand as a secondary material," he says. "The uses are quite mature now, having been developed over 30 or 40 years."
"Reuse is on the rise from 25% of total production in 1991 to 47% of total production in 2014"
There is obviously a market for coal ash, and companies are beginning to explore the possibilities. Reuse is on the rise from 25% of total production in 1991 to 47% of total production in 2014, according to the ACAA. However, this number includes contentious unencapsulated uses such as path laying, structural filling and highway uses. "There are recycling methods which are akin to disposal," she says. "These include using coal ash as structural fill without liners or any other protections which can cause problems with leaching of contaminant metals."
Coal's star is slowly fading. The UK Government has committed to phasing out power production by means of the dirtiest fossil fuel by 2025, and other developed nations such as Germany and Canada are also exploring the possibilities. In the US, the Clean Power Plan will come into force in 2022, beginning a journey towards a low-carbon future, but until coal is phased out completely, methods need to be found to dispose of the resultant waste from coal-fired power stations safely.
Lisa Evans is optimistic for the future. "We should never adopt the attitude that this will always be a problem," she says. "These problems have solutions and they are under the control of the utilities companies generating the waste. Communities need not put up with the unreasonable threat of harm to their air and water."