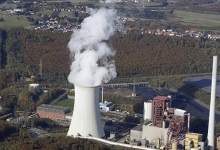 Age catches up with everything eventually. Scrapes and knocks accumulate, components wear and organs start operating at a less than optimum rate. The longer that something is around, the longer the forces working against it have to break it down. This is particularly evident in the nuclear power sector, where a number of countries are currently considering whether to rejuvenate existing plants or retire them. Of crucial concern is whether or not they have the capability to combat corrosion and the damage it inflicts.
Concern over corrosion within the energy sector is almost as old as the plants themselves; however the severity of the problem and the ability to combat it has developed over the years. Attempts to clean out corrosive gases were first launched in the industrial revolution and efforts increased as large-scale plants were brought online in the 1920s. In order to counter the problem, plants built in the 1930s were built out of mild steels, some of which had organic coatings, because of their ability to withstand its effects. Commercial flue gas desulfurization systems, which started to grow in popularity in the 1970s, are now standard practice over the world.
Demand for fighting corrosion grows
While the technology to minimise or eradicate the effects of corrosion has evolved, it remains a serious issue across the energy sector. Recent research published by Grand View forecasts that the global corrosion inhibitor market will reach $7.55bn by 2020, driven in large part by a boost in demand from the power generation sector and growth markets such as Brazil and China. As a result, a number of new approaches is being adopted by industry and developed by researchers in order to reduce damage and extend the life of components and plants.
Pursuing the path of longer life, German power company STEAG recently contracted the services of Alstom to provide its hard-coal power plant with protection against flue gas corrosion. During a four-week planned outage at the 724 MW plant, Alstom applied its patented Amstar888 solution to a total area of around 130m2 in the boiler system. The solution works by reducing the oxygen potential and consequently the risk of corrosion.
The protection offered the operator the opportunity to postpone or avoid altogether the need to replace parts within the system, therefore reducing running costs. Bernard Jochum, head of plant engineering at STEAG's Weiher power plant, said: "Unscheduled downtimes have a negative impact on availability and an increase in maintenance costs. As a power plant operator, we endeavour to optimise operational costs in all areas. For this reason, we opted for the tried-and-tested corrosion protection from Alstom."
Maintenance and cleaning exacerbates impact
One of the drivers of corrosion is extensive maintenance and cleaning of components as a result of wear and tear. In an attempt to counter both risks, researchers at the Institute of New Materials (INM) in Leibinz, Germany have developed a new grease-free lubricant that can be used to coat aluminium, steel and magnesium. Once applied, the lubricant enables low-friction sliding between components and also stops moisture and salts penetrating metal surfaces, effectively attacking two causes of corrosion at once.
Carsten Becker-Willinger, head of the nanomers program division at the INM, said: "We have incorporated platelet-like solid lubricants and platelet-like particles in a binder. When this mixture is applied to a surface, it produces a well-ordered structure in which these various particles are arranged in a roof tile pattern."
He added: "The particular mixture ratio means that our composite has a very low coefficient of friction. If we only used a solid lubricant, the coefficient of friction would be considerably higher. Applying the lubricant to components can be done by either spraying or dipping."
Taking the fight to the nanoscale
Researchers from the materials science and engineering department at the Massachusetts Institute of Technology (MIT), also inspired by the need to extend the operating life of power plants, recently published a paper that showed that nanoscale disruptions between materials may affect corrosion. The research, which investigated the interaction between different material structures in relation to corrosion cracking, found that misaligned atoms between two materials could exacerbate corrosion.
Bilge Yildiz, associate professor of nuclear science and engineering at MIT, said: "Corrosion causes a material to age in a particular manner and speed, and stress causes it to fracture after a certain period of time. But when you have those two processes together, they interact, and both processes are accelerated."
In the short term, Yiliz and her team expect the research findings to enable better understanding and forecasting of the timescale of corrosion in nuclear power plants. Longer term, it could lead to the creation of new nanostructures that are more resistant to its effects.
Corrosion-resistant metal alloys
One of the major and most widespread development in reducing the impact of corrosion has been the development of new metal alloys that possess are more resistant to corrosion.
Titanium has long been a popular material in the power generation industries due to its high resistance to corrosion; however, research has led to new composite titanium materials that are enhanced with palladium and ruthenium and have proven to be more resistant while remaining cost effective.
With advances in materials science and an ever deeper understanding of materials at an atomic level, researchers are continuing to develop more effective methods of combating corrosion. Such advances are vital in enabling outdated power generation plants to extend their lives further, while also ensuring that the new breed can withstand far greater forces. However, corrosion will remain an issue and must be monitored carefully.