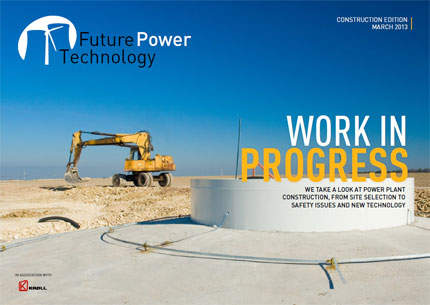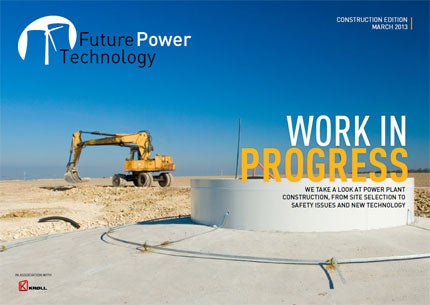 A utility in China has started to build the first new nuclear plant since Beijing lifted a construction ban following the Fukushima disaster. We investigate how China plans to improve the process of construction to ensure the safety of new systems and equipment. We also explore India's nuclear new-build programme and the role of indigenous technology as well as technical cooperation with foreign vendors.
We take a look at Ethiopia's plans to invest $12bn by 2035 to build an array of hydro-power projects, including Africa's largest dam currently being built on the river Nile, and ask how construction is progressing.
Moreover, we check in on other renewable energy projects currently being built, including the UK's West of Duddon Sands offshore wind farm and the Rio Mesa solar power plant in the US, and find out why concrete gravity bases have the potential to become the next generation of offshore wind turbine foundation. Finally, we find out how UK companies can address cultural differences to succeed overseas.
Click here to read this issue.
In This Issue
Learning from Fukushima
China has started operations at the first nuclear plant since a construction ban on the industry was lifted following Japan's Fukushima disaster, but what lessons has the country learned from the meltdown?
Click here to read the full article.
Two Paths
Over the next decade, India plans to commission 20GW of new nuclear capacity from domestic and international projects. What role will indigenous technology and foreign vendors play in the country's ambitious new-build programme?
Click here to read the full article.
Ethiopia's Greatest Risk
Ethiopia powers ahead with its grand Ethiopian renaissance dam, but experts are warning about the environmental and geopolitical backlash it may trigger.
Click here to read the full article.
A Solid Base
Innovative concrete gravity bases are the next generation of offshore wind turbine anchors. Xanthus Energy MD, Dr Lewis Lack discusses concrete's merits and the industry contender, Sea Breeze.
Click here to read the full article.
Windy Prospects
Alasdair Skea, renewable science manager at the Met Office, discusses the importance and the challenges of assessing wind behaviour accurately for new wind power developments.
Click here to read the full article.
Industry Project: West of Duddon Sands Offshore Wind Farm
The £1.6bn West of Duddon Sands wind farm project is a 389MW power project located in the East Irish Sea, 14km south-west off the coast of Cumbria.
Click here to read the full article.
Industry Project: Rio Mesa Solar Electric Generating Facility
The Rio Mesa Solar Electric Generating Facility in California will have the potential to serve more than 200,000 Californian homes and construction is scheduled to start in late 2013.
Click here to read the full article.
A Different Approach
The UK power market has the technical excellence to conquer markets overseas. John Judge, founder of Judge 3D explains the cultural differences that need to be addressed to succeed.
Click here to read the full article.
Next issue: Clean Progress
The rapid growth in renewable energy generation is placing considerable pressure on Europe's power system. We examine why flexibility and integration are critical to meeting Europe's long-term generation challenge, and hear from the advisory board of Power-Gen Europe about the key challenges faced by the industry, such as de-carbonisation targets, policy harmonisation and market design.
We also look at Google's $1bn investment strategy for renewable energy projects, and investigate the potential of shale gas as a green solution to US power demand and the controversy surrounding fracking.
New research suggests the full potential of electric cars will only be realised when vehicles are integrated into home energy management systems. We explore the possibilities of connecting electric car schems to the grid and what effect it could have on demand management, the infrastructure and power producers.
Sign up for your free subscription to get future issues delivered directly to your inbox.
Digital magazine FAQ
The online magazine is viewable on any computer with Flash Player installed. It is also viewable on mobile devices, iPhones and iPads although some features and videos will be disabled.
View the archive of all previous issues.