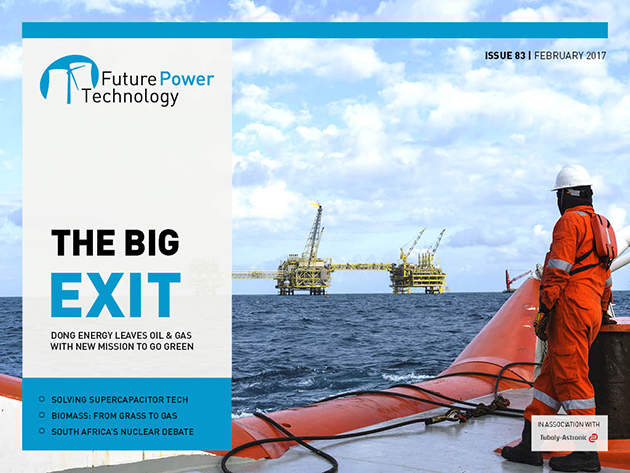 DONG Energy has announced plans to quit the oil and gas industry and focus on renewable energy. The Danish company will offload its entire North Sea assets and reinvest in its existing wind division, which has already overtaken its hydrocarbon portfolio profits. This follows hot on the heels of similar switches by E.ON and RWE, so we find out if this is the beginning of an industry energy migration.
Also aiming to cut the carbon is the UK, where the government pledged to phase-out unabated coal power by 2025, but with subsidy cuts for renewables, political issues with nuclear and controversy over domestic fracking, the replacements are still uncertain, so we examine how the country will keep its environmental promises.
Plus, we hear how British clean energy company Ecotricity plans to make biomass with a gas from grass scheme, profile a new polymer that hopes to stabilise supercapacitor tech, discuss the arguments over South Africa's nuclear journey, and investigate Vattenfall's key to cheaper wind power.
Read the issue for free on your iPad through our app, or if you're on a desktop computer you can also read it in our web viewer.
In this issue
Throwing caution to the wind
Vattenfall has won several tenders to build offshore windfarms at massive reductions to the industry average price. So how was the company able to do this and why other companies able to offer the same?
Read the article here
DONG makes energy migration a breeze
DONG Energy is to sell its oil and gas businesses and reinvest in its wind division, which scored huge profits this year overtaking its oil and gas portfolio. It's not the first company to do so, so we find out if this is the beginning of a new industry trend.
Read the article here
From grass to gas
British clean energy company Ecotricity has unveiled plans to make its own gas from grass. The company believes it could meet 'all the gas needs for 97% of Britain's homes' with a virtually neutral carbon footprint. Will this scheme avoid the pitfalls associated with other biomass to energy projects?
Read the article here
Putting the 'super' in supercapacitor
Augmented Optics and the University of Surrey have developed an electronically conductive polymer could solve many of the problems associated with supercapacitors. This breakthrough could have significant potential for the electric vehicle industry.
Read the article here
South Africa's nuclear war
The debate over nuclear power is simmering in South Africa, with state energy firm Eskom and President Jacob Zuma facing rigorous challenges by environmentalists. We review the arguments to weigh up the stakes for South Africa.
Read the article here
Can the UK Kick Its Coal Dependence?
The UK Government has pledged to phase-out unabated coal power by 2025, but with renewables subsidy cuts, political issues with Hinkley Point nuclear, and controversy over domestic fracking, coal replacements are uncertain. We ask if the country can keep its environmental promises.
Read the article here
In the next issue
The New Development Bank which supports BRICS countries is responsible for setting energy investment targets for some of the world's biggest energy consumers, renewable and fossil fuel-derived. We find out what part the bank has played in the renewable revolutions currently being seen in countries, such as China and South Africa.
In nuclear, according to a new World Nuclear Association report, of the ten reactors that came online in 2015 nine are situated in East Asia, plus  almost two-thirds of the reactors under construction are in Asia. Here we map out the spread of Asian nuclear power.
Also, we review the most successful solar energy investment models, speak to electric vehicle charging company PODPoint about its £9m crowdfunded investment, discover the differences between a virtual model and a power plant 'digital twin', and speak to British think-tank Policy Exchange about developing a smarter energy system in the UK.
Digital magazine FAQ
You can read Future Power for free on the iPad. Download our app from the App Store to read the latest issue and browse the back issues in our archive. Sign up for a free subscription in the app and never miss a new issue.
You can also continue to read the desktop version for free on our web viewer. (Browser compatibility: The web viewer works in the latest two version of Chrome, Firefox and Safari, as well as in Internet Explorer 9 and 10. Some features may not be compatible with older browser versions).