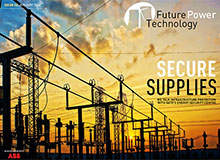 Plans for a tidal barrage generating power on the Severn estuary were dealt a further blow when the UK Government ruled out further development on the existing plans. We find out if this energy mega-project could still have a future.
With new research indicating that US water resources could support the growth of enough algae to produce 25 billion gallons of fuel a year, we ask why algae-based power production is still being overlooked. We also consider why the US represents the best conditions for new SMR installations.
Moreover, we find out more about the opening of NATO's new Energy Security Centre and investigate Russia's controversial floating nuclear power plant project.
Click here to read this issue.
In this issue
Top 10 Offshore Wind Giants
One supplies Germany with 80% of its offshore power production, another supplies Denmark with nearly 40% of their total power demand. We profile the ten biggest offshore wind farms in the world.
Click here to read the full article.
Turning Tide
We explore whether the aged proposal of building a barrage over the Severn tidal estuary will ever become a reality.
Click here to read the full article.
Algae Power
Research into the potential of algae as a fuel source is moving quickly, despite serious debate over its heavy reliance on water. We profile some of the most interesting research projects currently underway.
Click here to read the full article.
SMRs: US Powers Ahead
Research by GlobalData pinpoints the US as the most attractive country for the development of small to medium-sized nuclear reactors.
Click here to read the full article.
Floating Nuclear
Russia plans to deploy a floating nuclear power plant in 2016 as a new way of powering remote Arctic communities. We look into concerns over nuclear safety, environmental conservation and non-proliferation.
Click here to read the full article.
India's Thermal Giants
More than 65% of India's electricity generation capacity comes from thermal power plants, with about 85% of the country's thermal power generation being coal-based. We profile India's biggest thermal power plants.
Click here to read the full article.
NATO's POA: Energy Security
We ask the head of strategic analysis and research at NATO's new Centre of Excellence on Energy Security about plans to combat cyber, pirate and terrorist attacks.
Click here to read the full article.
Next Issue
Renewable power sources are key to the sustainability of the world's long-term energy mix, but fossil fuels and other carbon-emitting elements are still present in the supply chain of renewable power technologies. We investigate how much this factor compromises 'green' power generation and how it can be addressed.
We also take a look at innovation in solar cells technology, explore South Africa's geothermal potential and find out how the Sahara Forest Project in Qatar exploits abundant sea water to produce electricity and grow fresh crops.
Moreover, we explore the UK Government's plans for the new Hinkley Point C nuclear power plant and ask if nuclear energy is the best way to energise the British economy, take a look at forecasts for the gensets market and profile the world's biggest thermal power plants.
Sign up for your free subscription to get future issues delivered directly to your inbox.
Digital magazine FAQ
The online magazine is viewable on any computer with a modern browser such as Chrome or on an iPad via the Future Power Technology magazine app.