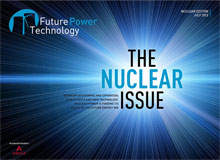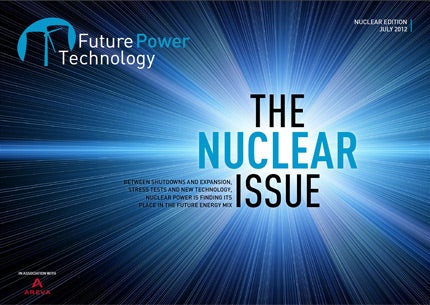 Over the past year, the nuclear landscape has changed considerably; many nations have redrawn their energy plans, while others are pushing ahead regardless of the concerns raised in the wake of Fukushima.
In the latest issue, we report on China's ambitious nuclear programme, which aims to have more than 100 reactors in operation by 2020, and on the feasibility of the UK's nuclear new build plans in the current economic climate. With the European nuclear stress tests being criticised as a political tool to silence public concern, we investigate whether the results offer a genuine account of the state of safety in the region's plants.
We also look at new technologies, such as the Traveling Wave Reactor and Generation IV reactors and their impact on the industry going forward. Finally, we find out if thorium could be a more efficient alternative to uranium.
To read this issue, click here.
In this Issue
UK Nuclear Perspectives
The UK may be powerless to stop new nuclear plans from falling apart as European politicians opt out of a nuclear future and foreign investors are forced to follow suit. We investigate whether nuclear is the best fit for future nuclear generation.
Read the full article.
The Atomic Dragon
In the wake of the triple meltdown at the Fukushima Daiichi nuclear plant in March 2011, some Western nations have looked to move away from nuclear power, but in China the appetite for nuclear power is getting bigger and bigger.
Read the full article.
Under Pressure
Stress tests conducted at European nuclear plants have found little wrong, but has enough been done to find out how prepared they are for natural disasters, terrorism, cyber threats and human error?
Read the full article.
Breed and Burn
Waste is a hidden cost of today's nuclear power and world stockpiles of depleted uranium are reported to be 1.5 million tons. This needs to be kept safe for thousands of years. Mitch Beedie profiles the next generation of nuclear reactors that aim to reduce construction and running costs while improving sustainability, safety and reliability.
Read the full article.
Generation IV
Generation IV reactors are emerging as the great new hope for nuclear generation. Globaldata investigates whether Gen IV technology could help the industry to overcome widespread anti-nuclear concerns.
Read the full article.
Toxic Issue
The clock is ticking for governments trying to find permanent disposal sites for spent fuel while ageing nuclear plants close. Sarah Blackman explores whether this hazardous substance could be recycled to make other fuel sources.
Read the full article.
U-Turn on Thorium
The debate on whether thorium could be a better nuclear fuel than uranium has reached a new high. Thorium is said to be both safer and greener than uranium and can work in conventional, water-cooled reactors. We find out if it is as clean and safe as the supporters claim.
Read the full article.
Industry Project: Plant Vogtle
We take a look at the Vogtle Electric Generating Plant, which is operated by the Southern Nuclear Operating Company and spread across 3,200 acres around the Savannah River in Burke Country, US state of Georgia.
Read the full article.
Next issue: Weathering the Storm
Efficiency and costs issues are holding back the further development of wind energy, but new turbine designs are emerging which could finally bring wind power into the mainstream. Next month we explore how the next generation of wind turbines could improve the technology's energy-cost ratio.
We also look at the role of wind power in Denmark's ambitious plan to run the entire country on renewable by 2050, explore the physical impact of ever growing wind farms on the natural world, and investigate how insufficient grid connections are leading to large amounts of generated wind power being wasted in the sector's leading nations, including China and Germany.
Despite being one of the cheapest sources of clean power, wind is also one of the most fickle. We find out how the utilities in the US are experimenting with energy storage to address the problem, and look at an Alaskan utility's ground-breaking plan to install a battery farm at its wind power plant.
Sign up for your free subscription to get future issues delivered directly to your inbox.
Digital magazine FAQ
The online magazine is viewable on any computer with Flash Player installed. It is also viewable on mobile devices, iPhones and iPads although some features and videos will be disabled.