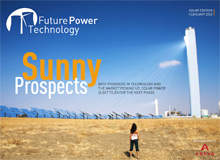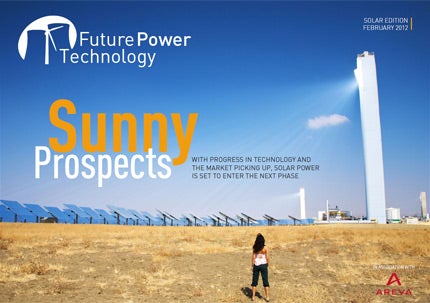 Although solar power technology may still have some way to go to become cost competitive with other forms of large-scale generation, technological progress and renewed market growth are casting a bright future ahead for this renewable energy source.
In this issue we explore the technologies that are being developed to make solar power generation more efficient. We round up the next generation of photovoltaics, explore new systems that can manage energy from the sun 24 hours a day and generate electricity at night, and cast our eye on outer space to investigate the feasibility of space-based solar arrays.
We also look at leaders and driving forces in the global solar PV market and take a close look at three major solar players – the US, Italy and India.
To view the online magazine, click here.
Highlights from this issue
The Next Generation
The photovoltaic market suffered a setback after a successful 2010, but could technological progress get it back on track? We investigate how developments in cell production and the concept of electric architecture might lead solar towards finally becoming a major source in the global energy mix
Read the full article.
Solar Saviour
Portable solar power installations are enhancing the quality of life in sub-Saharan Africa and creating business opportunities to help thousands of people escape poverty.
Read the full article.
Lights Out
Unable to produce power at night or during cloudy patches, solar technology is still fighting profitability issues. A new generation of concentrated solar power plants and nano-antennas, which capture residual heat, are set to tackle the issue and could revolutionise the industry in the near future.
Read the full article.
Out of this World
Solar power is entering into the space age thanks to the rocketing speed of technology development. We investigate the technical and economical feasibility of launching satellites capable of securing sunlight into orbit.
Read the full article.
Industry Project: Blackfriars Station Solar Bridge
Stretching across the River Thames in Central London, the world's largest solar bridge is being built as part of a major upgrade to the Blackfriars railway station.
Read the full article.
Next Issue: Construction Focus
New power plants are being built every day as countries invest to meet the electricity requirements of their rapidly growing populations. Next month we take a look at the complex and often challenging construction processes involved in building new plants.
We profile innovative coal-fired power plants under construction around the world, speak to experts to find out what it takes to build ever more advanced power plants, and take a close look at the requirements and challenges of building offshore wind farms at sea.
We also ask the team behind a new $1.5bn supercritical thermal power plant project in India how the latest 3D and visualisation software is used to build new power-generating giants.
Sign up now for your free subscription to get the next issue delivered directly to your inbox.
Digital Magazine FAQ
The online magazine is viewable on any computer with Flash Player installed. It is also viewable on mobile devices, iPhones and iPads although some features and videos will be disabled.
Read the latest issue of the magazine.