Future Power Technology Magazine: Turbine Edition
The latest in turbine technology, looking at thermal, hydro and water power generation.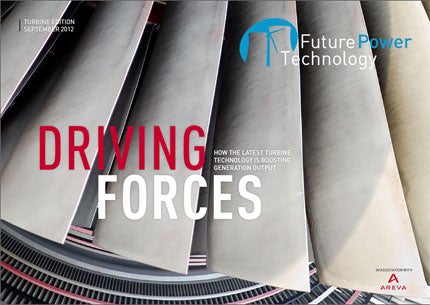 Maximising the capacity of capital-intensive gas turbines relies on efficient life cycle management. We find out how predictive modeling and simulators can help extend the lifespan of generating equipment. We also investigate how gas turbines can be optimised using design formulations and field test data, and look at the UK's largest and most efficient CCGT plant.
Verdant Power's kinetic hydropower system uses horizontal-axis turbines to generate energy from underwater currents. We take a look at the technology and two new power plants that will use it. Moreover, we find out why very low head turbines could be an affordable alternative for small hydro. Finally, we explore how new wind turbine concepts are optimising production and ask Nordex how they lower costs while boosting power output.
To read this issue, click here.
In this Issue
Predict & Profit
Maximising the earning capacity of gas turbines requires efficient life cycle management. Cranfield University professor Riti Singh explains how using predictive modelling and simulators to extend equipment life.
Read the full article.
Gas Turbines Drive Progress
With BRIC countries becoming increasingly prominent in the gas turbine market, significant growth is expected up to 2015. Global Data reports on the predicted market size, pricing and equipment market share.
Read the full article.
Industry Project: Pembroke Combined Cycle Power Plant
A new combined cycle gas turbine (CCGT) power plant is being constructed near Pembroke in West Wales, UK, at an estimated investment of £1bn.
Read the full article.
Industry Project: RWE & Turcas Denizli Power Plant
The €500m RWE & Turcas Denizli power plant is an 800MW natural gas-fired combined-cycle power plant being built in the Kaklik Municipality of the Honaz district in the Denizli province in Italy.
Read the full article.
Free Flow
Verdant Power's kinetic hydropower turbines generate energy from tidal and river currents. We profile the technology behind the turbines and two projects that are using it.
Read the full article.
Scaling Down for Success
As demand for small hydro systems grows, Claude O'Neil, co-inventor of the very low head turbine explains what benefits it may hold for small-scale installations.
Read the full article.
High Performance Lower Cost
With the number of renewable energy producers continuing to grow, the amount of technological requirements these energies must satisfy is also rising. Felix Losada of Nordex SE describes how the company is lowering costs while boosting power output.
Read the full article.
Next issue: Smartening Up
The implementation of smart grids has been heralded as a key step in the full integration of renewable energy sources. We find out to which extent the fate of clean energy is tied to the progress of improved distribution, smart metering and other smart grid features.
We also explore how pilot projects around the world are demonstrating how smart grids could work on a national level, and find out why the Middle Eastern market offers huge opportunity to investors and technology manufacturers.
Moreover, we investigate how the roll-out of smart metering has helped to reduce both energy theft and the cost of energy in Brazil and other Latin American countries, and we ask how far data collection through smart meters can go without becoming a threat to users' privacy – and what regulation are in place to protect personal data.
Sign up for your free subscription to get future issues delivered directly to your inbox.
Digital magazine FAQ
The online magazine is viewable on any computer with Flash Player installed. It is also viewable on mobile devices, iPhones and iPads although some features and videos will be disabled.