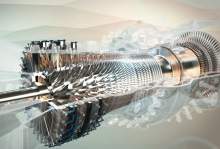 Gone are the days when gas turbine manufacturers think only of capacity and cost. Although their importance endures, the modern-day turbine maker's mind must also account for a number of other market demands and pressures. For a start, the role of gas in the global energy mix is set to grow significantly, with current estimates suggesting that it will take a 65% share of new added power capacity in the US. Such marked growth in the market will inject a new flow of competition.
Two major factors driving that growth in demand are an increase in supply, most marked in the US because of its exploitation of shale gas reserves, and a growing acceptance that it offers a less carbon intensive option compared to other fossil fuels such as coal. These emerging factors are not only driving demand for the turbines, they are directing development: the ability to operate at high efficiency even when not at full capacity and compatibility with a range of fuel sources are priorities for customers. Further need for flexibility is driven by the move away from single source power generation and towards combined heat and power (CHP) plants.
This was made clear by US energy giant GE when it unveiled its latest turbine model. "Natural gas is becoming the fuel of choice globally and for customers who operate larger blocks of power, the desire for increased operating efficiency and flexibility has never been greater. This dynamic, combined with increasingly stringent environmental regulations, is increasing the demand for highly efficient, H-class gas turbines in order to recognise a more cost effective conversion of natural gas to electricity," the company said in a report. And as the latest models of turbines show, it is not just GE that is moving to meet new market needs.
GT24 and GT26 gas turbines by Alstom
The latest class of turbines from French conglomerate Alstom were designed to meet the modern market demands of power generation technology. In a report explaining the next generation of turbines, the company said: "In addition to reducing capital costs, the increasing all-round efficiency is becoming one of the main market drivers for gas turbine and combined cycle development, so as to lower fuel consumption and at the same time produce lower emissions with the ultimate goal of having a reduction in the cost of electricity."
---
---
A report from the UK's Public Accounts Committee claims that clean-up costs at the Sellafield nuclear reprocessing field have risen by £2.5bn in the last year.
---
The importance of flexibility and efficiency can be seen throughout the features of both the GT24 and GT26 models. Featuring two operational modes, in an approach not dissimilar to hybrid cars such as the Toyota Prius, the turbines can be ramped for high output and efficiency when demand is greatest and toned down into maintenance cost optimisation mode, which enables them to run 30% longer before inspection is required, in periods of low demand.
In terms of input fuels, they can process a range of gas variations, such as liquefied natural gas (LNG). In case of a gas shortage they can be powered with fuel oil. Operating a standard 30-minuite hot start-up, the models offer high levels of power efficiency at loads below 80% in order to meet the flexibility of grid capacities.
9HA gas turbine by GE
Billed as the 'world's largest, most efficient gas turbine', the 9HA model by GE has certainly raised the bar. The 470MW 9HA, which weighs roughly the same as a Boeing 747 and has the horsepower of 1,200 Ferraris, can pump out enough power to heat 400,000 homes for a year.
Competing on speed terms with far smaller units, it can go from complete shutdown to full plant load in less than 30 minutes as it ramps up at a rate of 60MW/minute. Operating at an efficiency rate of 41%, it offers load flexibility through its ability to maintain operational efficiency at output levels as low as 40%. Like the majority of modern turbines it offers fuel flexibility with compatibility for a range of gas and liquid fuels such as high ethane shale gas and LNG.
As the first H-class turbine to be brought to market, the 9HA, which has been named HArriet by the development team and even has its own Twitter account, is trying to show that brute industrial might can still thrive in an environmentally conscious world.
"Flexibility is driven by the move away from single source power generation plants."
J-Series by Mitsubishi Heavy Industries
Also laying claim to the top spot is the J-Series turbine from Mitsubishi Heavy Industries which pumps out 470MW at full operating capacity at an efficiency level of 41% LHV.
An evolution of previous turbines, the model uses a cold-end drive with axial exhaust and can-annular combustors to convert gas to power and boasts a CO2 reduction of 60% in combined cycle operation when compared to conventional coal plants. Developed at the company's Takasago R&D Centre, the turbine features a low thermal conductivity thermal barrier coating that enables it to withstand temperatures of up to 1600°C, an improvement of 100°C on the earlier G-Series turbine.
SGT range by Siemens
With nine separate models ranging in capacity from 5MW to 50MW and offering dry low emission combustion as standard, Siemens has a firm grip on the natural gas turbine market. At the top end, the SGT-800 is a single-shaft turbine with two tilted bearing and fifteen compressor stages. The turbine, which offers a maximum capacity of 50.5MW at an efficiency level of 37.7% LHV, can be linked up to an online analytics portal for servicing and upgrading and also for performance data to be downloaded.
At the other end of the scale, the SGT-100, which puts out a maximum 5.40MW at an efficiency level of 30.2% LHV, plays to the smaller scale co-generation plants. Due to its scale, the turbine is also pitched as power generation solution for the offshore oil and gas industry for use on platforms and floating production storage and offloading vessels. The single-shaft twin bearing turbine is fully serviceable onsite.