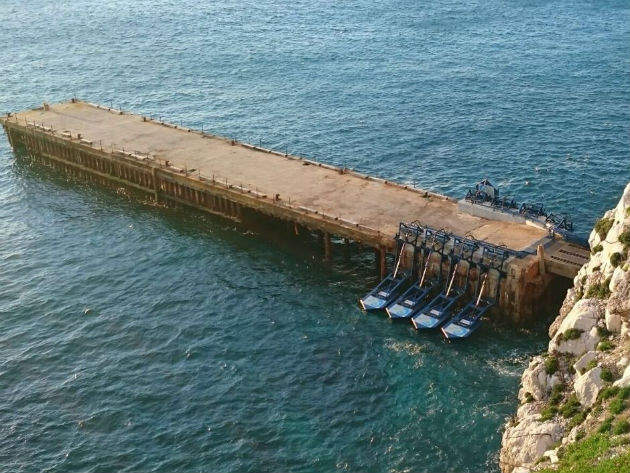 From the storm-lashed coasts of northern Scotland to Europe's southern tip, the continent's shores are forever pounded by waves rolling in from the North Atlantic. Yet, while these waves might seem to provide an obvious bounty for environmentally friendly electricity generation, wave power has been slow to take off.
Now with the launch of Eco Wave Power's (EWP) energy project in Gibraltar – the first such grid-connected plant and the only wave energy plant in Europe operating multiple units under commercial power purchase agreement (PPA) terms – things could finally be about to change. The technology has been under development by the Tel Aviv-based company since 2011 when a testbed was installed in Ukraine and a pilot plant subsequently built in Israel's Jaffa Port.
Meeting Gibraltar's energy demand
Then in 2014, EWP signed a PPA with Gibraltar for delivery of a 5MW ocean power plant. Phased construction of the Gibraltar plant, located at the Ammunition Jetty, began last year and it is already exporting electricity into the power grid. The system is currently composed of eight ocean energy converter units that supply 100kW, but when completed, with the help of an EU grant, the array will produce 5MW. It is then expected to meet 15% of Gibraltar's electricity demand. Although currently still in the design phase, the additional units will be much larger than the existing ones.
Power is supplied through the movement of floaters, which drive the hydro motor and a generator. This is then delivered to the shore via a subsea cable. The system allows for data to be transmitted back to shore in real-time and also provides a smart automation system that controls the power station's storm-protection mechanism. It is this innovation that is the key to ensuring a stable transmission of electricity to the grid.
"Power is supplied through the movement of floaters, which drive the hydro motor and a generator."
EWP business development director Eyal Gibstein says that, in the event of upcoming storms the system can independently "decide" whether to raise the buoys over the water level or submerse them into the ocean in order to protect the system from mechanical failure. When the wave heights return to normal, the system unlocks and recommences energy conversion and transmission of the electrical power ashore.
A unique wave technology
This EWP technology is different to other wave-power systems due to what the company describes as the tailored shape of its floats. These floats can shift their orientation as needed, relative to incoming waves, allowing for more motion to be drawn out of the wave. Another unique selling point is the system's advanced anti-corrosion protection.
EWP says it expects its coatings, in combination with its arrangement of cathodes, to provide its technology with a lifespan of at least 30 years and up. The company is still developing the system but envisages future large–scale, commercial-size sea wave-power plants being built with up to 100 floats.
"Planning and design works has begun on Eco Wave Power's next generation of 1MW to 5MW power plant, by using larger units aiming to deliver around ten times the capacity of Eco Wave Power's current units in Gibraltar, and improving its efficiency", say EWP co-founders David Leb and Inna Braverman. The company, which has subsidiaries in Mexico, China and Gibraltar, is gearing up for 111MW worth of projects worldwide. . EWP says that its prices are competitive "not only with other ocean energy devices, but also with wind, solar, hydro and even traditional methods for electricity production such as oil, coal, gas and others".
Pros outweigh the cons for ocean power
The advantages of wave power as a clean, renewable energy seem to be clear and, unlike fossil fuels, potentially limitless. Wave power's proponents also claim it to be environmentally friendly; convenient, as many of the world's biggest cities are situated near the ocean it would place a power source next to the highest-demand areas; and lastly, tidal movements are considered to be easily predictable.
But it's not all plain sailing and wave power also presents a number of challenges. Ironically, one of its advantages, the offshore location, proves to be one of its biggest drawbacks because transmitting the electricity generated to landlocked nations and cities would involve huge costs. Therefore, the system is really only of practical use by coastal communities.
However, the tides may not be as predictable as people make out, as 'wave behaviour' is inherently chaotic. The system is highly dependent on wave speed, length and water density, and requires a consistent flow of powerful waves to generate a significant amount of energy.
Further, despite claims by supporters that ocean energy is environmentally friendly, its effects on marine ecosystems remains open to question. The large machines that have to be put into the water to gather wave energy can disrupt the habitats of marine creatures such as crabs and shellfish. The offshore equipment itself may also be a disruption to shipping.
In addition, there is the ever-present danger of a spillage of the toxic chemicals used on wave energy platforms. This at least has been addressed, as to counter this problem EWP has developed a biodegradable hydraulic fluid for its system that renders any spillage harmless.
EU takes the plunge in renewables
Regardless of all the challenges, wave power could be an important step in Europe's quest for cleaner electricity generation, and the prize for commercialising ocean energy is huge. In Europe alone, the industry plans to deploy 100GW of generation capacity by 2050, which would meet 10% of Europe's electricity demand.
In July, an €11m international research project, Funding Ocean Renewable Energy through Strategic European Action (FORESEA) was launched. The project is funded by the Interreg North-West Europe (NWE) programme, which is part of the European Regional Development Fund (ERDF), and is led by the Orkney-based European Marine Energy Centre (EMEC).
"Europe is currently leading the world in ocean energy development."
The stated aim is to help enterprises develop low-carbon energy technologies in real sea environments. Speaking at the project's launch Oliver Wragg, commercial director at the EMEC said: "Europe is currently leading the world in ocean energy development. The FORESEA programme will help cement this lead by stimulating a critical mass of technology development activity, bridging the gap between ocean renewables R&D and the marketplace."
Also backing the project are SEM-REV in Nantes, France; the Tidal Testing Centre in Den Oever, Netherlands; and SmartBay-based in Galway, Ireland which runs a quarter-scale test-bed facility off Galway Bay that provides the opportunity for companies to trial their sensor devices. These test centres will be supported by Brussels-based, European industry group Ocean Energy Europe.
The costs associated with access fees or with deploying a device for a six to 12-month test period are understood to be almost entirely covered by the funding for the research project. Seapower, a Limerick company, is currently using SmartBay's test site and other organisations are encouraged to apply.
Meanwhile, the EU's European Investment Bank (EIB) decision to invest up to €10m (£8.53m) in the sector has boosted Portuguese hopes that its wave power demonstration project near Peniche will soon be able to join Gibraltar as a fully commercialised venture.
EIB is investing the sum in AW-Energy, the Finland-based developer of Wave Roller technology. In 2012, the company installed three 100KW demonstration units connected to the grid in Peniche, and funding should now enable a scaled-up version to be installed. The target is to develop a plant with 40 units turning out an anticipated 60MW.