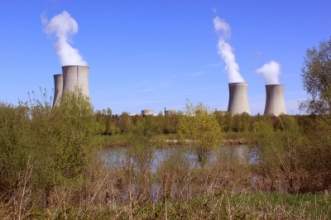 Electricite de France (EDF) signed a preliminary deal with Nuclear Power Corp of India (NPCIL) to build six European pressurised reactors (EPR) at Jaitapur in the state of Madhya Pradesh.
Each of the reactors to be deployed at the site will have 1,650MW of energy output, which will lend the Jaitapur project a 10GW clean power generation capacity.
The project has been long-delayed, and has now been taken over by EDF from French state-controlled group Areva.
Preliminary technical studies are currently being carried out at the site as a part of Areva's pre-engineering studies contract with NPCIL that was signed last year.
Areva will be divesting its nuclear business unit to EDF within this year.
The Ministry of Electricity (MoE) in Iraq partnered with American tech giant General Electric for a power up plan, which aims at infrastructure upgrades for the sector in the country and involves contracts worth more than $1bn.
The plan comprises a set of technological solutions and critical electricity generation and maintenance projects throughout the country.
It is expected to add a further 700MW to the Iraqi national grid in order to meet the rising energy demands during summer.
Siemens received two contracts for the supply of wind turbines for two projects located in Ireland.
Under the first contract, Siemens will supply and install 36 Siemens D3 direct drive turbines at the 108MW Cloosh Valley wind farm, also known as Galway Wind Park Phase 2.
The Cloosh project is being developed as part of SSE Renewables' effort to build a wind farm cluster in Cloosh Valley, near Rosscahill, County Galway.
Construction of the first phase of Galway Wind Park is currently underway.
Swiss power and automation group ABB secured orders worth more than $22m from Swedish Vattenfall Eldistribution to upgrade a 150-kilovolt (kV) high-voltage direct current (HVDC) transmission link in Sweden.
The 100km link is the first commercial HVDC link globally, which was installed and commissioned by ABB in 1954.
It starts from Västervik, which is on the east coast of mainland Sweden, and extends till Ygne on the island of Gotland.
Having a capacity for 320MW, the link transmits clean power generated from wind sources on the Swedish island of Gotland to the mainland, and also brings in enough power to meet the energy requirements of 58,000 island residents.
China intends to set up floating nuclear power plants in a bid to double its atomic energy capacity by 2020.
China atomic energy authority chairman Xu Dazhe was cited by Agence France-Presse as saying that the planned 'marine floating power station' will undergo 'strict and scientific demonstration'.
The facility will have the ability to be transported to specific locations and can be anchored offshore to deliver power to regions facing crisis.
Xu was quoted by media sources as saying: "China is devoted to building itself into a maritime power and so we will definitely make full use of ocean resources."
Nuclear Regulatory Commission (NRC) in the US has allowed extension of the operating licence for the 2.5GW Braidwood generating station in Illinois to its operator Exelon Generation.
The nuclear energy facility is situated in Braceville and equipped with two pressurised-water reactors.
License renewal has extended its operational life by 20 years, allowing Exelon to keep unit one operating until 2046 and unit two until 2047.
Braidwood Station site vice-president Marri Marchionda-Palmer said: "In addition to the vast economic impact, it also allows us to continue producing safe, reliable, carbon-free electricity for the state of Illinois for decades to come."
Dong Energy took a final investment decision to begin construction on Hornsea Project One offshore wind project in the UK.
The new project is being developed with a capacity of 1.2GW and will provide electricity to around one million homes in the country.
The wind project is in line with the firm's strategy of installing 6.5GW by 2020. Dong was awarded a contract for the project in April 2014.
Dong Energy CEO Henrik Poulsen said: "Hornsea, together with Race Bank, Westermost Rough and Lincs will make up a giant production area off the British east coast, supporting our efforts to deliver green and independent energy to society."
Japanese Kyocera started construction on a floating solar photovoltaic power plant on the Yamakura Dam reservoir at Ichihara City in Chiba Prefecture.
With an estimated capacity for 13.7MW, the project is claimed to be the largest floating solar project globally.
It is expected to be operational in the financial year 2018, and will comprise nearly 51,000 solar modules installations developed by Kyocera.
The floating plant will spread over a fresh water surface area of 180,000m², and will have an annual power generation capacity of 16,170 megawatt hours (MWh), the firm said.
The Yamakura Dam reservoir is managed by the Public Enterprises Agency of Chiba Prefecture in Japan for industrial water services.
India planned to develop 5,000MW more grid-connected solar photovoltaic power projects under the fourth batch of the Phase-ll of the Jawaharlal Nehru National Solar Mission (JNNSM).
The projects will be awarded under 'build, own and operate' basis and are expected to involve investments totalling Rs300bn ($4.4bn).
Indian Cabinet Committee on Economic Affairs, headed by Prime Minister Narendra Modi, approved the new developments that are to be backed with Viability Gap Funding (VGF) by the government.
India intends to support the potential projects with Rs50.5bn ($742.3m) funds.
A consortium of Saudi Arabia's ACWA Power and South Korea's Taekwang Power signed an investment agreement with the Vietnam Ministry of Industry and Trade (MoIT) for a $2.2bn coal-fired thermal power generating project.
Investment declarations by the individual companies were not disclosed.
With an output capacity of 1,200MWW, the Nam Dinh 1 thermal power plant project is expected to help Vietnam resolve its energy crisis.
The project is planned to be developed within the Hai Chau and Hai Ninh communes in the province of Nam Dinh.