Marine-life and offshore energy – can new technology help the two coexist?
As investment in marine energy increases, there are calls for new advanced technology to assess and protect the potential damage to marine wildlife. Heidi Vella takes a look at a new passive acoustic monitor, designed to not only improve our understanding of the danger to sea life, but also provide offshore developers with the means to avert unnecessary damage.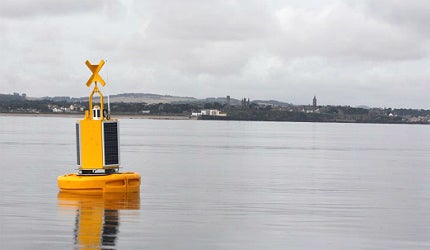 With little scope for solar power in the UK, there is no doubt that much of the country's renewable energy policy will focus firmly on the choppy waters which surround it. However, beneath the UK's energy rich seas lie an underwater world of dolphins, porpoises, whales, fish and much more, all of which are vulnerable to loss of hearing, injury and pollution from offshore energy exploration.
"If WIFI or a 3G signal are not available, data can be sent by satellite technology via the iridium system, allowing the device to be in a very remote area."
While the rest of the UK Government and UK scientists are focusing on new ways to harness marine energy, an off-shoot from the University of St Andrews, the Sea Mammal Research Unit, has launched SMRU Ltd which in turn has launched the PAMbuoy – a passive acoustic monitor (PAM) designed to monitor and protect marine wildlife.
The uniqueness of the device is that it processes data in real-time across the acoustic spectrum of marine mammals, not just the range
The PAMbuoy is the only device in the world that can record the entire frequency which mammals use, says SMRU Ltd group commercial director, Douglas Mundie, identifying each one then transmitting the data back to shore at ten minute intervals.
Situated on shore, on a buoy or at base station, PAMbuoy can continuously record the activity of sea mammals – from dolphins to killer whales and porpoises, and transmit the information back to a base via either a 3G telephone network system using a sim or via long range (five kilometre reach) WIFI in a remote part of the sea, where there may be an oil rig or base station.
If WIFI or a 3G signal are not available, data can be sent by satellite technology via the iridium system, allowing the device to be in a very remote area. Once the data has been collected it will be checked for quality by SMRU and directed to a secure area of their website, individual to each client.
Adhering to offshore environmental procedures
There are two environmental processes renewable energy, oil and gas companies must adhere to when trying to obtain permission for offshore exploration: a detailed assessment of the environmental area, called a Environmental Impact Assessment (EIA), which involves identifying potential threats and dangers to the environment and sea life, and a detailed plan of how to overcome any potential problems.
"The device can also be used when work begins to measure the effect the activity has on marine life."
The PAMbuoy aims to assist companies with this process, making it easy to establish which mammals they are dealing with and their particular behavior patterns, something that might otherwise be monitored via sight or more limited PAM systems, which can't identify the individual species.
Mundie explains how PAMBuoy can be used in a monitoring or mitigating way to meet law requirements: "[PAMbuoy] will tell you what animals are swimming there now, before man makes noise there. It will tell you the patterns of behaviour, are they there on a seasonal basis? Regular basis? Are there times of the year it would be safer to make noise than others?"
"Whether it is repairing a harbour or creating a port or putting in offshore renewable energy, you can use the device to asses what changes take place in the animal behaviour during time of construction. And what changes happen after it is installed."
"In terms of mitigating the noise you would use it [PAMbuoy] to detect animals in an area immediately prior to a blast or seismic activity and to ensure that the animals were sufficiently clear or far away from the source of the noise, then you would be able to start making the noise without causing deafness to the animal," says Mundie.
New discoveries about marine mammal life
"Following the trend the DECC has just launched its own £1.4M research project using PAM systems deployed on vessels."
PAMbuoy underwent two test phases; in St Andrews Bay, and in Puget Sound, on the San Juan Islands in Washington. Mundie says during these test phases they had some interesting discoveries about of marine life in the area.
"In Lime Kiln Point State Park we were looking to detect the migration seasonal habits of killer whales, that has been very successful – it basically happens in the autumn, and you'll see from the website that the amount of detection is much lower now than it was a month ago when the migration season cam to an end," says Mundie.
They also detected night time dolphin activity at St Andrews Bay, while porpoises would come in the day to avoid the dolphins.
However, the PAMbuoy did face adversity in the harsh conditions of a Scottish winter, running out power in December when they realised the solar panels were too small for the battery during limited hours of sunshine. The mark two product, which is currently in St Andrews Bay, has significantly larger panels and batteries.
The PAMbuoy is now over its teething problems and as of Monday 24 September it had five orders (the PAMbuoy costs around £15,000 per device and if you need to attach it to a buoy the buoy is extra – other costs include the 3G sim charges), one of which was from Australia to be used around the construction of a deepwater terminal for oil and gas where they are going to be pile drive in the sea. They will use the PAMbuoy to be sure that animals are clear of the area before they start power driving.
Combining new technologies for better protection
The next stage of work SMRU are embarking on is taking the PAMbuoy to Germany for further testing, to see how it can work with other underwater devices, such as the bubble curtain, which is designed to encircle an area of drilling, where the noise levels will be extremely high, to lessen the reverberations of the sound waves using the theory that noise travels slower through air than water.
"The next stage of work SMRU are embarking on is taking the PAMbuoy to Germany for further testing, to see how it works with other underwater devices."
"Our role will be to ensure that at the specified distance the sound and noise levels are inline with that required by the regulator," explains Mundie.
As the UK and other countries try to hit renewable energy targets and generally expand their quest for oil, gas and energy in general, obtaining a greater understanding of the effects this has on marine life is paramount.
Chief Scientific Advisor at DEFRA and founding director of SMRU Ltd, Ian Boyd, has said: "Cracking the problem of how to detect these animals reliably has taken many years. Efforts continue to develop the statistical methods that will result in estimates of marine mammal population size from the emerging data."
Following the trend the DECC has just launched its own £1.4M research project using PAM systems deployed on vessels and on the seabed, because with smarter technology the quicker assessments can be made and the sooner energy can be sought.
Currently there is one PAMbuoy situated in St Andrews Bay, with two more further up the east coast, and SMRU hope this will help Scotland realise predictions set out in a government report suggesting Scotland could produce 40% of the UK's energy from offshore installations, and in the long term, produce 25% of Europe's energy requirements from wind power.