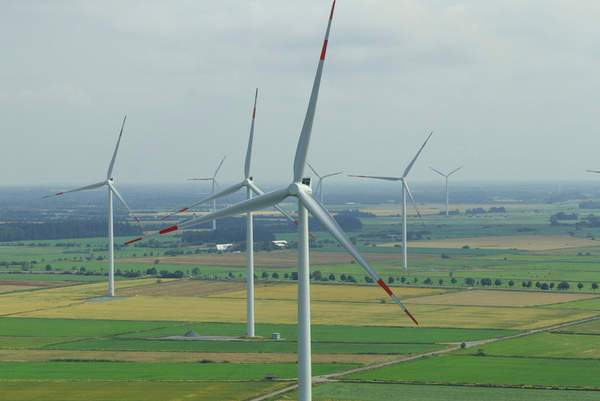 Siemens secured five orders to supply 23 direct-drive wind turbines in Germany.
Two of the farms are located in the northernmost state of Schleswig-Holstein, while the other three are to be erected in Lower Saxony. Comprising between one and eight gearless units each, the project installations are expected to be completed by next year.
Siemens' onshore windpower and renewables division CEO Thomas Richterich said: "Our exceedingly economical gearless wind turbines are best-sellers in windy northern Germany, as these five new projects in Lower Saxony and Schleswig-Holstein underscore once again.
"With the larger rotor diameters in our newly expanded wind turbine portfolio, we are set to continue the success story of our highly efficient technology at onshore sites as well."
The World Nuclear Association released a report titled 'World Nuclear Performance Report 2016 Asia edition', which states there has been an increase in global reactor numbers between 2015 and 2016, despite the retirement of seven units throughout the year.
The report says at the beginning of 2015, there were 436 operable reactors, which then increased to 439 by 2016. Nuclear construction in 2015 reached a 25-year record, building 10 new reactors, while the existing global fleet produced roughly 10% of the world's power, making up around one-third of the world's low-carbon electricity supply.
Despite this, established fleets in several European countries face public acceptance issues and a negative policy environment. Operators are experiencing tough economic conditions in both deregulated energy markets in parts of the US and in European countries where power prices have declined due to a growing share of renewable technologies subsidised to produce.
Lockheed Martin signed a teaming agreement with UK-based CoGen to build energy-from-waste projects in the UK.
As part of the agreement, a new plant will be opened in Cardiff, Wales. Construction will begin in 2018 and it is expected to be operational by 2020.
The Cardiff plant will have the capacity to process nearly 150,000t of waste per year to produce 15MW of energy, which is sufficient to power nearly 15,000 homes and businesses in the local area.
The UK Government and French power generation company Électricité de France's (EDF) signed an agreement for Hinkley Point C, the first new nuclear power station to be built in the UK in ten years.
The signing of the Contract for Difference and Secretary of State Investor Agreement for Hinkley Point C follows a comprehensive review and a revised agreement with EDF.
Hinkley Point C will produce 7GW of clean and reliable electricity for six million homes and provide 7% of Britain's electricity needs for 60 years. The UK currently has eight power stations, which cater to around 20% of energy requirements.
Scotland approved construction of the Creag Riabhach windfarm on the Altnaharra Estate, near Lairg in the North Highlands.
Creag Riabhach will feature 22 wind turbines, with estimated savings of 66,000t of CO² annually.
The proposal for constructing new windfarms received support from both public and local community councils.
Two University of Wisconsin-Madison engineers developed an innovative technology to produce electricity from footsteps.
The university's associate professor of materials science and engineering Xudong Wang and his graduate student Chunhua Yao developed the method, which uses common waste material wood pulp.
The pulp is partly made of cellulose nanofibers, chemically treated tiny fibers that produce an electrical charge when they come into contact with untreated nanofibers. When embedded within flooring, nanofibers produce electricity, which can be harnessed to power lights or charge batteries.
Alliant Energy's Iowa utility advanced with plans for the 500MW New Wind Project.
Construction of the project is expected to begin next year and Alliant Energy anticipates placing 250MW in service in 2019 and the rest in 2020.
The American energy company is working with landowners in Franklin County near its existing Whispering Willow windfarm and is also exploring opportunities to develop other areas of the state.
Swiss manufacturer of electrification products ABB and provider of engineering, construction, and maintenance solutions Aibel announced a strategic partnership to deliver offshore wind integration solutions.
This partnership will see ABB focus on its high-voltage direct current (HVDC) technology, while Aibel provides turnkey engineering, procurement, and construction (EPC) services. In addition, Aibel will be responsible for the design, construction, installation, and commissioning of the offshore platforms.
To integrate wind power into national electrical grids requires complex engineering. The HVDC system is equipped with advanced technology to ensure optimum integration of intermittent renewables and control of power flows.
A team of scientists at the US Department of Energy's Oak Ridge National Laboratory (ORNL) developed a new electrochemical process, which converts carbon dioxide into ethanol.
The team at the ORNL applied a voltage to a combination of carbon, copper, and nitrogen to trigger a complex chemical reaction, which reversed combustion. By using a nanotechnology-based catalyst with multiple reaction sites in this way, a dissolved carbon dioxide solution turned into ethanol with a yield of 63%.
The catalyst's uniqueness lies in its nanoscale structure, which consists of copper nanoparticles embedded in carbon spikes. The nano-texturing approach eliminates the use of expensive or rare metals such as platinum, which limits the economic viability of many catalysts.
US Department of Agriculture (USDA) provided $3.6bn in loans to fund 82 electric projects across 31 states.
The loan will be used for infrastructure upgrades to create jobs and improve system operations for rural electric customers nationwide.
The $3.6bn will allow construction or improvement to 12,500mi of transmission and distribution lines. It also includes $216m for smart grid technologies, $35m for renewable energy, and $26m for environmental improvements, as well as approximately $1.8m for energy efficiency.