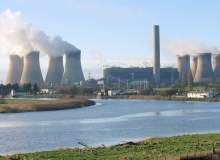 When the world came together in Paris at the end of 2015 and agreed to a global, legally-binding set of goals to limit warming to no more than 2°C above pre-industrial levels, the countdown to the end of the coal industry was set into motion.
In truth the clock had already started ticking – governments and energy companies were already under more pressure than ever to start the transition away from coal, and the global conversation had already shifted in recent years from how to reform coal to how to phase out its use as painlessly as possible.
How much time coal has left as a commodity and an energy source is unclear – developing countries have understandably argued that advanced economies that have already benefited from extensive use of coal should bear a greater share of the emissions reduction burden. At the UN climate change summit in Paris, China pledged only that its emissions will peak by 2030, allowing for increasing use of coal in the meantime. India, meanwhile, has promised no absolute cuts in carbon emissions, and plans to double its coal output to 1.5 billion tonnes by 2020.
Although the coal market will undoubtedly maintain its purchase in the developing world for at least another 20 years, the global agreement struck in Paris might be the clearest and most visible indicator that the international community is getting serious about cutting emissions, and that achieving the deal's stated aim is not compatible with the continued use of the most carbon-intensive fossil fuel, at least in the long term.
The UK sets a coal-free course
The UK made its own ambitious coal phase-out plan clear in November 2015 as the Paris climate conference approached. Secretary of State for Energy and Climate Change Amber Rudd announced during a speech at the Institute of Civil Engineers that the UK would aim to phase out the use of coal for electricity generation by 2025, and restrict its use from 2023.
"It cannot be satisfactory for an advanced economy like the UK to be relying on polluting, carbon-intensive, 50-year-old coal-fired power stations," Rudd said. "Let me be clear: this is not the future…In an ideal world, the carbon price provided by the ETS [Emissions Trading Scheme] would phase out coal for us using market signals. But it's not there yet. So I want to take action now."
"It cannot be satisfactory for an advanced economy like the UK to be relying on polluting, carbon-intensive, 50-year-old coal-fired power stations."
The plan to phase out coal within such an aggressive timeline was met with qualified approval from environmental groups, with former US Vice President and environmental activist Al Gore drawing particular attention to the significance of having a highly industrialised nation like the UK taking such an ambitious step.
"The UK has become the first major economy to set a clear date to phase out coal, and I am hopeful that others will follow suit as we repower the global economy with the clean energy we need for a sustainable future," he said.
Filling the void left by coal
The UK has already made impressive strides in reducing its total coal consumption, down from 55.8 million tonnes in 2012 to 42.2 million tonnes in 2014, according to the latest edition of the International Energy Agency's Coal Information document. This is in contrast to some of the world's largest coal consumers such as the US, which increased its use of coal from 606.9 million tonnes in 2012 to 615.8 million tonnes in 2014. As India continues its rapid industrialisation, its annual coal consumption rose from 452.5 million tonnes to 550.5 million tonnes between 2012 and 2014. China, meanwhile, has reduced its coal consumption slightly since 2013, but its fossil fuel use still dwarfs all others, with its 2014 figure topping 2.8 billion tonnes.
Despite the iterative progress made on reducing the UK's reliance on coal, removing it from the energy mix entirely is a brave step. Ambitious as the plan is, an obvious question emerges – with coal being phased out (taking 30% of the UK's generating capacity with it) and the country's ageing nuclear fleet gradually coming offline, what new sources of capacity can be introduced to fill an energy supply deficit that is set to balloon in the coming decade?
Among environmentalists, there is disappointment that renewable energy sources are not getting more investment to play a larger role in plugging the gap. Although Rudd paid lip service to "a large increase in renewables over the next five years" – primarily offshore wind – the Conservative government's slashing of subsidies and other support mechanisms for solar power and onshore wind farms in 2015 represents a retrograde step for many eco-minded observers.
On the generation side, Rudd made it clear that the government would maintain its broadly anti-subsidies stance for green energy technologies, putting new gas plants (which emit around half the CO2 of coal power stations), replacement nuclear units and new interconnectors to import more energy from Europe at the heart of the government's future energy strategy.
"This switch from coal to gas is like trying to go dry by switching from vodka to super-strength cider – it entirely fails to seriously address the real challenge at hand," said Green Party MP Caroline Lucas in response to Rudd's proposals. "Investing in renewables and energy conservation would be far more effective economically, environmentally and in terms of energy security."
Nevertheless, Rudd argues that switching from coal to gas represents "one of the greatest and most cost-effective contributions we can make to emissions reduction in electricity". Securing new sources of domestic gas supply would, however, mean forging ahead with shale gas fracking plans and continuing to heavily support the North Sea oil and gas sector, policies that have proven unpopular with campaigners and, in the case of fracking, local communities.
Nuclear development on a knife-edge
"French utility EDF's much-discussed £18bn project to build the massive
Hinkley Point C
is effectively the starting gun."
So the plan has been laid out, but few long-term strategies, no matter how carefully considered, play out exactly as expected in reality. There is plenty of evidence that makes clear the extent of the UK's upcoming energy supply challenge, and the scale of infrastructure projects that will be required to meet the country's coal phase-out target without compromising security of supply.
The construction of new nuclear capacity to replace old baseload plants that are scheduled for decommissioning is a key component of the government's long-term energy vision. French utility EDF's much-discussed £18bn project to build the massive Hinkley Point C is effectively the starting gun that is intended to kick off a new wave of large-scale nuclear plants in the UK.
However, ongoing uncertainties around financing for the project continue to cast doubt on whether it will get the go-ahead, despite the announcement of significant Chinese investment in Hinkley Point. This uncertainty was compounded in January, when French financial newspaper Les Échos reported that EDF is still struggling to secure the necessary financing to move forward with the project. If the Hinkley Point deal falls through, subsequent nuclear plants at Sizewell and Bradwell are likely to fall with it. The coming weeks and months in the run-up to the Hinkley decision will be vital to the UK's effort to build a new nuclear generation in the face of an extremely challenging market.
Shadow over 2025: a looming energy crisis?
While Rudd has acknowledged that government subsidies would be required even for the construction of gas plants, the construction of gas plants should still present less of a challenge than the building of nuclear capacity.
However, a report published in January by the Institution of Mechanical Engineers (IMechE) emphasises the scale of the UK's future energy gap. The report found that with the loss of nuclear and coal-fired plants, the country will be facing a supply gap of 40-55% by 2025. Meeting this deficit, the report argues, would require the construction of around 30 new combined cycle gas turbine (CCGT) plants in the next ten years – a tall order given that only four CCGT plants have been built in the last decade.
"We cannot rely on CCGTs alone to plug this gap, as we have neither the time, resources nor enough people with the right skills to build sufficient power plants," said the report's lead author Dr Jenifer Baxter. "Electricity imports will put the UK's electricity supply at the mercy of the markets, weather and politics of other countries, making electricity less secure and less affordable…Under current policy, it is almost impossible for UK electricity demand to be met by 2025."
Attacking the problem from all angles
IMechE's report hasn't been met without criticism however; many observers have noted that the UK wouldn't be exclusively relying on CCGTs to meet demand – Hinkley Point C (if given the green light), continental interconnectors, renewables and demand-side efficiency measures could all play their part. Abundant gas and cheaper wholesale electricity prices in Europe could also make energy imports cheaper and more secure for the UK, rather than less.
"We simply don't need that scale of newbuild [gas]," Policy Exchange head of energy and environment Richard Howard told Carbon Brief at the end of January. "The whole thing sets up a straw man…We're not talking about trying to fill the capacity shortage with a load of CCGTs. It will be filled by all sorts of different things, including some interconnectors, some demand response, some renewables, peaking plant, storage and energy efficiency."
It is also worth noting that in her speech announcing the coal phase-out target, Rudd built in something of a failsafe clause, noting that the 2025 deadline will only remain in place "if we're confident that the shift to new gas can be achieved within these timescales", which essentially leaves a back door open to maintain some unabated coal capacity if supply security is threatened.
Beyond the debate over IMechE's numbers, one thing that everyone can likely agree with is that there is no one solution to the energy 'trilemma' of supplying electricity that is clean, affordable and secure. A healthy range of low-carbon generation methods will be essential, as will energy storage technology to help offset the intermittency of renewables. Reducing demand, encouraging efficiency and reforming the electricity market through mechanisms like such as the recently-established capacity market auctions will all need to play their part as well. Satisfying energy needs while protecting the environment might be the biggest challenge of the 21st century – meeting it requires bold moves in a host of fields.