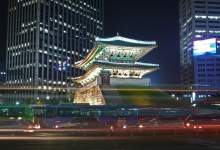 South Korea is forced to import 97% of its primary energy demand due to minimal natural energy reserves and a slow starting renewable energy industry. In 2013 this meant the East Asian country was the second-largest importer of liquefied natural gas (LNG), the fourth-largest importer of coal, and the fifth-largest net importer of total petroleum and other liquids, according to the US Energy Information Administration (EIA).
Keen to diversify its supply to secure energy for its 50 million plus inhabitants and its $1 trillion trade industry, the country has relied significantly on nuclear power, refined oil products, LNG and coal to boost its energy mix.
Uniquely, despite its lack of domestic oil reserves, the country is one of the largest petroleum product exporters with three of the ten largest crude oil refineries in the world. The government has actively encouraged its state-owned and private oil companies to aggressively invest in overseas energy exploration and production in a bid to secure back-up supply.
In the long-term the ministry is seeking to reduce the country's use of nuclear and dirty coal, and instead benefit from cleaner fossil fuel from America's shale gas boom and from increasing the deployment of renewables. But it has a long way to go to meet these ambitious targets and it won't be able to reach them without nuclear and coal.
Nulcear out, safety in
As reported by Platts, latest figures reveal that currently LNG meets about 25% of South Korea's total electricity consumption, while coal and nuclear reactors account for 40% and 30% respectively and oil for only 3%.
---
---
Open water heat pump technology, described as 'a game changer' by UK Cabinet Minister Ed Davey.
---
In mid-January, South Korea's Cabinet, headed-up by President Park Geun-hye, released the 'Second Basic Energy Plan', an energy policy framework covering the period 2014-2035.
The forward-planning document outlined the government's plan to cut down its reliance on nuclear power after a safety scandal saw some of the country's reactors close down. The plan is to reduce South Korea's reliance on nuclear to 29% of total power supply by 2035, down from a previously planned 41% by 2030.
Currently, South Korea has the highest density of nuclear reactors in the world – 23 – which makes up 26% of the country's power mix, according to the UK Trade & Investment department.
The country's new stand on nuclear doesn't mean, however, that planned construction of eleven more nuclear power reactors, five of which are already under construction, will stop. According to a Reuters article published in January, the ministry will still need 43,000 megawatts (MW) of nuclear power capacity by 2035, up from 36,000 MW by 2024.
This increase in supply is fuelled by the country's continued growth. In 2013, South Korea's gross domestic product (GDP) grew by 2.8%, up from 2% in 2012, according to the EIA. Even higher GDP growth of 3.8% is expected in 2014 due to rising exports and recovering economic growth in other developed countries.
LNG – partnering with America
"most of South Korea's installed generation capacity is fossil fuel-based."
Platts reported in May that South Korea is seeking to import more LNG and shale gas from America to adhere to new, tighter environmental laws.
"Natural gas as a source of power generation needs to be increased to reduce consumption of coal that is blamed for greenhouse gas emissions," Kim Jun-Dong, deputy minister of energy and resources policy told Platts.
He highlighted the cost of LNG, which is higher than coal-based electricity production.
"Import costs from the US are likely to be lower than those of LNG from the Middle East," he added.
The deputy energy minister said state-run energy firms have been investing in the US shale gas development but these projects are currently at exploration stage so it would take some time before "they bear fruit".
South Korea has four LNG regasification facilities, with a total capacity of 4.5 trillion cubic feet per year, according to IHS Global Insight – more than two-thirds of the country's 2013. LNG imports came from Qatar, Indonesia, Malaysia and Oman, with the rest coming from Australia. The government predicts overall natural gas demand to grow about 1.7% annually until 2035, as the fuel is a cleaner energy than coal.
---
---
The Indian government has recently announced plans for what could become the world's most powerful solar plant.
---
To meet some of this demand, state-owned Korea Gas Corporation plans to import 3.5 million metric tons of LNG a year from the Sabine Pass project over 20 years, starting in 2017.
On the domestic front, the country possessed discovered proven reserves of 203 billion cubic feet, as of January 2014. Currently, according to Oil and Gas Journal, domestic gas production accounts for less than 2% of total consumption in South Korea.
From July 2014, the South Korean government will lower consumption taxes on LNG and raise the tax on coal used for power generation.
Coal still part of South Korea's energy future
Jun-Dong has said that South Korea cannot abandon coal just yet and that the commodity will be a part of the country's strategy for decades to come.
The country is trying to increase its stake in renewable energies but costs have proven a barrier, therefore coal won't be ruled out for some time. Director general for Energy Industry Policy Seung Il Cheong said last year the government will invest in technologies such as integrated gasification combined cycle with carbon capture and storage to minimise greenhouse gases and environmental pollution.
"For the present, South Korea's energy supply is diverse and fairly robust."
In relation to installed capacity, coal plants consist of about 24.5 GW, or about 30% of total capacity. In the new electricity plan released in January, South Korea laid out plans to raise coal capacity to 44.9 GW by 2027 and by the end of 2017, the government plans to install 15 more coal-fired facilities with 12.5 GW of capacity.
In regards to South Korea's other fossil fuel source – oil – dependency on petroleum and other liquids is anticipated to fall from earlier predictions. According to the Korea Energy Economics Institute, petroleum and other liquids will account for about 34% of total primary energy consumption by 2017, down from EIA's estimate of 41% in 2012, because of an expected increase in the use of coal, natural gas and nuclear power.
The state-owned Korea National Oil Corporation has a modest 3.2 million barrels of ultra-light crude (condensates) in domestic reserves. However, most of the company's oil comes from acquisitions of overseas companies – in 2012 it produced 231,000 barrels per day and held 1.3 billion barrels of equivalent of oil and gas reserves from overseas assets – but the company's aggressive overseas investment strategy has been scaled back due to high levels of debt.
Future investments – new sources hoping to enter the mix
Although South Korea's bid for energy diversity has seen the country rely heavily on fossil fuels – most of South Korea's installed generation capacity is fossil fuel-based – the country is investing in research and development for other forms of energy, such as deposits of methane hydrates in the Sea of Japan. According to the EIA, the government is currently spending around $30m per year on methane hydrates research and development.
While the government's goal of developing gas hydrates is potentially decades away from being reached, increasing renewable energy is more achievable. Il Cheong, writing for Siemens, said South Korea's government hopes renewables will one day serve as the country's main energy supply. Currently only 8% of the country's energy mix comes from hydroelectricity and 3% from other renewables, such as solar, wind power and fuel cell power plants.
"South Korea is trying to increase the portion of renewable sources in power generation, but it is not easy because it requires massive investments and long time," Jun-Dong told Platts.
To demonstrate its commitment to increasing renewables, the International Renewable Energy Agency was launched in South Korea in May.
For the present, South Korea's energy supply is diverse and fairly robust. However, by relying primarily on imports, the country is only ever a geopolitical dispute away from potential disruption. True energy security relies on rapid development of South Korea's renewables sector, which will take huge investment, increased overseas oil and gas exploration and production investment and a restoration of faith in the safety of the country's many nuclear reactors.