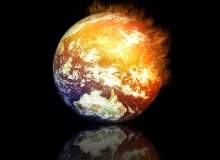 "Thanks to the IPCC, no one will ever be able to say they weren't warned." Those were the words of climate campaigner Bill McKibben after the final release of the UN's Intergovernmental Panel on Climate Change's (IPCC) Fifth Assessment Report (AR5) on the global threat and possible mitigation of climate change.
Since the release of AR5's Synthesis Report in November 2014, which brought to a close an overall report publication process that has been rolling out since September 2013, the message is clearer than ever. As UN secretary-general Ban Ki-Moon put it, the science has spoken: the world needs to up its game in the campaign against climate change, and fast.
Climate change: the task ahead
In order to limit the earth's temperature increase due to man-made global warming to no more than 2°C higher than pre-industrial levels – above which the impacts of climate change will become "severe, widespread and irreversible" – there is a lot left to be done by the end of this century. By 2100, fossil fuel-based electricity without carbon capture and storage (CCS) capability will need to be eliminated entirely, replaced by low-carbon energy supply in the form of renewables, nuclear energy and CCS-enabled generation.
This sets a tough challenge for the global power sector, which will have to undergo a fundamental transformation in the coming decades, with low-carbon sources needing to grow from the current 30% of the global energy mix to a massive 80% by 2050 to keep pace with the required change.
Of course, an overall climate change mitigation strategy wouldn't focus exclusively on energy supply; decarbonising transport networks, bringing greater efficiency to industry processes and encouraging conscientious energy use in homes and businesses will clearly play a vital role. But as the Summary for Policymakers (SPM) released by AR5's Working Group III notes, "in most integrated modelling scenarios, decarbonisation happens more rapidly in electricity generation than in the industry, buildings and transport sectors". In other words, it's the energy generators that must lead the charge on global warming if the endeavour isn't to be scuppered from the outset.
---
---
The Environmental Protection Agency want to enable a 30% reduction in carbon emissions by 2030.
---
Unfortunately, so far the incremental emissions reduction efforts set out by energy companies and world governments has paled in the face of a growing population that, according to the US Energy Information Administration, looks set to fuel a 56% rise in worldwide energy consumption, primarily in developing countries where big-ticket options like nuclear power or CCS might not be an option. Under AR5's 'business as usual' baseline scenarios, "direct CO2 emissions from the energy supply sector are projected to almost double or even triple by 2050 compared to the level of 14.4 GtCO2/ year in 2010, unless energy intensity improvements can be significantly accelerated beyond the historical development."
International climate action: divided we fall?
AR5 has strongly echoed a truth that cuts to the heart of the world's struggle to adequately address the emissions problem – climate change is a global issue that requires global solutions. "Effective mitigation will not be achieved if individual agents advance their own interests independently," said Working Group III in its SPM. Climate change has the characteristics of a collective action problem at the global scale, because most greenhouse gases accumulate over time and mix globally, and emissions by any agent (e.g. individual, community, company, country) affect other agents. International cooperation is therefore required to effectively mitigate GHG emissions and address other climate change issues."
The UN climate change conferences, which have taken place every year since 1995, are intended to provide the platform for member states to come together on a global scale, but the overarching goal of binding international agreements remains elusive. A common sticking point in negotiations is the relative contributions of different countries, with the likes of India, China and other countries understandably arguing that countries that have contributed the most emissions historically should shoulder a larger slice of the economic burden of mitigation. Nevertheless, without strong commitments from rapidly expanding economies in Africa and Asia, a huge and growing chunk of global emissions are being ignored.
Despite the frustrations and flaws of the UN talks, they are still the best hope for multilateral cooperation. Individual instances of progress – for example US President Barack Obama's upcoming visit to India, during which a number of climate change, solar development and nuclear cooperation agreements are expected to be discussed – are well and good, but piecemeal arrangements are unlikely to prompt the level of decarbonisation required to avert environmental fallout.
The disadvantage of tackling climate change on a country-by-country basis is also emphasised by governments leaning insistently towards the status quo and often working to limit the effectiveness of wider change, as the UK and the Czech Republic were accused of earlier in January when they reportedly lobbied to reduce the EU's power to monitor its member states' pledge to cut carbon emissions 40% by 2030. For many political parties, the gulf between pledge and action can be frustratingly large when there isn't an international and legally-binding agreement to incentivise change.
"Effective mitigation will not be achieved if individual agents advance their own interests independently."
"The single biggest block to rolling out renewables is a lack of political will," UK Energy Research Centre co-director Paul Ekins told the Guardian newspaper in May 2014. "The renewable industry needs a strong signal that we're serious about a low-carbon future."
Key mitigation technologies
This lack of political will in many quarters is made all the more exasperating as it becomes increasingly clear that the raw technology to revolutionise clean energy exists today; it simply requires the legislative framework and financial investment to take off. "The technologies are there, and enough of them have already been rolled out at scale in different countries for us to be clear that they work and that they can generate the power that we need," said Ekins.
While renewable energy sources like solar and wind continue to develop and drop in price, other key low-carbon technologies are floundering amid public mistrust or failing to generate the private sector interest to break through.
Nuclear power's stock has fallen since the Fukushima Daiichi meltdown in 2011, and problems with nuclear weapons proliferation and waste disposal have seen some environmental groups, including Greenpeace, take a strong stance against it, but AR5 envisions an important role for nuclear in a low-carbon energy mix and it has received steadfast support from many scientists. In December 2014, more than 60 conservation scientists signed an open letter to environmental campaigners, imploring them to "weigh up the pros and cons of different energy sources using objective evidence and pragmatic trade-offs, rather than simply relying on idealistic perceptions of what is 'green'".
"When compared objectively with renewables, nuclear power performs as well or better in terms of safety, cost, scaleability, land transformation and emissions," said University of Tasmania professor of environmental sustainability Barry Brook. "Not only does next-generation nuclear power provide emissions-free electricity, it is a highly concentrated energy source that consumes legacy waste and minimises impacts to biodiversity compared to all other energy sources." Indeed, the next generation of reactor designs that begin to solve these lingering issues could see nuclear plants forming a reliable foundation upon which renewables can grow.
---
---
The concept of natural gas as a 'bridge fuel' to a low-carbon future is now common, but is it realistic?
---
CCS, meanwhile, represents the only way coal and gas could have a future in a world seeking to meet that 2°C target, but issues of cost and commercial viability have hampered the technology's adoption, with the number of CCS projects worldwide actually dropping from 75 to 65 between 2012 and late 2013.
AR5 did offer a glimmer of economic good news for the mitigation campaign, presenting evidence that a scenario consistent with decarbonisation by 2100 "show reduced costs for achieving air quality and energy security objectives, with significant co-benefits for human health, ecosystem impacts, and sufficiency of resources and resilience of the energy system". Still, those benefits are decades away, and international consensus needs to come soon to have any hope of enjoying them.
As member states move towards making informal pledges in March this year, hopefully leading towards a landmark global agreement at the next Conference of the Parties (COP21) in Paris in December, the time for squabbling is over. Proactive moves need to be made today to avoid being locked into more decades of coal and gas-burning generation, which once completed "may be difficult or very costly to change, reinforcing the importance of early action for ambitious mitigation", according to AR5. With the window of opportunity to curb the world's emissions appetite swinging closed with each passing year, now is the time for brave steps to be taken in unison.