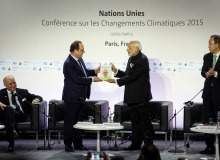 The solar PV industry had a rollercoaster of a year in 2015. January began well with news from the Department for Energy and Climate Change (DECC) that, in 2014, UK solar PV capacity rose from 2,939MW to 4,979MW, a sign many took to mean that the renewables obligation and feed in tariffs were jointly helping solar to advance.
The good news wasn't to last; in August last year the industry came crashing down following the UK government's announcement of its plans to cut feed-in tariff (FiT) subsidies and end its renewables obligation (RO).
Consultation on the plans received 55,000 responses, which together with the positive messages on solar coming from the COP21 talks in Paris, raised hopes that the DECC may reconsider the changes. The year ended with mixed feelings; the department announced that cuts wouldn't be as deep as first proposed for domestic and small-scale commercial schemes, although overall, they would be more than halved. Surprisingly, schemes over 250KW will be cut at a higher degree than the initial proposals.
A spokesperson from the DECC says: "The government continues to support the low-carbon sector but, for this to be sustainable it needs to be driven by competition and innovation, not subsidies. As the cost of technologies comes down so should the consumer-funded support."
What's changed?
The government has responded to the consultation replies and COP21 negotiations by lessening the proposed FiT cuts to 64% for domestic and small commercial schemes. This equates to a rate of 4.39p and 4.59p per kilowatt hour respectively, rather than the proposed 1.63 and 3.69 rates.
Old tariff rates were available until 15 January, followed by a three week pause. The new FiT rates have been in place since 8 February this year, and from 31 March, quarterly digressions will start.
"According to analysis by law firm Norton Rose Fulbright, the proposed changes could see some schemes lose up to 46% of their current support."
The RO will be closed to projects under 5MW as of this April, excluding projects which gained pre-accreditation before 11 July 2015, those delayed by issues with the national grid, or that have invested significant capital.
The banding of RO schemes is also currently under consultation for England and Wales, with a deadline for replies of 27 January. Banding is how the government controls the amount of support allocated through the RO for various technologies. For instance, onshore wind, as a more developed technology currently gets less RO support than tidal technology, which is in its infancy. According to analysis by law firm Norton Rose Fulbright, the proposed changes could see some schemes lose up to 46% of their current support.
Consulting the industry
The solar industry responded to the FiT and RO consultation with strong recommendations, and the STA criticised the target rate of return the proposed tariffs have been based on. According to the consultation review response from the government: "The STA believed that a target 4% rate of return would not bring forward deployment from financially motivated customers, who would be seeking higher returns elsewhere."
Good Energy, a renewable energy provider to residential and commercial customers, also objected to the changes. The government response stated that Good Energy "highlighted the contribution that wind and solar play in driving down consumer bills," adding that "according to their estimation, wind and solar reduced the wholesale cost of electricity by £1.55bn in 2014."
Issues raised by other consultation respondents include that the changes are based on a solar load of 11.3%, widely viewed as unachievable in most parts of the UK. They also raised concerns about government investment in fossil fuel technology, especially fracking and unconventional gas, over more renewable alternatives, as well as the impact of job losses on the wider economy.
Over 100 respondents provided additional data in support of their arguments. The government conceded that the original information used by Parsons Brinckerhoff was not enough to make firm assumptions about the impact of the new policies and factored the new data into its review.
Chairman of the British Photovoltaic Association (BPVA), Reza Shaybani believes that proposing large cuts and then lessening their extent after consultation was "a bit of a strategy". "The government went to the lowest possible, and whatever came out after looks better than what was originally proposed," he says.
Whether it is strategy or a genuine case of reassessment, it appears that both the FiT and RO schemes have been victims of their own success; the government is now capping future installations supported by them, even if that's at the lower rate of support.
Sunset for the UK solar industry?
Solarcentury's head of public affairs Seb Berry says the current situation is "a million miles away from the 'solar revolution' that the Secretary of State promised the country back in June". Even the DECC's own impact assessment, released with the policy announcement in December, has found that between 9,700 and 18,700 jobs could be lost as a result of the changes.
Others are more optimistic about the fate of the solar industry during these testing times. GMI Energy's operations director Phil Robertson says: "There is no getting away from it, it is a large cut and it is going to change the business model for our business, but as we now only do commercial installs, I don't see it being particularly threatening."
"There is no getting away from it, it is a large cut and it is going to change the business model for our business."
Although commercial solar projects have been seemingly hardest hit by the changes, solar companies are more flexible to change business model. By switching to use-on-site models rather than focusing on exporting energy, commercial solar can still work.
The Solar Trade Association is, however, on a mission to show that residential solar can still provide good returns on investment, saying that: "A competitively priced solar installation is likely to be paid back – the breakeven point on the investment – in around 13 years and it is possible for householders to improve payback further through intelligent use of their system."
Self-sufficiency
All sources point to the need for a new business model. Industry bodies are offering similar advice on how to avoid becoming a victim of the cuts. The STA says the cost of installation needs to be brought down to entice new customers, and the BPVA is also advising its members to reassess how they build customers.
"The need for clean, secure, affordable energy has not gone away and the industry must look at this as a wake-up call and start planning for life after subsidies," says Shaybani. "We are working with a number of our members to come up with new business models which would encourage more customers to tap into solar. There are lots of other benefits to going solar and becoming grid autonomous."
Grid autonomy and use on-site seem to be at the heart of most advice to companies and customers in the industry. GMI Energy is advising its commercial customers to fully optimise the power they are generating on site themselves, rather than plan for export. Robertson says: "It is this sort of model that is going to be absolutely key to the UK market now."
Business models should also include plans for expansion into the rapidly expanding international market. "The message from [the BPVA] to our industry is that the UK market alone should not be the focus going forward," says Shaybani. "These companies should start looking at the global market."
The sun is always shining somewhere
For some UK companies in the solar industry, the opportunities are increasingly in the international market. The launch of the Solar Alliance at the COP21 conference last December piqued the interest of UK companies eager to supply to the 120 founding member countries.
Companies ambitious to crack the international market will not be alone. UKTI and the Department for International Development are working to connect suppliers, manufacturers, installers and distributors with countries needing solar services.
UK Export Finance (UKEF) provides assistance in the form of insurance, bank guarantees and loans to overseas buyers to UK exporters, including solar exporters. A UKEF spokesperson said it "has also sought to step up its marketing efforts abroad to make overseas buyers and project sponsors aware of how finance packages backed by UKEF can help boost the competitiveness of sourcing from the UK".
The cuts may be steep, but industry leaders have plans to help get through this period, ready for self-sufficiency by 2020.