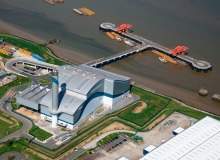 For a city as important to the UK and world economy as London, it is essential to keep the lights on and business booming for its 8.4m inhabitants. Some of these people and companies are helping to power their own homes simply by putting the bins out on a Monday morning.
Local authorities in London alone collected 3632 million tonnes of waste from homes and businesses in 2013. Include the large amount of waste generated by construction (50% of all UK waste in 2012 according to Defra) and London is a prime candidate for energy from waste (EfW) technology.
There are a small amount of projects up and running in the capital, showing the breadth of technology available. As the technology progresses from burning waste just to be rid of it, to only burning non-recyclable waste for energy, more projects are beginning to spring up. According to the Renewable Energy Association, over 50 energy from waste projects are currently in the planning stages in the UK.
Localising waste management
"2.4 million tonnes of post-recycling waste, known as refuse derived fuel, was exported from the UK in 2014"
According to the Environment Agency, 2.4 million tonnes of post-recycling waste, known as refuse derived fuel, was exported from the UK in 2014. A large proportion of this was used to create fuel which the UK then bought back from EU countries to use in power plants. Proponents of EfW say councils could save significant sums if the waste was taken to local EfW plants instead.
The London Plan, a policy guide from the London mayor's office, expresses the mayor's support for EfW, after waste has been through a waste hierarchy system. "London should manage as much of the capital's waste within its boundaries as practicable, enabling London and Londoners to receive environmental and economic benefits from its management," it says.
The waste hierarchy is a system which gives various options for dealing with waste, ranked in order of environmental preference. The stages progress from the most desirable, avoidance and prevention, through to the worst case, disposal. Energy from waste processes are the penultimate step in waste management, meaning that all recoverable material from reuse to recycling has been performed before the waste reaches EfW standard.
How does energy from waste work in London?
Energy from waste plants can vary in the technology combinations used, but the essential process is the same in most systems.
The waste is collected by the local authority and taken to a processing plant, normally near to the energy plant, to remove recyclables. Once this is complete, the refuse derived fuel (RDF) is taken to the plant and dropped off into a large holding area, which can usually hold enough to keep the plant in operation. The waste is then taken for thermal treatment.
In a traditional incinerator, natural gas is used to start the burning process, which releases gases from the RDF. These gases react with oxygen in the air and create more heat, further releasing gases. The heat this produces is converted to energy by boiling water to produce steam, which is then used to power turbines, creating electricity. The residual heat can also be used to heat surrounding buildings.
The South East London Combined Heat and Power (SELCHP) plant does just that. As well as producing electricity, the plant has an innovative arrangement with Southwark Council. Waste collected from homes in the borough is processed through the plant and residual heated water piped to Southwark homes near to SELCHP via the same boiler houses that used to run on gas. This provides heat and hot water for 2,500 properties.
The plan takes waste from the local authorities of Lewisham, Greenwich, Westminster and Bromley after it has been processed for recyclables at the Southwark Integrated Waste Management Facility. The plant, operated by VEOLIA, can handle 420,000 tonnes of waste per annum, and produces enough electricity to power 48,000 homes.
SELCHP general manager Robbie Jameson says that the plant and community benefits from the proximity principle as "waste can be treated closer to its source which reduces the transport requirements."
As incineration creates smoke and both processes leave behind ash, a clean-up phase is required. The UK Government claims this step is successful at removing harmful dioxins and particles, so much so that the emissions from all energy from waste plants in the UK in 2011 were less than those from bonfire night of the same year.
The exception to the rule is anaerobic digestion, which uses organic waste as its fuel. Instead of burning the fuel, microorganisms work at a low temperature to convert the waste into carbon-dioxide / methane bio-gas, which can then be used to generate electricity and heat. The by-product is digestate which can be used as a natural fertiliser. Anaerobic digestion plants are generally much smaller than incineration or ATT plants.
The TEG Biogas anaerobic digestion plant in Dagenham came online in 2014, having received investment from the Green Investment Bank. It can process 50,000 tonnes of waste annually, providing 1.4MW of power to the grid. The residual heat is also used by local businesses in the Dagenham Dock area that has been designated for sustainable industries.
Igniting debate: unintended consequences
The word incinerator conjures up images of smoke pouring from monolithic chimneys, infecting the lungs of anyone within a 50-mile radius. If this is so, why on earth are we installing them in a crowded city setting?
The answer is, because they are not as bad as all that. In 2009, the Health Protection Agency concluded a report into the technology by stating: "While it is not possible to rule out adverse health effects from modern, well regulated municipal waste incinerators with complete certainty, any potential damage to the health of those living close-by is likely to be very small, if detectable".
"Most of the EfW plants in London publish their emissions information"
Most of the EfW plants in London publish their emissions information and are required to meet stringent EU requirements, limiting the amount of nitrogen oxide and carbon dioxide released into the skies above London. Obviously it isn't an ideal situation, but compares favourably with the continual release of methane from landfill sites.
The SELCHP facility has encountered some environmental issues. It exceeded the permitted emission limit values for carbon monoxide four times in 2014 due to technical faults. Although the faults were found and resolved quickly, they serve as a reminder that even with best intentions, problems can occur
Another concern is lorry movements to the plants causing disruption in the busy capital and increasing transport emissions. The Bexley Riverside Resource Recovery facility, opened in 2011, chose its location to make use of barge deliveries via the River Thames, which prevent 100,000 lorry movements a year according to the plant's operator Cory Environmental.
The facility has processed "over 3.0 million tonnes of waste since October 2011 to end January 2016," says plant director, Andy Pike. "From processing this waste the facility has recovered and generated over 2.1 million MWh of electricity."
Ash leftover from the process is almost always converted into aggregates to use in construction activities, and any leftover char is treated and disposed of.
There are also less explicit concerns. Critics have expressed concern that EfW plants will stop us from actively trying to reduce the amount of waste we produce in the first place.
One of the arguments for using EfW is the financial benefit for local authorities. Let's Recycle, an independent website for groups involved in recycling and waste management, released figures showing the cost of sending waste to landfill in December 2015 was between £94.60 and £108.60 per tonne, compared to £70 to £105 for incineration / ATT. This shows minor savings which are predicted to rise as ATT technology develops.
A sign of changing times?
There is obviously potential in EfW. One million tonnes of food is wasted in London every year, and anaerobic digestion could help us to do something positive with this waste. As incineration technologies progress the practice is becoming safer and more efficient, making it a real contender.
Local power production is starting to come into its own in London and elsewhere, but it needs to be supported by policy. The REA says that policy uncertainty has held back progression on EfW projects. In a report published in 2011, the REA stated: "Successive governments have viewed EfW as primarily a waste management solution rather than a valuable energy source…This has resulted in poorly-drafted legislation and inconsistent guidance, which has impeded deployment."
The other problem is that EfW plants cannot just be rolled out from a generic blueprint. "A great number of factors are at play when making decisions about what is right for a particular city or area," says Robbie Jameson. "We need to find alternatives to fossil fuels and energy recovery from waste can deliver a sustainable source of power and help us resource the world for future generations."
Overall, the outlook is positive. If London can prove a city of its magnitude can add EfW to its energy mix, then other cities may follow suit.