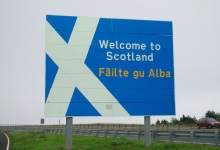 Scotland is the powerhouse of renewable energy within the UK. Between 2007 and 2013 it has piled on almost 4,000 megawatts, increasing from 2,673Mw to 6,667Mw, through expansion of onshore and offshore wind, hydroelectric, and tidal electricity generation. By the end of next year it expects to be generating half of all its electricity through renewable power technology and 100% of it by 2020.
Such high levels of renewable energy far outweigh its own needs. Occupying just 32% of the area of the United Kingdom, it contributes 36% of the total amount of renewable energy generated in it. As a result it is able to export what it doesn't need to England and other markets, with 26% being exported in 2013.
A crucial factor in the sector's growth lies in the powers that were devolved from the UK parliament to the Scottish government in 1998, which enabled it to dictate its own energy policy. As a result, the devolved Scottish government, under its leader Alex Salmond, has pushed and promoted multiple sources of renewable energy across the country, attracting investment and creating jobs, with the sector currently supporting 11,000 jobs. But the outcome of next month's election could have huge ramifications for the renewable sector in Scotland.
Going solo
The Scottish Government argues that with complete independence, it will be able to expand the role that renewables play within its own borders; it will push harder for decarbonisation and seek a non-nuclear future, both of which will boost demand for renewable energy. It will also look to capitalise on that demand by attracting outside investment to develop renewable technology and make it an industrial centre in numerous forms of generation.
The crucial issue, though, is not what it does at home, but whether it can maintain its impact in the UK from the outside. If so, it can continue to sell the renewable energy it doesn't need to the rest of the UK. If not, it may need to find a new customer.
---
---
The Swansea Bay tidal lagoon project in the UK and the MeyGen tidal array project in Scotland stand out.
---
According to the Scottish Government, it is in everyone's interests to maintain a single energy market: "There is a common interest in sharing our energy resources with our neighbours: Scotland can continue to provide safe and secure supplies of electricity and gas and can assist the rest of the UK in meeting its renewable energy targets. Our continued participation in a single GB-wide energy market is also in line with the trend for increasing integration of energy markets across Europe."
Last month, that view received the backing of an independent expert panel led by Robert Armour, chairman of Smarter Grid Solutions, which concluded that support for maintaining the single market was "overwhelming". Speaking at the launch of its final report, Armour explained that there are precedents to follow that would enable the UK and Scotland to continue to work together on energy matters: "Looking to Europe and beyond we found working models of cross-border partnerships delivering jointly-regulated integrated markets that show single markets can work with goodwill and co-operation."
An end to the single market
But the UK government has indicated that things are not so simple. Responding to the report, which was commissioned by the Scottish Government, the UK Department of Energy and Climate Change said: "In the event of Scottish independence, the single market for electricity and gas just could not continue in its current form with Scottish consumers losing out on shared investment in infrastructure, transmission and renewables."
"In the event of Scottish independence, the single market for electricity and gas just could not continue."
A further issue for an independent Scotland is financing its renewables expansion plans. As part of the UK and its largest contributor of renewable energy, Scotland draws huge investment from the government to subsidise the construction of renewable generation plants. Should independence go through, the development of further renewable energy infrastructure could be put at risk if the arrangement for subsidies was altered.
The UK government has argued that if Scotland were to leave the UK, then it would be treated like all other outside states and the decision whether or not to purchase its electricity or fund its infrastructure would be taken on a purely commercial basis. It argued that, as a result, the average energy bill for a household in Scotland could increase by as much £189 a year in order to finance the required infrastructure.
The ties that bind
Ed Davey, energy secretary, said: "I think Britain's single energy market – where we are integrated as we are now, where energy flows across the border very easily – that makes our energy more secure, it keeps costs down and it will enable us to go green, to go low carbon. Split that up and all those benefits go."
---
---
The UN's annual climate change conference is hardly a stranger to hot-tempered debates.
---
While Scotland is heavily reliant on the UK for subsidising its renewables programme, it returns substantial value for what it receives, and is crucial to the rest of the UK in terms of climate change targets. Under the binding EU 2020 target, at least 15% of a member state's energy must come through renewables. Were Scotland to leave the UK, and the UK spurn its renewables, the cost for it to achieve its EU target would be far higher.
The arguments being put forward by the Scottish government and that of the UK parliament are, of course, part of a wider narrative. The Scottish government argues that its renewable energy sector is best served by independence because the country as a whole is best served by independence, the reverse being true for the UK government.
As a result, there has been little space for doubt or compromise to be voiced. But, should independence go through, the realities of the situation would settle in and the negotiations would no doubt be centred on reaching an agreement that best meets the needs of both. Scotland may leave the UK, but its renewables will remain in its mix.