Wind energy recruitment: the challenge of hiring skilled workers
More than half a million people will be working in the wind industry by 2020, but are there enough skilled workers to fill the growing number of vacancies? We ask recruiters, engineers and academics what qualities industry professionals look for in potential employees, and where and how candidates can best learn their trade.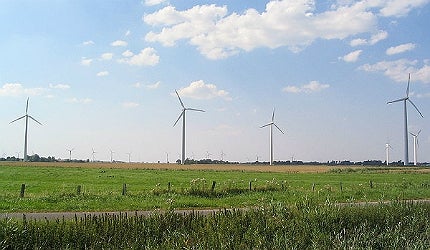 As the global economic worsens, few industries can say they are booming, but the wind energy industry is one of them. There also few sectors that are in the position to take on new recruits, but the wind energy sector has a job pool that is getting deeper year after year.
---
Related project
---
Construction on London Array, which will be the world's largest offshore wind farm, began in July 2009.
---
According to data published by the European Wind Association (EWA) in April 2012, the wind industry will contribute €94.5bn to EU GDP by 2020, an almost three-fold increase during the next ten years, with the sector generating 0.59% of the EU's GDP.
Ultimately, the number of jobs in the sector is expected to increase to 520,000 by the end of the decade, a rise of 200% from the number of jobs currently available in the market, and 24,000 more jobs than predicted in a 2009 EWA report.
New investments in wind power could drive these figures even further. In July, the UK Government announced it would slash onshore wind energy generation by ten percent – as opposed to a 25% cut reportedly favoured by the Treasury – in an effort to encourage £25bn in finance between 2013 and 2017.
All across Europe, installed wind capacity is climbing, leading to a multiplication of job offers, with Germany, Denmark, Spain and France being the top four recruiters.
But are there enough skilled workers to fill these rolls? And if not, will employers be forced to compromise on the quality of candidates to get projects off the ground?
Lack of skilled workers
"In the last four to five years, wind energy companies have repeatedly reported a huge shortage of workers within certain fields."
In the last four to five years, wind energy companies have repeatedly reported a huge shortage of workers within certain fields.
This isn't to say there is a lack of applicants hunting for work in the industry, but many renewable energy companies are searching for engineers, operations and maintenance technicians – skills sets that are few and far between.
Andrew Tew, senior consultant for EHS and Sustainability and UK-based Acre Resources, says: "They are crying out for mechanical and electrical engineers. This isn't just industry specific either. A commonly held opinion is that the UK isn't producing enough qualified engineers like it once was."
The other problem, says Tew, is that there is a commonly-held belief that skills acquired in the oil and gas industry can be applied to offshore wind.
"When a developer starts work on an offshore facility, their direct competitors for booking vessels will be the oil and gas industry, so I think because the two industries are put together in the same sentence quite regularly, there is this presumption that the skills are automatically transferable."
It could be argued that with so few qualified applicants to choose from, employers will become less choosy about the skill sets they require candidates to have, but this is not the case, according to experts in the wind industry.
David Blake, Allen & York renewable energy recruitment manager, says: "The industry is still relatively new and the importance to get things right and make them more efficient is a major priority, employing under qualified professionals could have major effect on a project."
Dr Alireza Maheri, senior lecturer in mechanical engineering at the University of Northumbria, believes that, if anything, the industry will become choosier: "Universities are now training graduates with the right skills for the industry by introducing new programmes in renewable energy. Ten years ago very few universities were offering programmes in this area."
Wind power training programmes
In 2011, the Association of Energy and Engineers published a survey on Green Jobs and Energy Industry Market Trends. From this, Albert Thumann, executive director of the society, concluded that the need to develop a pool of qualified energy and green collar professionals servicing the marketplace has never been greater.
"All across Europe, installed wind capacity is climbing, leading to a multiplication of job offers."
"There is a dire need to implement programmes and policies to stimulate effective energy efficiency training," Thumann added.
It seems Thumann may have got his wish, as over the past 12 months, several new renewable training programmes have come online.
The University of Central Lancashire (UCLan) in north-west England has been running a Master of Science (MSc) in Renewable Energy Engineering for one year, says Dr George Hall, project manager for the development of innovative small wind turbine technologies at UCLan.
"Students on our course study wind energy engineering, systems design and control, modelling and simulation using a variety of computer-based programmes and project development."
In January, the University of Northumbria introduced an MSc in Renewable and Sustainable Technologies, which is designed to produce graduates who can apply techniques to solve problems, as they would in the industry.
Dr Maheri explains: "This programme aims to provide students with a core foundation of the knowledge and skills in the key engineering aspects of renewable and sustainable energy."
There are also courses which have been around for decades and have established an international reputation. The University of Reading, for example, has been enrolling students on its MSc in Renewable Energy for the last 30 years.
Dr Maria Vahdati, lecturer in renewable energy at the university, says: "Our graduates have secured jobs with the National Grid, British Gas Renewables, Dulas Renewables, Photon Energy and Scottish and Southern Energy."
EU-wide renewable education
"The wind industry will contribute €94.5bn to EU GDP by 2020, an almost three-fold increase during the next ten years."
In order to tackle the shortages in skilled wind energy professionals, the European Wind Association believes that the disparity between the skills required in different member states should be ironed out.
With the introduction of the European Master in Renewable Energy ten years ago, it may become easier to employ candidates from across the continent as more projects come online. The European Renewable Energy Centres Agency teamed up with eight universities specialising in different renewable industries to create the course.
After one semester, which offers general knowledge in green energy sources, students with and interest in wind can head to the National Technical University in Athens, Greece.
George Carlis is a mechanical engineer at the university. He explains that wind energy professionals need knowledge in different scientific areas to be successful.
"They need knowledge in meteorology to understand the source; aerodynamics to focus on the rotor of the wind turbine and the procedure of energy absorption from the wind; mechanical engineering to focus on the wind turbine, the gear box and the rest components in the nacelle, as well as the loading, the strength and the materials of the wind turbine," says Carlis.
"They also need skills in electrical engineering for the analysis of the electrical equipment, the generator, as well as the connection of the wind turbine with the grid; civil engineering for the foundation of the wind turbine; and economics to analyse the business and the feasibility of wind energy projects."
Keeping in mind the European emission reduction targets and the governmental support to help develop a low carbon future, it seems there will be a continuous need for wind energy, along with skilled workers, to develop new projects. For now, the number of qualified wind professionals may be in short supply, but a new generation of graduates could soon blow the industry away.