The year in review: 2012's top power stories
The UK published its long-awaited Energy Bill in 2012, while Hurricane Sandy tore down power lines in the Caribbean and US. Power-technology.com wraps up the top stories of the year.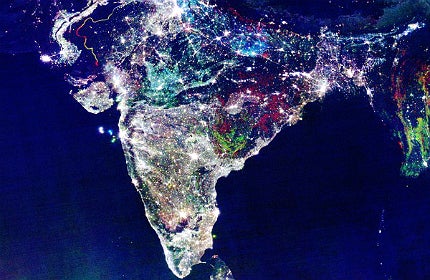 January: EDF Energy objects to $4.6bn Scottish coal-fired plant

In January 2012, the development of a $4.6bn coal-fired power station planned for North Ayrshire, Scotland, faced a setback after EDF Energy made a formal complaint about the project.
EDF, which runs the nuclear reactors in the same area, said that the development could block evacuation routes of staff and deprive its nuclear site of electricity and vital cooling water in an emergency.
Also this month, Suzlon Energy signed a memorandum of understanding with the state of Andhra Pradesh to develop wind power capacity, totalling 3,000MW, in the state.
Potential investments of up to Rs180bn ($3.52bn) will be made by the company to develop the wind projects between 2012 and 2016.

February: UK's Oldbury nuclear station shuts down

Magnox-owned Oldbury nuclear station in the UK shutdown on 29 February after 45 years of service.
The Nuclear Decommissioning Authority and Magnox agreed that continuing operations on the site would no longer be economically viable.
In other news, analysts warned that the price negotiating power of coal-hungry utilities is likely to weaken if a merger between commodities giant Glencore International and global mining company Xstrata goes ahead.
March: US agency bans San Onofre nuke plant from restarting

The US Nuclear Regulatory Commission (NRC) prohibited electric utility, Southern California Edison (SCE), from restarting the San Onofre nuclear power plant, citing serious concerns about equipment failures.
In an action letter, the agency said that SCE officials have agreed to determine the cause of unusual wear that has been found on steam generator tubes following the plant's closure in January.
Meanwhile in the UK, the Supreme Court rejected the government's appeal to cut subsidies for solar panels on homes.
The Department of Energy and Climate Change, which claims subsidies cost too much, lost its third appeal on 30 March after the court ruled that plans to halve solar payments were "legally flawed".
April: L&T Construction installs largest solar PV plant in India

In April, Larsen & Toubro (L&T) construction announced that it had commissioned the largest solar photo voltaic-based power plant in India.
The solar PV power plant, which is comprised of more than 500,000 solar PV modules and thirteen 3.5 MVA power transformers to generate 40MWp, is spread across 350 acres.
Elsewhere, E.ON UK selected Germany-based Elster as its smart metering partner for the first phase of its dual fuel smart metering rollout.
The UK also invited marine power companies to bid for a £20m prize this month, to encourage the country's first full-scale wave energy projects.
May: Queen's Speech 2012: industry response to the Energy Bill

The UK Government confirmed that it will overhaul the electricity market, in a bid to facilitate large-scale investment in low-carbon generation, after a new Energy Bill was included in the Queen's Speech.
The country is set to invest £110bn in revamping its electricity generation infrastructure as part of the proposed reforms.
In other news, Germany set a new world record in solar power generation between 26 and 27 May, when plants in the country produced 22gW of electricity each hour.
June: Amazon tribes occupy Belo Monte Dam site in Brazil

More than 150 indigenous tribes-people occupied one of the building sites for the $11.2bn Belo Monte Dam across the Xingu River in the Brazilian Amazon, delaying construction of the biggest hydroelectric power plant ever built.
Work on the plant began in March 2011, despite fierce protests from local people, including members of the Xicrin, Juruna, Aarara, Aawete, Assurini and Parakanawa tribes.
Also in June, more than 100 companies in the power industry demonstrated how the cost of offshore wind can be cut by over £50 per MWh by 2020, in a study published by the UK's Crown Estate.
July: blackout hits northern India

India was hit by a massive blackout after its northern and eastern grid networks collapsed.
It was one of the world's most widespread power failures and one of the most severe in the country, affecting 600 million people in nine states.
In other news, Japan restarted the Kansai Electric Power Company-operated Ohi nuclear plant for the first time after it was shutdown for safety checks following the Fukushima disaster.
Meanwhile in the UK, a consortium led by Malaysian property and infrastructure company SP Setia acquired the Battersea power station in London for £400m ($623m).
August: US regulator freezes all nuclear power plant licensing decisions

The Nuclear Regulatory Commission (NRC) put 19 nuclear reactor licensing decisions on hold after the US Court of Appeals ruled that spent nuclear fuel stored on-site at nuclear power plants poses a dangerous, long-term health and environmental risk.
In other news, a report by Irish stockbrokers Davy said Ireland needs a further €5bn of capital investment between now and 2020 to meet its renewable energy goals.
The construction of 3GW-3.5GW of onshore wind power is required by the country to meet its 2020 European Union (EU) climate change targets.
September: EU carbon scheme to save Australian firms $2.5bn

Australia's plans to link its carbon pricing schemes with the European Union's (EU) could save Australian companies $2.5bn over five years, according to a report published in September by carbon analytics firm RepuTex.
According to RepuTex's forecast, European and international carbon units will trade between 2016-2020 at an average of A$11.50 ($11.77) per tonne – much lower than the A$15 ($15.3) floor price.
Also in September RWE nPower has officially opened the £1bn Pembroke Power Station, one of Europe's largest combined cycle gas turbine plants, in the UK.
October: power outages reported as Hurricane Sandy hits Cuba

Power outages were reported in the Caribbean as Hurricane Sandy reached Cuba, after lashing Jamaica and Haiti on 24 October, leaving two people dead.
In the days that followed, more than seven million people were left without electricity as the storm tore through the Bahamas and 24 US states.
Electric utilities along the east coast, where states were most affected, brought in crews and equipment from other states such as New Mexico, Texas and Oklahoma, to assist with restoration efforts.
November: Denmark on course to reach its 2020 solar cell goal this year

Denmark said it is on track to reach its 200MW solar cell capacity goal eight years ahead of schedule.
The government had planned to achieve this goal by 2020, but with the on-going addition of 36MW solar cell capacity every month, Denmark's installations are expected to grow nearly a hundred times by the end of 2012, compared to 2010 figures.
Also this month, the UK Government published its long-awaited Energy Bill, which seeks to set out fresh proposals to slash demand for electricity in the country, has been formally published by the government.
December: US opens leases for wind energy development off Atlantic coast

In December, the US government initiated competitive lease sales for the development of renewable energy projects along the Atlantic Coast.
Elsewhere, Blue Energy announced plans to build Africa's biggest solar plant, a new 155MW solar photovoltaic (PV) installation, in Ghana.
Meanwhile in Romania, Europe's largest onshore wind project, the 600MW Fantanele / Cogealac wind park came online.
GE provided 240 wind turbines to the project including the 1,000th 2.5MW class machine installed by the company across the globe.