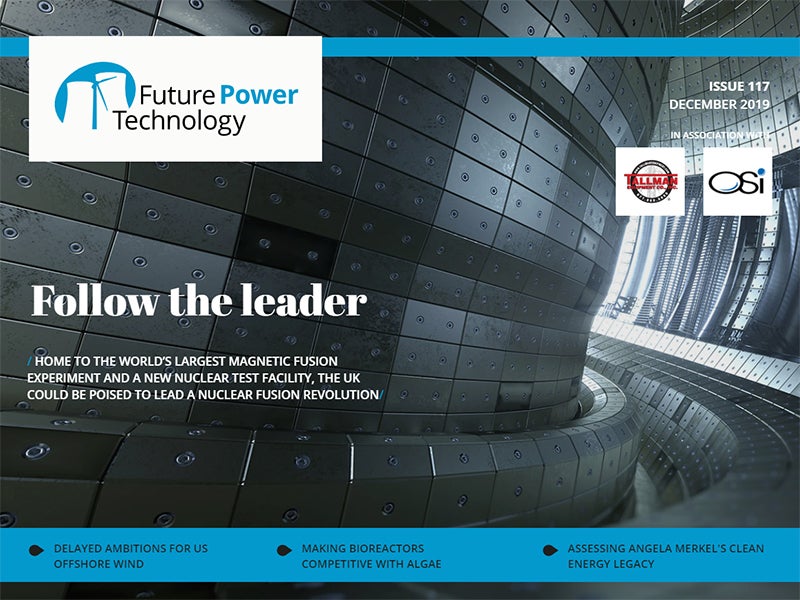 Future Power Technology is now available on all devices. Read the new issue here.
The UK is home to the world's largest magnetic fusion experiment and the UK Atomic Energy Authority has started work on a new nuclear test facility in Rotherham. We hear from two UKAEA directors about how the UK could be poised to lead a nuclear fusion revolution.
We also examine how agency infighting is stalling America's offshore wind ambitions, consider the prospects for geothermal energy in the UK, ask whether wind-powered algae could make bioreactors competitive, and learn how dehydration tech is reviving the 'clean coal' concept.
Plus, we find out if there is still a future for the European Pressurised Reactor, take a look at whether or not floating nuclear is a good idea, and analyse Angela Merkel's green legacy.
In this issue
The UK's quest to lead on nuclear fusion
The UK is home to the world's largest magnetic fusion experiment and the UK Atomic Energy Authority has started work on a new nuclear test facility in Rotherham. Here two UKAEA directors, Colin Walters of the National Fusion Technology Platform, and Howard Wilson of the STEP Programme explain how the UK could be poised to lead a nuclear fusion revolution.
Vineyard wind: delayed project reveals bluster in US's offshore wind ambitions
The recent decision by the Interior Department to hit the pause button on plans to build the first major US offshore windfarm off the Massachusetts coast means the project now hangs in the balance. Amid federal agency infighting, does the country risk squandering a vital resource of clean energy? Ross Davies investigates.
UK geothermal: boiling beneath the surface
A new report from the British Geological Survey (BGS) says that the only way the UK can reach its target of net zero emissions by 2050 is to explore below the earth's surface – harnessing geothermal energy to achieve its goal. But just how much geothermal energy is the UK sitting on? Scarlett Evans investigates.
Flora to fuel: could wind-powered algae make bioreactors competitive?
The ENBIO project uses excess energy from wind turbines to power 16 1,000-litre photo-bioreactors which grow algae that can then be used for biofuels. The project demonstrates how green technologies can work together, but can it make algae-derived fuel competitive? Umar Ali finds out more.
Efficiency and optimisation: Clean Coal Technologies' Pristine-M solution
While some countries look to reduce their reliance on coal, the energy source remains critical for much of the world. JP Casey speaks to Clean Coal Technologies about its Pristine-M technology, which would improve the efficiency of coal-burning power plants, help balance coal's environmental footprint, and ensure global energy security.
Does the European Pressurised Reactor have a future?
The world's second third-generation European Pressurised Reactor has gone online in China, bucking the trend of lengthy delays and overspend that has plagued three other EPR projects. Can the recent Chinese success story save the technology's reputation or is it already too late? Heidi Vella investigates.
Is floating nuclear power a good idea?
Floating nuclear power promises to provide a steady source of energy at hard-to-reach locations, but at the same time the dangers inherent in nuclear power make some question whether it's safe enough for areas where help is hard to find. Is floating nuclear power really a good idea? Yoana Cholteeva investigates.
Energiewende: assessing Angela Merkel's clean energy legacy
As German Chancellor Angela Merkel's tenure draws to a close, her government's massive energy transition programme, the 'Energiewende', is showing signs of strain. Chris Lo asks, what will be the enduring legacy of a bold national clean energy initiative that has disappointed in recent years?
Preview – Future Power January
At the Business Booster event in Paris, former Irish President Mary Robinson highlighted the need for a "just" energy transition. We consider whether renewable power can deliver social change, as well as technological change, and some of the companies and projects leading the way.
Also, we look at whether California's energy infrastructure can keep up with its ambitions, ask what makes a PPA more attractive than buying energy off power companies, and talk to Good Energy about the role of customer service in renewables.
Finally, we examine the role of batteries in meeting global climate goals, debate whether nuclear is clean enough for green funding, look back on major events and headlines in the nuclear power sector in 2019, and explore the Green Building Council's 'Paris Proof' targets.