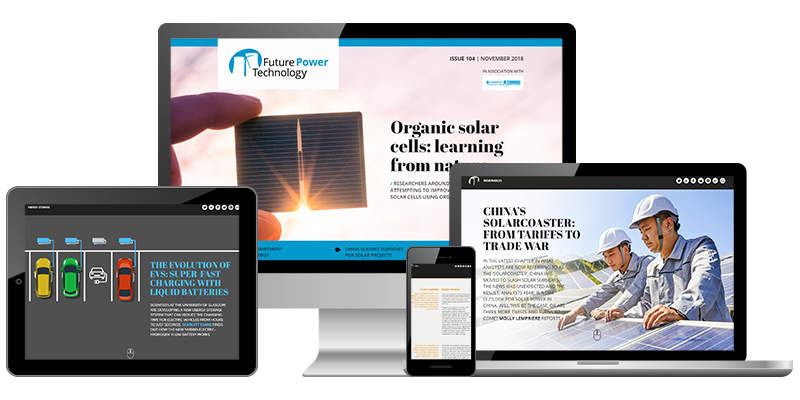 The November issue of Future Power Technology is out now and you can read it here for free on all devices.
The Taiwanese Government has been quick to roll out several very attractive renewable energy policies, including a feed in tariff for offshore wind comparable to zero subsidy plans in Europe. While offshore wind is by far the major driver, the government has also invested significantly in solar while decreasing reliance on nuclear. We take a look at Taiwan's renewable energy ambitions.
We also consider the impact of China's move to slash subsidies on solar development in the country, take a closer look at the development of a new generation of organic solar cells, which replace traditional silicon with organic photovoltaics made from carbon and plastic, and speak to MIT energy professor Jessika Trancik to find out how data can be used to judge the strengths and weaknesses of competing energy technologies.
Plus, we investigate a breakthrough from the University of Glasgow, where a team has developed a prototype system that uses a metal oxide 'exotic rust' that can be charged when added to water or hydrogen, creating a liquid battery that can charge as quickly as a petrol tank can be filled, and ask whether the UK Government should subsidise small nuclear reactors to reshape the economics of the industry.
 In this issue
Taiwan: pursuing a new green energy revolution in the East
In a bid to strengthen its national energy security, the Taiwanese Government has set ambitious renewable energy targets to be met by 2025. Attractive feed-in tariffs and the country's strategic location have seen foreign firms keen to invest. As the sector begins to heat up, Heidi Vella finds out what's in store.
Read more.
China's solarcoaster: from tariffs to trade war
In the latest chapter in what analysts are now referring to as the 'solarcoaster', China has moved to slash solar subsidies. The news was unexpected and the result, analysts fear, is a dim outlook for solar power in China. Will this be the case, or are there more twists and turns to come? Molly Lempriere reports.
Read more.
Learning from nature: the increasing efficiency of organic solar cells
Researchers from universities around the world are attempting to improve the efficiency of solar cells using organic materials. How have alternatives to traditional solar cells been developed, and can they be more efficient? Talal Husseini explores the latest developments.
Read more.
Can we predict technology's impact on the energy markets?
What are the challenges and opportunities involved in finding better ways to judge the strengths and weaknesses of competing energy technologies, and how can good data improve how the world moves forward with them? Elliot Gardner speaks to MIT professor Jessika Trancik to find out.
Read more.
The evolution of EVs: super-fast charging with liquid batteries
Scientists at the University of Glasgow are developing a new energy storage system that can reduce the charging time for electric vehicles from hours to just seconds. Scarlett Evans finds out how the new 'hybrid-electric-hydrogen' flow battery works.
Read more.
Kickstarting SMRs: should the UK Government subsidise small reactors?
A UK Government report has recommended that subsidies should be extended to small modular reactor technology to help establish a supply chain and reduce costs. Small reactors have the potential to reshape the economics of nuclear power, but are they a good candidate for government support? Molly Lempriere reports.
Read more.
Preview – Future Power December
Attention is turning with increasing urgency to the need to raise the $1.5tn needed to finance the Paris Climate Agreement. At the core of this is a new Global Green Bond Partnership, launched with help from the World Bank to support the efforts of cities, businesses and financial institutions to accelerate the issuance of green bonds. We find out how the bonds scheme will work.
Also in the final issue of 2018, we consider whether Russia is finally ready to embrace renewables in light of a new joint venture to build wind turbines, profile plans to retrofit the iconic Hoover Dam to turn it into a wind and solar-powered pump station, and ask whether recyclability should be a key function of renewables.
Plus, we profile a day in the life of a renewable energy control room such as Enel Green Power's in Chile, which has recently opened to monitor wind, solar, hydro and geothermal technologies across the company's network, and speak to marine energy developer Minesto about its Deep Green technology, which generates clean electricity from oceans using a marine energy kite.