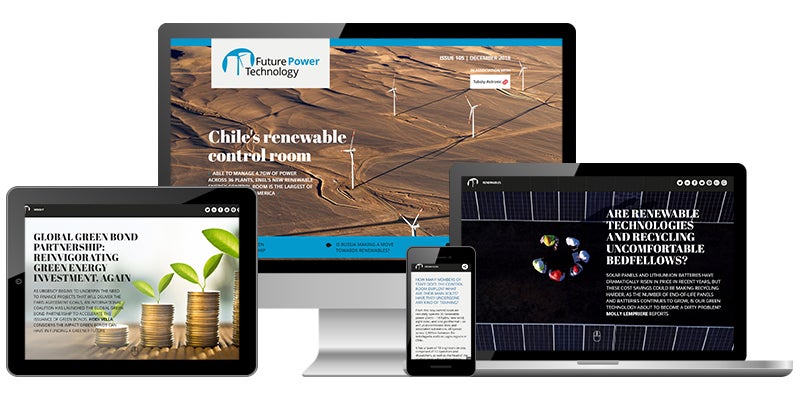 The December issue of Future Power Technology is out now and you can read it here for free on all devices.
Attention is turning with increasing urgency to the need to raise the $1.5tn needed to finance the Paris Climate Agreement. At the core of this is a new Global Green Bond Partnership, launched with help from the World Bank to support the efforts of cities, businesses and financial institutions to accelerate the issuance of green bonds. We find out how the bonds scheme will work.
Also in the final issue of 2018, we consider whether Russia is finally ready to embrace renewables in light of a new joint venture to build wind turbines, profile plans to retrofit the iconic Hoover Dam to turn it into a wind and solar-powered pump station, and ask whether recyclability should be a key function of renewables.
Plus, we profile a day in the life of a renewable energy control room such as Enel Green Power's in Chile, which has recently opened to monitor wind, solar, hydro and geothermal technologies across the company's network, and speak to marine energy developer Minesto about its Deep Green technology, which generates clean electricity from oceans using a marine energy kite.
In this issue
Global Green Bond Partnership: reinvigorating green energy investment, again
As urgency begins to underpin the need to finance projects that will deliver the Paris Agreement goals, an international coalition has launched the Global Green Bond Partnership to accelerate the issuance of green bonds. Heidi Vella considers the impact green bonds can have in funding a greener future.
Read more.
Is Russia finally ready to embrace renewable energy?
Despite the dominance of fossil fuels in Russia's energy mix, the country has recently been pushing for greater renewable energy investment. How has the country laid the foundations for a flourishing clean power sector, and is it moving fast enough? Chris Lo reports.
Read more.
Could the Hoover Dam become a giant battery?
The Hoover Dam could be set to undergo a major retrofit to add a wind and solar-powered pump station, acting as an energy storage unit for the Southern California region. But how feasible is the plan? Abi Millar reports.
Read more.
Are renewable technologies and recycling uncomfortable bedfellows?
Solar panels and lithium-ion batteries have dramatically in price in recent years, but these cost savings could be making recycling harder. As the number of end-of-life panels and batteries continues to grow, is our green technology about to become a dirty problem? Molly Lempriere reports.
Read more.
Inside Enel's new renewable energy control room
Able to manage 4.7GW of operational power across 36 plants, Enel Green Power's new renewable energy control room in Chile is the largest of its kind in South America. Antonio Scala, who heads up Enel's operations on the continent, gives Ross Davies an insight into life inside the centre.
Read more.
Deep Green: using underwater kites to generate clean electricity
Minesto has reached a new milestone in the development of its Deep Green technology, using the device to generate clean electricity at a commercial scale. The technology could more than double the number of regions suited to tidal energy projects, as Abi Millar finds out.
Read more.
Preview – Future Power January
After years of delays and passionate protest across the country, fracking has finally begun in the UK. Critics are furious that the government has decided to throw its weight behind yet another fossil fuel industry at a time when renewables are taking off. Proponents argue that cheap gas is still needed and point to US shale as a model to follow. But does the UK really need fracked gas?
Also in the UK, we consider Scottish Power's announcement that it will move to 100% renewable energy, and talk to UK Power Networks about its world-first grid-scale smart network that will help energy consumers save over £400m by 2050.
Plus, we profile Poland's energy mix and prospects, learn more about the neutrino power cubes able to supply energy by harnessing the kinetic energy created by waves of cosmic radiation, and speak to DNV GL about the weirdest and most wonderful power technology trials the company has taken part in.