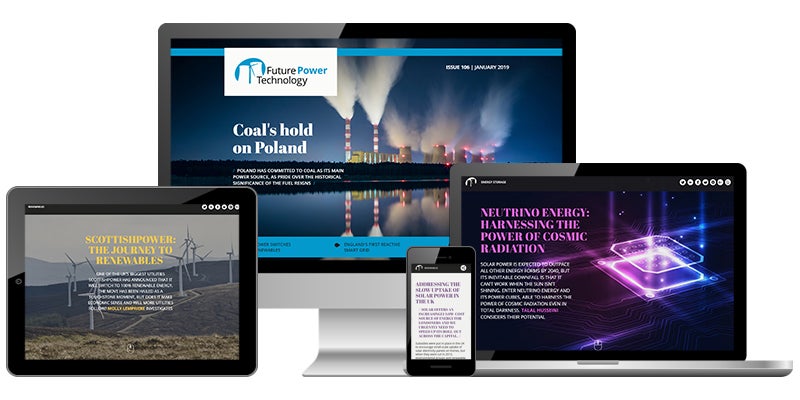 Future Power Technology is now available on all devices. Read the new issue here.
After years of delays and passionate protest across the country, fracking has finally begun in the UK. Critics are furious that the government has decided to throw its weight behind yet another fossil fuel industry at a time when renewables are taking off. Proponents argue that cheap gas is still needed and point to US shale as a model to follow. But does the UK really need fracked gas?
Also in the UK, we consider ScottishPower's announcement that it will move to 100% renewable energy, and talk to UK Power Networks about its world-first grid-scale smart network that will help energy consumers save over £400m by 2050.
Plus, we profile Poland's energy mix and prospects, learn more about the neutrino power cubes able to supply energy by harnessing the kinetic energy created by waves of cosmic radiation, and speak to DNV GL about the importance of testing power systems.
In this issue
ScottishPower: the journey to renewables
One of the UK's biggest utilities ScottishPower has announced that it will switch to 100% renewable energy. The move has been hailed as a touchstone moment, but does it make economic sense and will more utilities follow? Molly Lempriere investigates.
Read more.
Does the UK really need fracked gas?
Proponents of fracking in the UK argue the controversial gas extraction method can boost the UK's energy security and reduce its reliance on imports. Critics, however, claim fracking is unnecessary, dangerous and contradictory to the government's climate change targets. So, who is right? Heidi Vella investigates.
Read more.
Power Potential: England's first reactive smart grid project
The Power Potential project in England is developing the world's first grid-scale smart network, which could save energy consumers £400m by 2050, and generate an additional 4GW of capacity. Talal Husseini finds out what the project is hoping to achieve.
Read more.
Profiling Poland: holding onto coal as COP approaches
Despite criticism, Poland has committed to coal as the country's main power source. While some renewables are slowly being implemented, pride over the historical significance of coal means that little is likely to change. Molly Lempriere considers the potential impact on Poland's efforts to decarbonise.
Read more.
Neutrino energy: harnessing the power of cosmic radiation
Solar power is expected to outpace all other energy forms by 2040, but its inevitable downfall is that it can't work when the sun isn't shining. Enter Neutrino Energy and its power cubes, able to harness the power of cosmic radiation even in total darkness. Talal Husseini considers their potential.
Read more.
Testing tech: putting power systems through their paces
From transistors to batteries, every aspect of a power system needs to be put through its paces to ensure safety and durability. But just how do you go about testing power technologies? Molly Lempriere finds out more from DNG GL's Andrew Burstein and Theo Bosman.
Read more.
Preview – Future Power February
California recently announced its plans to reach a target of 100% renewable energy sources by 2045, funded at least partly by community choice aggregation. These partnerships allow local communities to make their own choices about how they get their energy and what they do with it, often resulting in more rapid shifts than deals struck by government. We find out how they work and whether this funding model will be enough?
In nuclear, we take a closer look at the IAEA's new tool to help build 'roadmaps' for nuclear power and consider whether fusion energy could be enough, after MIT announced that its Sparc reactor could begin producing energy from nuclear fusion by 2025, but at a much lower wattage than traditional fission reactors.
Plus, we shine a spotlight on Argentina's rapidly changing energy market, take a closer look at how the UK's energy market could manage a prolonged calm, cold and cloudy snap, and find out whether a new partnership between utility E.ON, the European Space Agency and Astrosat could be the key to sending terrestrial energy efficiency into the stratosphere.