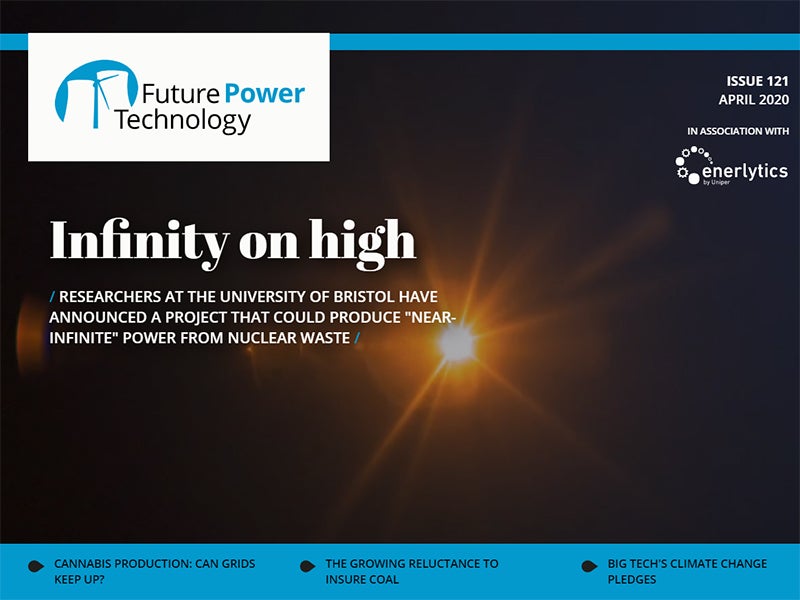 As the cultivation and sale of cannabis continues to be legalised across North America and elsewhere, we ask what the implications are for energy grids. 
Also, we consult experts to get the full story on the UAE's Barakah nuclear power plant, investigate whether coal has become uninsurable, and look at sustainable energy pledges from across the tech sector. 
Finally, we learn about constraint payments for wind farms, report on a team from Yale's efforts with osmotic energy, speak to University of Bristol researchers about their plan for "near-infinite" nuclear power, and examine Turkey's solar power market.
Click here to read the latest power industry news and analysis, and join the conversation on Twitter.
In this issue 
Off-grid: how soaring cannabis markets are forcing an energy rethink
Growing cannabis is an expensive and energy consuming business, which has already led to large-scale power outages in Canada and the US. One company has taken to producing its own power, but can the industry as a whole address the challenges in the same way? Andrew Tunnicliffe finds out.
"The wrong reactor at the time": inside the UAE's Barakah nuclear plant
The first reactor of the UAE's under-construction Barakah nuclear power plant is scheduled to come online within "a few months". The country's first nuclear plant could address a key energy need in the region, but, as JP Casey finds outs, questions remain as to its usefulness and safety in a geopolitically tense environment.
Electric dreams: powering Equinor's Johan Sverdrup oil field
Equinor's vast Johan Sverdrup oil field uses a shore-based renewable power supply to significantly cut production-related CO2 emissions, but when the oil sold is still burned around the world, how great are the long-term savings? Julian Turner looks at one of the world's most sustainable plays. 
Breaking cover: is coal becoming uninsurable?
A growing list of insurers have become reluctant to cover new coal-fired energy projects due to the risks presented by climate change. Chris Lo discusses the campaign to persuade insurers to walk away from  coal with Peter Bosshard, campaign co-ordinator at environmental group Unfriend Coal.
Big tech and big power: companies' climate change pledges
Microsoft, Apple, Amazon, and Samsung are some of the world's largest tech companies, and organisations with some of the largest environmental footprints. JP Casey considers the environmental pledges made by these firms, and assesses whether they could be effective.
Constraint payments: rewarding wind farms for switching off
Wind farm operators were recently paid more than £12m in compensation by the UK government for turning off their turbines because the grid was at risk of being overloaded. What led to such high payments, and are current regulations justified? Yoana Cholteeva takes a closer look.
How osmotic membranes are unlocking the potential of blue energy
A group of scientists from the US and Australia have sourced inspiration from living organisms to develop an osmotic system to generate electricity. Yoana Cholteeva speaks with Nicholas Kotov, lead researcher and professor of chemical engineering at the University of Michigan, to find out more.
"Near-infinite" power: inside the University of Bristol's  ambitious nuclear power plan
Scientists from the University of Bristol have announced ambitious plans to recycle nuclear waste from decommissioned power stations in order to power batteries, potentially for over five thousand years. Yoana Cholteeva spoke to the team to find out more. 
Can solar power light up Turkey's energy supply?
Overly reliant on expensive imported fossil fuels, the Turkish government is keen to diversify its energy supply with locally produced solar power. Heidi Vella asks, having neared 6GW of installed capacity in 2019, can the market grow further? 
Preview – Future Power Technology May 2020
The International Atomic Energy Agency has revealed 189 incidents of nuclear and other radioactive materials being out of regulatory control in 2019. Six of the incidents were related to trafficking or malicious use. We speak to the IAEA about security threats in the nuclear supply chain.
Also, we find out how the US is handling lobbying efforts from energy companies, discover whether stationary batteries will eclipse the EV market, and speak to ScottishPower about its 100% green energy tariff. 
Finally, we profile record-breaking solar perovskites, investigate what it will take to phase out fossil-fuelled cars, learn what Virginia's Clean Economy Act means for the state, and look at how the Covid-19 pandemic will affect the rollout of renewables.