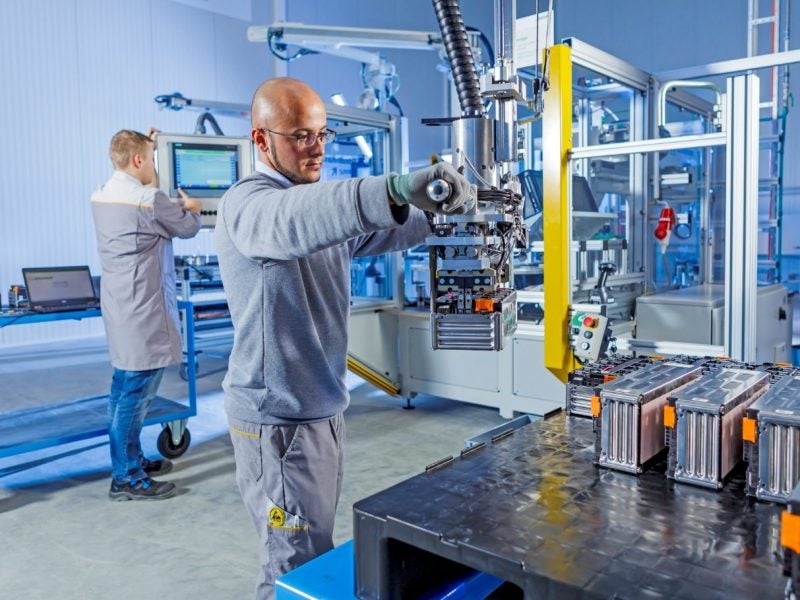 As electric car sales continue to grow in Europe, Germany, a key automotive manufacturer, is keen to foster home-grown battery-cell production to ensure it has a significant stake in the market, which is expected to reach $60bn by 2030 according to Goldman Sachs.
Along with the European Commission (EC), the German government is racing to accelerate large-scale battery production in Germany and wider Europe, with a €1bn fund available to German companies and an additional €500m to support research into both existing and next-generation EV batteries.
German Economy Minister Peter Altmaier, has said he hopes battery cells could roll off the manufacturing line by 2021. However, with Asian countries such as South Korea, Japan and China already dominating lithium-ion battery production and supply of the necessary raw materials, many believe Europe is mobilising too late.
Market Activity
The lithium-ion battery – the most technologically advanced to date – was originally invented by German-born John Goodenough at Oxford University in the 1980s and later commercialised by Japanese manufacturer, Sony.
Today the technology – sales of which are expected to grow exponentially in the coming decade – is predominantly produced within Asia via Japan's Panasonic, South Korean Samsung SDI and LG Chem, and China's Contemporary Amperex Technology (CATL). According to projections by Bloomberg New Energy Finance, China will produce 70% of the world's electric-vehicle batteries by 2021.
If Europe and Germany are to grow their share of the market they need to work fast. Development is being mobilised by the European Battery Alliance, established in 2017 with the aim of creating a competitive manufacturing value chain in Europe.
The Alliance hopes Europe can capture a battery market of up to €250bn a year from 2025 onwards; covering EU demand alone requires at least ten to 20 large-scale battery cell production facilities.
Founder, EC VP, Marc Sefcovic says €1bn has already been announced for flagship projects covering the entire supply chain, supported in large part by the European Investment Bank (EIB).
Notably, in May the EIB agreed on a €350m loan for a Northvolt Giga-factory in Sweden, which could serve as reference for other investors and future projects, says Sefcovic. Furthermore, in June, InnoEnergy, an affiliated EU accelerator, will establish an Investment Platform to create an additional flow of €70bn into EU-based projects.
Securing Raw Materials
One major challenge for European lithium-ion battery producers is establishing access to the necessary raw materials, such as nickel, lithium and cobalt, says Bo Normark, thematic leader, smart grids and storage at InnoEnergy.
China in particular, has been lapping up the supply of key minerals in line with its national aim to have 12% of all cars produced by local manufacturers electric by 2020. The country currently has control of around 85% of global supply of cobalt, a key component in lithium-ion batteries.
"China was smart by securing battery mining resources very early; we could have done the same in Europe," says Normark.
He notes, however, how Europe is fighting back with new activity planned in Finland, which has some of the largest lithium refiners, albeit Chinese owned, and Spain. It is also considering the potential to source from Australia.
"We have started to build and increase our access to the raw materials, though it takes time," says Normark, "It would be completely unacceptable if we arrived at a situation where we don't have mining resources in Europe to support the battery industry."
Similarly, European automotive companies have also been scrambling to source supply of key minerals, with Volkswagen signing a ten year supply deal with Chinese supplier Ganfeng Lithium. The minerals producer has already inked agreements with Tesla, BMW AG, and battery producer LG Chem.
However, another route to battery cell production for Europe, says Normark, is to develop a recycling sector. This is another area already dominated by China, but Normark says there are plans for 50% of supply of recycled materials in Europe and several initiatives underway.
"We need an efficient system in place for collecting and recycling batteries because there is lots of value in doing that; this could be one way for Europe to have a high-volume production," he says.
Complex market
However, not everyone agrees that getting involved in commodities and building batteries from scratch is necessary for German and European success in the EV and wider battery market.
Sven Schulz, CEO of AKASOL AG, a German company that builds battery systems, is advocating for open competition between manufacturers.
"From our point of view, electrification will be one of the biggest transformations over the next decade and in Europe we need to have a strong battery industry; but this is not only about producing battery cells but systems and this is what we are focusing on," he says.
The company sources various battery cells form different suppliers mostly across Asia but also the US. Schulz says it of course would be hugely beneficial to have production in Germany and Europe to ease logistics and transportation woes, but the supplier doesn't need to be German-owned.
"Korean and Chinese companies are ahead and as long as they are investing in battery plants in Germany that is fine for us; battery cell technology is very complex and there is no one-size-fits-all or one company that covers all the technologies," says Schulz. "We are more concerned about the performance, price and the availability, and not so much the national heritage."
It really is all about the quality and cost of the technology, he adds: "Even national customers won't buy European made batteries if there is much better technology available from a foreign supplier."
German firms, he says, are already producing materials for Asian companies that build battery cells and forming working partnerships.
"I don't think we are behind, only maybe when it comes to production capacity, but not when it comes to technology," he says. "Our car industry was able to outperform without having big crude oil resources. I don't believe you need direct access to raw materials to perform well in the market."
AKASOL he notes is already winning international tenders against Asian and other companies because of its technology and, often, its culture.
"We shouldn't be too scared about what is happening in Asia – it is a different market," Schulz adds.
The PV industry all over again?
However, not everyone agrees with Schulz's take and many, including CEO of Swiss battery producer Leclanché, have made comparisons between the solar PV industry and the battery cell market, namely that PV production started in Europe but ended up being dominated in China.
However, Normark says there is an 'incredible difference' between the two industries.
"The PV industry moved to China because in Europe we had very strong subsidy initiatives to create it, but we didn't do what the Chinese understood was needed; to go very big – the PV plants in Europe were dramatically smaller than those in China," he says.
However, he adds that: "If we don't get our act together in Europe there is a risk China won't just sell batteries but complete vehicles."
Asian companies have already built battery factories in Europe because the market is set to be one of the biggest. The Chinese battery cell manufacturer CATL is planning a German battery factory in Erfurt and Samsung SDI opened an EV battery plant in Hungary and LG Chem has a factory in Poland.
Whereas, France and Germany have asked the European Commission to approve state subsidies for a cross-border battery cell consortium, including French carmaker PSA with its German subsidiary Opel and French battery maker Saft. Both companies are reported to have earmarked €1.7bn ($1.9bn) to support battery production and are planning to convert an Opel factory in the west of Germany into a battery cell production site.
Though a subsidised project could potentially kick start the sector, Schulz, and others, doesn't think subsidies are the right route to development.
"I do not believe in the direct monetary support of companies," he says, "I think electrification itself is already competitive compared to combustion engines, but we need the environment for people to invest and I would expect the [German] government to push the reduction of CO₂  emissions."
Real potential or a pipe dream?
According to Wood Mackenzie Power & Renewables, the Europe, Middle East and Africa (EMEA) region will account for almost 228 gigawatt-hours of lithium-ion cell manufacturing capacity a year by 2026, out of a total of around 649 gigawatt-hours worldwide – though this doesn't differentiate between Asian and European-owned company's just areas of production.
While there's little doubt battery cell production will grow in Europe; whether it will be dominated by Asian firms or local European ones is yet to be determined – and whether it matters either way is opinion-dependent.
Nevertheless, Normark, along with EC and the German government, see huge opportunity for local players in the European market and is keen to prove home-grown battery cell production is possible.
"I have a strong belief that we can override circumstances and produce batteries competitively in Europe," says Normark.  "Compared to two years ago, much progress has already been made; people are starting to believe, whereas before very few did, and if you don't believe you can't do it."